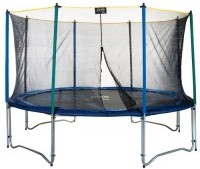 Pure Fun is renowned for providing jumpers with affordable options. The company specializes in trampolines and other backyard play equipment. The brand has years of experience in manufacturing durable and safe products.
For those who prefer function to glitz and glam, the 12-foot Pure Fun Trampoline will give you what you need.
| Picture | Trampoline | Available |
| --- | --- | --- |
| | 12 foot Pure Fun Trampoline | |
Reliable Safety
This Pure Fun model has a standard safety enclosure. There are eight padded posts surrounding the perimeter of the trampoline. A mesh fabric stretches between the posts to keep jumpers safely on the jumping surface. Each pole has a cap to cover the sharp edges, so you don't have to worry about nicking yourself while in midair.
The trampoline is made with patented T-section structure. No-weld construction creates extra stability where you need it. This special design keeps the frame from moving over time. The T section decreases the stress that can lead to frame failure. Strong joints make for a strong trampoline.
The polypro mat absorbs shock fairly well, so you can keep your joints strong too. The 72 heavy-duty springs work with the mat to give you that bouncy feel you want. To keep you from catching your appendages, thick vinyl padding covers the trampoline's outer rim. This limits the likelihood of accidents.
For added steadiness, Pure Fun's 12-foot model has W-shaped legs. The special shape will keep the jumping area from shifting as you bounce. There are a total of eight contact points. This high number of contact points keeps your base solid as you reach for high planes.
If you are looking for teenagers or adults, this model will do an okay job. Though, you will want to be careful with group jumping. The trampoline is safety rated for up to 250 pounds and this weight limit typically reflects the maximum for single jumpers. If you are going to frequently use your trampoline for gymnastics based movements, you may want to consider another model.
Easy Assembly
The company states that the product has an easy and quick assembly. Heavy duty and high-grade safety features typically translate into longer constriction times. Because the trampoline has standard safety features, it should have a short build time. As always, it is important to read the instructions and work with a partner.
Customer reviews indicate lengthy set-up times are uncommon. With 72 springs, it can be easy to loose track of where you are. Having a partner reduces the risk of error, which is often the cause of long builds. If you read the instruction manual closely, you should have the trampoline ready for jumping in no time.
Pure Fun Trampoline Durability
The 12-foot model has several proactive features to encourage durability. It has galvanized steel tubing, which lengthens the metal's lifespan. The frame is resistant to rust so feel free to live in a rainy state. The trampoline can endure the weather. The safety enclosure will protect you and itself from the sun.
The mesh is UV resistant to help reduce degradation due to weather. The enclosure will reduce the UV rays hitting you as well. As long as you're jumping inside the net, you can count on Pure Fun to guard you from the direct sunlight. The company stands by its product with a 2-year warranty. The warranty is limited to faulty parts or manufacturing defects.
In Conclusion
The 12-foot Pure Fun Trampoline gives you the most bounce for your buck. It is a durable model with adequate safety features. It is ASTM certified and perfect for lively young children. If you are looking for teens and adults, consider other models with higher tested weight limits.
However, if you are looking for quality on a budget, this is definitely a recommended model.
Last update on 2022-09-30 at 23:39 / Affiliate links / Images from Amazon Product Advertising API
Comments
comments