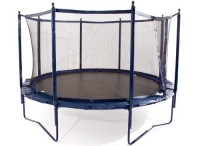 JumpSport is dedicated to the active lifestyle. The company's trampolines are designed to keep your family active as they play together. They have specially crafted safety nets and are built to survive weather conditions.
The 14-foot JumpSport Elite Trampoline with Enclosure provides superior quality for advanced and beginning jumpers.
| Picture | Trampoline | Available |
| --- | --- | --- |
| | 14-foot JumpSport Elite Trampoline | |
Safe for Adults
Most trampolines are designed with children in mind. Finding trampolines that can take adult weight can be hard. If you are looking for a trampoline for your teens, the JumpSport Elite is what you're looking for.
The maximum single user weight is set at 240 pounds, but the trampoline has been tested to take up to 800 pounds at a time.
The patented safety enclosure features an overlapping entry. This means you don't have to worry about reminding your children to close it. As soon as they are on the mat, they can start jumping safely. Adult customers have tested the enclosure by running full force into the net. The mesh material kept them safely on the mat without injury.
The posts come with one-inch thick foam covers. A total of eight poles line the outside of the trampoline. The sturdy posts are PVC coated to help protect jumpers. Their royal blue coating matches the rest of the trampoline's padding.
JumpSport Elite Trampoline Assembly
The company boasts an easy assembly, but customer experience varies. Customers have noted that solo construction is especially difficult. However, most trampoline manuals recommend at least two people build the product. Be sure to have someone help you to ease the process. Though JumpSport promises ease of assembly, they don't say anything about how long it takes.
Customers have reported the build time at 3+ hours. This is probably due to the safety net, which attaches inside enclosure posts. There are also a high number of springs in this larger model. Typically, the more advanced the safety features or the bigger the trampoline, the longer the construction time.
You want more?
Responsive Mat
The trampoline has a highly responsive mat. The jumping mat has 10 rows of stitching. This particular jumping pad is soft, yet springy. It is a great fit for those jumpers who like to think of themselves as amateur gymnasts. With 113 square feet of jumping area, you will certainly have enough room to do as you please.
You'll get plenty of height and plenty of bounce with this pad.
The Elite also has 96 springs to yield maximum jumping with minimal effort. The springs are 8.5 inches long and made of high tensile steel. To protect your youngsters from the powerful springs, the trampoline has one inch thick padding that is 14 inches wide. The padding more than covers the springs for safe bouncing.
High Durability
JumpSport stands behind its product with a 15-year warranty on the frame and enclosure poles. All other parts are covered from 1-5 years depending on the item. Clearly, JumpSport expects its products to survive and last over the years. If you are not satisfied with the product, the company offers a 30-day return policy. The padding and the jumping mat are both UV resistant, so you can leave the trampoline outside without fear of excessive wear and tear.
In Conclusion
The 14-foot JumpSport Elite Trampoline with Enclosure is a high quality trampoline for adults and children. This spacious model allows for group jumping. It is sturdy enough to take gymnastic style jumping so if you're an athlete, this trampoline will be ideal for you. The safety enclosure is internally mounted and has an overlapping entry for added safety.
Overall, this brand is highly recommended for jumpers of all ages and sizes.
Last update on 2022-05-22 at 16:49 / Affiliate links / Images from Amazon Product Advertising API
Comments
comments