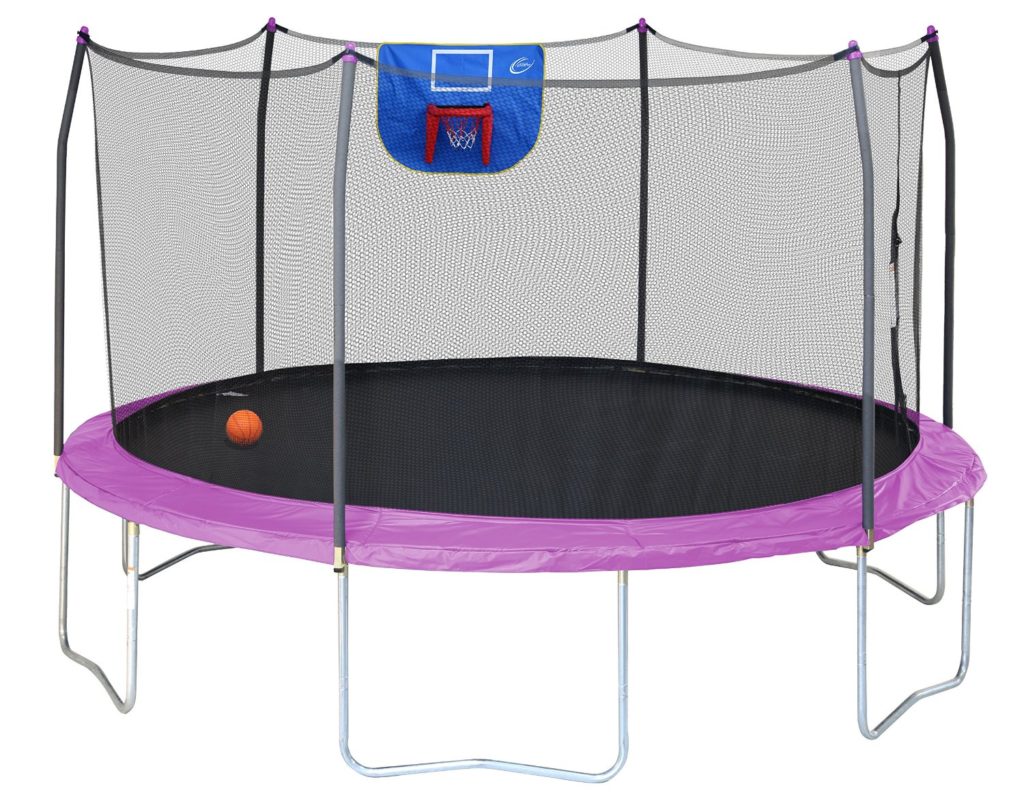 If you're on the market for a Skywalker trampoline, it can be difficult to know which one will work best for your children. On the surface, all trampolines may seem the same. Each model has a distinct set of differences, and you'll want to take a number of different factors into account.
How will your children use their trampoline?
How many children do you have, and what kind of weight limit will you need?
How much yard space do you have to work with?
A quick glance at these Skywalker trampoline reviews will help you find the perfect trampoline for your children that will keep them active for years to come.
Skywalker Trampolines 15-Feet Jump N' Dunk Trampoline
This is a Skywalker 15 foot trampoline that's perfect for energetic kids. It comes equipped with a soft basketball hoop that's safe to use, and gives your kids something more to do than simply jump.
The net itself is attached to its backboard with Velcro, making it less likely to get broken. If kids try to hang on the net, it will break away without damaging the accessory or the enclosure. This is a big bonus, as many trampolines feature hard nets that can destroy the enclosure during rough play.
The frame is reinforced to provide extra support for rough jumps, so your kids won't damage the trampoline during even the rowdiest game of bouncing basketball.
Since the enclosure is gapless and supported externally, the risk of injury due to bumping the enclosure poles is minimized. Kids get the maximum jumping surface, and a great new way to play basketball.
Pros
You don't need to buy any Skywalker trampoline accessories. This package includes everything you need and the basketball hoop is already a part of the enclosure.
The 6 w-shaped legs and reinforced frames make this trampoline safe for high intensity games and kids who play with a lot of enthusiasm.
Comes in an assortment of 5 different colors, so you can customize this gift for your child.
Cons
The weight limit is only 200 pounds, which means that only two older kids or four elementary school aged children can use the trampoline at once.
Trampoline is very light weight. While this makes the trampoline easy to move from place to place, it also makes it vulnerable to windy storms if you don't stake it down to the ground. You may want to purchase an anchoring kit.
Conclusion
There's a reason why this one is at the top of the list of Skywalker trampoline reviews. The quality is excellent for the price, and your kids are going to love the fun little gimmick of the built-in basketball hoop.
The accessory is designed to last forever, and so are the springs and the frame. Kids who want to do more than simply bounce will appreciate the features, and are unlikely to grow bored of the plain jumping surface.
Skywalker Trampolines 12-Feet Round Trampoline
This is the primary Skywalker 12 foot trampoline. A lot of families prefer 12 foot trampolines, as they provide ample jumping room for multiple children without taking up the entire back yard.
That's exactly what this trampoline is designed to do. When space is a concern, opting for a 12 foot trampoline like this one will allow your children to have the trampoline they've always wanted.
This trampoline utilizes Skywalker's signature gapless enclosure system for maximum safety. All of the springs are covered, and the enclosure starts at the inner edge of the jump pad.
This protects jumpers from falling into the gap and being pinched by exposed springs. The enclosure net poles are also curved, which prevents children from making contact with the enclosure frame.
Pros
Comes in five different spring pad colors, rather than just the traditional blue.
Medium size creates an excellent compromise for children who may not otherwise have had a yard spacious enough to fit a trampoline.
All of the materials are UV coated and weatherproofed, so you won't have to worry about the sun breaking down the fabric or rainwater causing the poles to rust.
Cons
Weight limit is 200 pounds. Only two older jumpers or 3 younger jumpers can use this trampoline at the same time.
Lightweight trampoline may require anchors to prevent it from bellowing in windy conditions.
Conclusion
This is the perfect trampoline for small yards, especially if it's only going to be used by a maximum of three youngsters at a time. If you have other outdoor toys, such as soccer nets, basketball hoops, or an above ground pool, it's easy to fit this one in your back yard with enough space for the rest of your play equipment.
Skywalker Trampolines 14′ Round Trampoline and Enclosure
This Skywalker 14 foot round trampoline is straight and to the point. It's a large trampoline without any bells or whistles, designed for maximum jumping power. This is probably exactly what you picture when you imagine a typical trampoline.
It's a classic size and a classic design, built with superior safety and longevity considerations for your children.
This trampoline is supported by 6 galvanized "w" shaped feet for maximum stability. With welded t-brackets to absorb some of the stress on the jump pad, you can rest easily knowing that the frame will never twist. The enclosure net is tall and strong, affixed with signature gapless technology.
The fabric of the enclosure net as well as the spring pad and jump pad are coated to be UV resistant, which prevents the sun from degrading the material.
Pros
This trampoline comes with wind stakes, which are easy to install. Strong winds can sometimes cause lightweight trampolines to wobble or even blow over. It's easy to install this trampoline to be windproof with the included equipment.
Skywalker's gapless enclosure system is one of the safest on the market. Little jumpers won't get their feet caught in the spring gaps, and bigger jumpers won't worry about getting pinched by the jump pad's springs.
The 14 foot jump pad is very spacious, so two children can safely jump at the same time without fear of bumping into each other. With all that space, you can even purchase a few Skywalker trampoline accessories to customize the experience.
Cons
200 pound weight limit means that this trampoline can only handle a few jumpers at one time. Other jumpers may have to take turns.
Only comes in blue. Other Skywalker models come in a variety of colors.
Conclusion
If you want a traditional large trampoline, this is exactly what you're looking for. It's spacious, safe, and fun for every child. It's easy to add accessories and games to a trampoline of this size.
Just allow your kids to pick the accessories they want to use, and stick to soft foam toys and games. If you have a large yard and you know your kids will appreciate a bigger jump space, this trampoline is an easy choice for every family.
Skywalker Rectangle Trampoline and Enclosure
Rectangular trampolines are less common for casual use, but they certainly come with their advantages. Olympians use rectangular trampolines to train, because the shape makes it easier to perform long form flips and running stunts.
Rectangular trampolines are an excellent choice for children who are interested in learning spins, somersaults, and cartwheels on the trampoline.
This 14 by 8 foot jump surface is very large, and it's easy to use with accessories. The rectangular shape simplifies games like basketball, where a hoop accessory can be mounted on either side to allow jumpers to play competitively.
The gapless enclosure provides extra security to prevent running jumpers from flying off the edges. Since this is a durable gymnastics grade trampoline, it's easy for your kids to get active and even learn a few new skills.
Pros
Rectangular trampolines make for a better gaming space and allow more room for jumpers to do tricks like long flips. Two jumpers can play competitive trampoline games like basketball because the rectangle mimics the shape of a pro court.
Gymnastics style trampoline is great for kids who take gymnastics, dance, or even karate classes to practice their moves at home.
Great for homes with narrow yards or side yards, as the rectangular shape is easy to fit in areas where a round trampoline may not.
Cons
200 pound weight limit restricts the amount of jumpers who can use the trampoline at one time. Four tiny youngsters or two bigger children can use it at one time, and others may have to make turns jumping.
Conclusion
You'll know right away if a rectangular trampoline is the best choice for you. If you have two children who will want to play games together or a narrow yard that won't accommodate a round trampoline, a rectangular trampoline will always be your best bet.
Athletic children (and even athletic adults) will be able to make the most of this trampoline for both playing and an Olympic quality workout. There's nothing quite as great as getting healthy and having fun at the same time.
Skywalker Trampolines 17 ft. Oval Trampoline with Safety Enclosure
No products found.
No products found.
Oval trampolines are nearly impossible to find, but they often have the largest jumping surfaces. Think of an oval trampoline as a hybrid of a round trampoline and a rectangular trampoline.
Basically, you're getting the traditional circular edges, but also long straights where your children will have enough room to run or flip in mid-air. If you have a large yard, you can probably accommodate a large trampoline – and this is as large as they get.
This particular trampoline comes in an oval shape for more stability. Oftentimes, perfectly circular trampolines don't come in sizes larger than 15 feet because the center begins to lose stability. By creating their largest model in the shape of an oval, Skywalker was able to make the impossible possible.
Their gapless enclosure systems makes this one of the safest, largest trampolines that money can buy.
Pros
This trampoline is huge. It's unlikely you'll find one with a larger jumping space, as Skywalker's innovative design is patented.
If your kids aren't particularly good at sharing, this trampoline is great for them. With so much space, they'll easily be able to stay on their own sides and jump without coming into contact with each other.
Cons
Because if its enormous size, this trampoline won't work for families who don't have a lot of yard space.
200 pound weight limit means that only a few jumpers can enjoy it at once.
Conclusion
If your main goal is to reward your child with the biggest trampoline available, you'll find that they don't come much larger than this one.
Nobody will bump into each other if they jump at opposite sides, and the spacious jump pad allows for virtually limitless games and accessories. If your kids want a trampoline where they can toss a ball back and forth, they'll definitely have enough room. Go big or go home.
Which Trampoline Should You Pick?
You know the way your children like to play, and what kind of activities interest them. A basic 12 foot model is fine for youngsters with a casual interest. A 15 foot trampoline provides more space for bigger kids to move around.
Trampolines with built in accessories capture the attention span of children who get bored easily. Rectangular trampolines are perfect for kids who love stunts, and oval trampolines are some of the largest you'll ever find.
These Skywalker trampoline reviews will shed some light on the different offerings and help you decide which one your children will be thrilled to have. A little common sense will take you a long way in choosing which one is worth the investment.
If you're unsure, you can always ask your kids. They'll be eager to tell you which one they're most excited to bounce on.
Last update on 2022-10-01 at 00:40 / Affiliate links / Images from Amazon Product Advertising API
Comments
comments