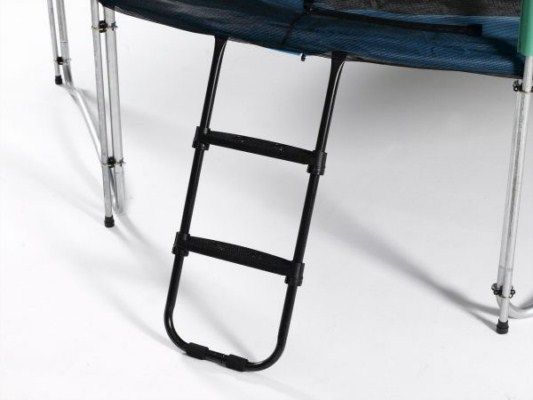 So, you've got a trampoline? Lucky you! Once you get over the initial joy of your bouncy new purchase, you may just notice that it's a bit difficult to climb onto. The good news is, you aren't the first one to encounter this problem.
There's a whole market out there catering specifically to you, the proud new trampoline owner. That market is the trampoline ladder market, offering hundreds of products made to ensure you get the greatest of ease. But how do you know which ladder is right for you? It can be difficult to navigate the internet, where information is hurled at you. We've created this list of the top ten trampoline ladders on the market. Here you'll find reviews of each product and a buying guide to help you decide.
Top Ten Trampoline Ladder Comparison Table
Here's Our Full Reviews Of The Best Ten Trampoline Ladder For 2018
Ready to dive into the exciting world of trampoline ladders? We certainly are. Check out our top ten picks just for you.
Pure Fun Wide 2-Step Universal Trampoline Ladder
Flat, textured steps prevent slipping while climbing onto the trampoline
Designed to fit on most outdoor trampolines with up to 3" round frame
Non-permanent top hook design for easy installation and removal
The Pure Fun product is perfect for those who want a no-frills ladder which gets the job done.
This durable trampoline ladder is made from galvanized UV-resistant steel, designed to withstand all weather without rusting or breakage. Easy 3-inch hooks at the top of the ladder hook easily onto most any trampoline. The ladder itself is just over 3 feet tall, which is a pretty standard height for trampoline ladders. You can tilt it according to your own trampoline's height.
Customers loved this sturdy ladder, describing the steps as wide and comfortable without any slippage. With a weight limit of 220 pounds, kids and adults alike can climb easily onto this ladder.
The price seems too good to be true at low range. However, upon doing the research, we found that this was just an astoundingly good deal.
---
The Trampoline Pro ladder is a pinnacle of trampoline safety and comfort. It's great for younger children, as the steps are wide and provide a secure base for them to climb up.
This ladder is coated with weather-resistant materials, which customers seemed to think worked well. The Pro is suitable for all trampolines at 40 inches high. The hook system at the top of the ladder easily hooks on to the rim of the trampoline, with a bungee tie-on for added security. This ladder claims to be cooler to the touch than steel ladder or those made with other materials — so you won't have any problem using it in the midst of summer.
The price is great. For just at low range price, you'll get a ladder you can depend on.
---
Sale
The JumpSport SureStep is designed specifically for JumpSport brand trampolines, but it works well with most other trampolines measuring 37 to 41 inches high.
This ladder or powder-coated and UV-treated, so you know it's capable of withstanding the elements. Like the previous ladders, it also uses an easy-hook system to attach and detach from the trampoline.
Customers were impressed with the strong structure of this ladder. The wide, flat steps are easy to climb up and down. The 3-step system and non-slip surface ensure both safety and comfort during use.
The price is reasonable, though a bit steeper than the previous ladders. However, it's well worth the price when you consider the hearty nature of this ladder.
---
Trampoline Jump Slider or Jump Climber (Climber)
LIFETIME Parts Warranty - If it breaks we'll send parts or replace it at no cost to you!
FUN Rock Wall feature is easy to climb than a traditional ladder. Plus kids can slide back...
DURABLE construction of steel and heavy-duty trampoline material. Climber is 54" in length
The Rock Wall Climber is a fabric ramp reinforced with heavy-duty steel, with handholds for kids to use when climbing up.
When it comes to the trampoline, kids can simply slide down the ramp. We were skeptical at first, but further research indicated that kids and parents alike absolutely love this setup. The 54-inch ramp is just as durable as any ladder on this list, made from heavy-duty trampoline material and steel. It's easier for younger kids to use and safer than a ladder, as there is little risk of tumbling off of it or misplacing feet.
Customers loved it so much that it stands at nearly five stars on Amazon. They claim it's not only safer than a traditional ladder, but more fun as well.
And the price to pay for such an eccentrically wonderful item?At low range price. Now that's a deal.
---
Skywalker Trampolines Wide-Step Ladder Accessory Kit
FITS: Fits trampoline rails up to 4 Inches in diameter. Easy to install
Materials: Ladder made of rust resistant galvanized steel
Features: 2 extra wide textured footsteps and storage bag that easily attaches to the main...
The Accessory Ladder is designed to be as functional as possible while protecting your personal safety and the lifespan of your trampoline.
The ladder has a "doormat" that fits over the edge of your trampoline springs, so you don't put any additional stress on them. It also includes two saddlebags for storage. You can drop phones, keys, shoes and other items into the bags, so they'll be safe and secure while you're jumping. The ladder is rust-resistant, so it should hold up well against the elements while providing you safe and easy trampoline access. The steps are reportedly wide and resistant to slippage. Kids and adults can navigate this ladder with ease.
The price is pretty great.
---
The Get Out! 2-step ladder is a durable product that fits any trampoline, making it universal and practical.
The rust-resistant steel frame supports two heavy-duty wide plastic steps, which accommodate kids' feet well. They also serve as a chair, so your little ones can sit down comfortably to remove shoes and socks before ascending the ladder up to fun-town. The ladder stands at 43 inches and is able to accommodate nearly all trampolines. Users said that this ladder was sturdy, easy to put together and safe to use. However, some had problems with the hardware.
---
The SkyBound ladder is adjustable to fit the height of any trampoline between 33 and 42 inches. The black powder coating prevents rust and weather-related wear and tear, and easy-use hooks make installation a breeze. The ladder has three steps, allowing kids of all ages safe and easy access to the trampoline. The steps are wide and made of heavy-duty black plastic that really holds up under the weather.
The price for this simple beauty is at low range. For that you get a durable and sturdily-constructed trampoline ladder. However, considering the lack of other features it may be a bit steep for some users.
---
Super Jumper 2 Steps Ladder Trampoline, White
With "hook" design, you don't need permanent installation to the trampoline
Easy to move and Fit to trampoline size (High) between 30inch to 35inch
High-carbon steel construction is water-resistant and UV-safe
The Super Jumper is a simple ladder. This is for families who want a safe way to access their trampoline without spending a large amount of money to do so.
The Super Jumper works well with trampolines between 30 and 35 inches high and is adjustable to meet your particular needs. The powder-coated steel is rust-resistant, providing a secure platform for your whole family. Much like other ladders on the list, the Super Jumper hooks in without any work on your part at all.
The best part? You can order this little gem at low range price.
---
The JumpKing anchor and ladder set makes the list because of its sheer affordability. This complete package, with a sturdy trampoline ladder and a trampoline anchor, set included in the mix. It's designed to keep your trampoline in place during strong winds.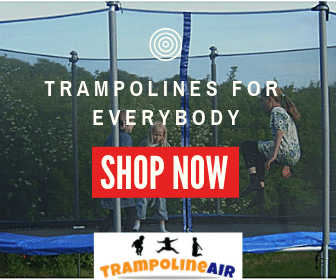 However, be warned that this set is not recommended to be used in the event of serious weather like tornadoes. It will prevent your trampoline from flying away in a storm, but if you live in a place with frequent hurricanes or tornadoes, you may want to consider another anchor set. The ladder is sturdy enough, with many customers singing its praises. However, some found that putting it together was a bit difficult and that instructions were lacking.
However, for the price of low range, you can't beat this set. It's got everything you need for trampoline care and safety.
---
Customers loved the Upper Bounce 3 step trampoline ladder. This is a great adjustable product which can be used for most brands and heights. The powder-coated steel frame will serve your family for years to come, while the steps are slip-resistant to provide safety and security.
Overall, customer experience was great. However, some complained that the hooks and rubber grips were a bit slippery. The price is good at low range.
How We Choose Our Ratings for the Best Trampoline Ladder 
We take trampoline ladders seriously.
These products aren't just an accessory. They provide safety and security for your whole family. We do the research for you based on these principles:
Design: How does the trampoline ladder look? Will it work with your particular trampoline? We examine safety, practicality, durability and structure.
Value for Cost: Are you getting enough bang for your buck? We'll examine if the features are really worth the price of the ladder.
Customer Reviews: What have those who have gone before you thought of their purchases? Exploring others' opinions of the product will help you understand its best attributes as well as its faults. This will ensure you make an informed purchase.
How to Pick the Perfect Trampoline Ladder for You
Whether you're looking to get into trampoline fitness or just want to bounce around a little, a trampoline ladder is a great accessory to have. However, there are a few things to think about when searching for one. If you have kids, make sure you purchase a ladder with extra safety features to accommodate them. Even if you don't have children, these features are paramount to your own peace of mind. Make sure the steps are non-slip, and the ladder attaches firmly to the trampoline. You'll want something made of strong material and able to support your weight, so make sure you check the limit before you buy.
You also need to choose a trampoline ladder that will last you. You don't want to buy something only to have it break or wear down with time. Buy something made of a durable material like steel, and check to make sure that it has rust or weather-resistant coating on the rungs and frame. Finally, make sure your ladder of choice actually fits your trampoline. You'll need to measure its height and choose a ladder that fits that specific height. Some people decide to simply lean the ladder at wide angle, but this could pose a safety risk. Make sure that the ladder sits at the angle which it is meant to sit at, as that will increase security.
A Trampoline Ladder is a Great Accessory for Your Backyard Bonanza
Buying a trampoline ladder ensures easy access to and from your trampoline. Ladders provide safety and security when engaging in some bouncy fun, and are a great accessory to have during the warmer months when you're using your outdoor playpen more vigorously. If you've got a trampoline already, why not make a move for convenience and safety? So go ahead—make your purchase and improve your trampoline experience.
---
Comments
comments