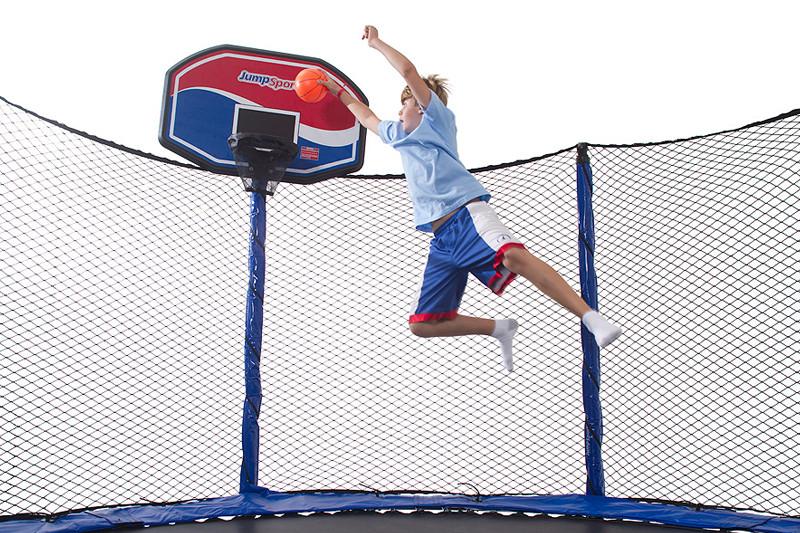 Are you the proud owner of a new trampoline? Even if you've had your bouncy backyard companion for a while, it may need a revamp. And there's no better way to spice up an old toy like adding new features.
A trampoline basketball hoop is a perfect way to add a bit of pizazz. It keeps kids and parents alike interested, activated and moving around. But which one should you buy? Purchasing a trampoline hoop is no simple task. There are many things to consider. Entertainment, safety, ease of use — all these things and more must play a part in your decision-making process. Seem like a lot? It is.
That's why we've compiled this list of the top 9 hoops for you.
---
Best Trampoline Basketball Hoop Comparison Table
---
| | | | |
| --- | --- | --- | --- |
| | | Weighs in at only 8 pounds | |
| | | Backboard is sturdy and durable | |
| | | Most durable trampoline basketball hoops | |
| | | Designed for AlleyOOP trampoline safety net | |
| | | Solid back panel which resembles a basketball hoop on an actual court | |
| | | Allowing you to mount the hoop at varying heights | |
| | | Great for your younger basketball stars | |
| | | One attaches with Velcro rather than bolts | |
| | | Designed specifically for Propel and Kinetic trampolines | |
---
Here's Our Full Reviews Of The Best 9 Trampoline Basketball Hoop For 2018
---
Sale
Jump Slammer Trampoline Basketball Hoop | Easy Install | Foam Ball...
LIFETIME Parts Warranty - If it breaks we'll send parts or replace it at no cost to you!...
COMPATIBLE with most Trampolines*** Please check that your enclosure poles do not exceed...
FOAM BALL already included plus SAFETY flex rim provides a safer and more realistic play...
The Trampoline Pro Jump Slammer is a favorite among consumers.
This hoop setup weighs at 8 pounds, ensuring you won't have any difficulty setting it up.
It comes with a universal connector able to attach to any enclosure pole measuring 1.5" or less.
This model also comes with flexible rim technology. That means the rim of the hoop won't pose a safety risk as kids are jumping around. If they do collide with the hoop, it will simply bend out of the way.
The Pro Jump has its ball safety net, which helps keep the ball inside. All parts are adjustable to fit your brand of trampoline.
---
The VersaHoop Set is perfect for kids of all ages, and a truly remarkable feat of design.
You can use the VersaHoop for your trampoline on a sunny day, and when it rains you can take the whole setup inside. It has clamps for both vertical and horizontal poles, and is easily detachable for when you decide to move it.
The entire setup is easy to break down and take with you anywhere. At just 7 pounds, you'll have a breeze setting it up. The VersaHoop is compatible with any safety net enclosure you may have.
The backboard is sturdy and durable, allowing for rougher play and some really LeBron James-like moves. The breakaway rim ensures that your child will have a fun and safe playtime.
All this for just a low range. That price is something we can definitely jump on board with.
---
The Proflex Trampoline Basketball Set by JumpSport is one of the most durable trampoline basketball hoops around.
The 11" hoop is perfect for kids of varying ages, and the Pro-Flex hardware is made to last a lifetime. You won't have any safety concerns with the padded rim, and the strong reinforced backboard even allows for slam-dunks.
This is truly a five-star product capable of withstanding the onslaught of a children's' trampoline basketball game. It even comes with a ball for playtime.
It's important to note that this model is not exactly universal. You must own one of three types of safety enclosures: JumpSport Elite, JumpSport Classic, or AlleyOOP.
This product comes highly recommended by users, though it is the one of the most expensive on the list.
---
The AlleyOOP Proflex basketball set is designed for AlleyOOP trampoline safety net enclosures. The backboard is a testament to trampoline basketball set design, with spring attachments on the hoop to support rougher play.
The hoop is cushioned as a safety feature to keep your kids safe at play all year long. The steel rim will last a lifetime. It provides safety springs which bend when struck by jumping kids, and won't break away like other rims.
This makes it last longer than many other rims on the market. The price tag is steep, but the product is extremely durable. You won't need any replacement parts for this one.
---
Sale
The JumpKing set is a modestly-priced hoop set able to be used with most trampoline safety nets. This set has a solid back panel which resembles a basketball hoop on an actual court, so this model gets lots of points for attractiveness.
But it's also safety-minded, with a padded hoop. The U-bolt technology makes setting up and taking down this basketball hoop a breeze.
Although this trampoline basketball hoop is attractive and fun, some customers warned against slam dunks — be careful not to hang on the hoop, as it may break.
This hoop is a light investment that will provide your family with hours of outdoor fun.
---
Sale
The Trampoline Basketball Set gets major points for being able to fit with any brand of trampoline and safety net enclosure system.
It includes its own poles for assembly, allowing you to mount the hoop at varying heights. You'll also get a free basketball with a pump included in the set.
This trampoline set is a bit heavier at just under twenty pounds, so you may want to have some help setting it up.
---
Exacme Trampoline Basketball Hoop with Ball and Attachment for...
Trampoline Basketball Hoop Set: Compatible with most trampoline with straight net poles...
Safety Guard: EPE foam, wrapped around the basketball hoop, is soft with no rough or hard...
Easy Installation: Comes with U-bolt brackets to secure to the pole, one person can finish...
The Skywalker basketball set is great for your younger basketball stars. You're able to use this setup with any trampoline and safety enclosure, as it attaches with strings and straps rather than clamps.
The Skywalker basketball set is made with gentle fabrics to prevent injury. It has a breakaway hoop as a further safety precaution.
The fabric is made with a weather-resistant material with added UV protection to withstand the elements. However, customer reviews indicate that you may want to bring it inside in case of inclement weather.
Smaller kids will love it, but bigger ones can be a bit hard on the soft materials. This is not the basketball hoop you want to buy for playing rough.
It's very reasonably priced at low range. This includes the entire setup plus a basketball, so you won't have to wait for backyard fun.
---
Sale
The Exacme basketball set doesn't pretend to be anything other than mini. It's small, but this product packs a mean punch. It's perfect for parents who don't want to break the bank on a basketball hoop.
Unlike traditional trampoline basketball hoop sets, this one attaches with Velcro rather than bolts. This makes it a little bit more versatile than other hoops, allowing you to move it around as you see fit.
The greatest thing about this basketball hoop is that it's completely customizable. You can send in your own design when you order with Zazzle, and it will be printed on the backboard and sent over to you straightaway.
And the second-best part? This trampoline costs around in low range. Now that's a deal to make you jump for joy.
---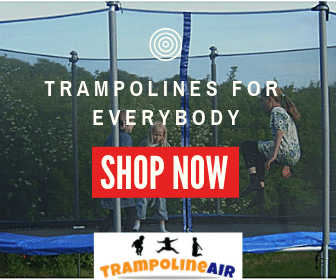 The Propel Jump and Jam is a versatile hoop. This set is designed specifically for Propel and Kinetic trampolines, but many customers reported that it fits with Skywalker trampolines as well.
Make sure your trampoline safety net poles measure 28 or 32 mm in diameter before making your purchase.
Like many of the other trampoline basketball hoops on this list, the Propel comes with a flexible rim for safety. The backboard is sturdy and durable, though some customers said slam-dunking was a bit too much for this hoop to handle.
The Propel model comes with its own basketball and air pump, so no additional purchases are necessary. At it's low range price, this hoop is a steal.
---
How We Choose Our Ratings for the Top Trampoline Basketball Hoop
---
A good trampoline basketball hoop provides the whole family with hours of fun.
A bad one is a potential disaster waiting to happen.
We take safety and customer satisfaction seriously. That's why we've compiled this list based on three factors:
Online Reviews: Other peoples' opinions are important. We take into account what numerous previous buyers have said to give you the most accurate prediction.
Value for cost: Is it worth the money? We'll give it to you straight by examining the features, durability, and what exactly you're getting for your hard-earned dollar.
Design: How your trampoline basketball hoop is made plays an important role in its function. We'll examine its practicality, safety, usability, and attractiveness.
Introducing the Best Trampoline Basketball Hoop for You
Ready for the real skinny on trampoline basketball hoops? Check out these top ten hoops that make the cut.
Here's A Relevant Video From YouTube:
How to Choose Your Trampoline Basketball Hoop: The Buying Guide
---
Choosing the right trampoline basketball hoop depends on your own personal needs and the trampoline you already have.
If you don't already have one, check out these tips on buying a trampoline. These will help you decide on the right one for you. If you do already have one, there are a few factors to consider when deciding on your purchase.
Who Will Be Using the Trampoline?
---
Will you be the primary playtime Michael Jordan, or will it be your significantly younger children?
Keep in mind that while one trampoline basketball hoop may be for kids of all ages, another may be age-specific.
The hoops designed for smaller children are generally softer, smaller and cheaper. They have more added safety features and are made using more fabrics and padding.
The hoop sets made for older kids are made of sturdier materials like steel and hard plastics. Even so, you should choose one that has lots of safety features.
Bigger kids play harder, which mean they'll be banging up the hoop and backboard quite a bit more —you'll want a breakaway or detachable hoop.
Is Your Trampoline Compatible with the Hoop Set You Want?
---
Most if not all trampoline basketball hoops are only able to be set up on a trampoline which already has a safety enclosure.
That's because most of them attach to the poles of the enclosure or the surrounding net. Examine your trampoline and its safety enclosure.
Find out the shape of the enclosure and the diameter of its poles. Make sure they'll work with the hoop set you want.
When you know everything, there is to know about your trampoline, its time to make your purchase.
Buying a Trampoline Basketball Hoop is Fun for the Whole Family
---
Trampolines provide hours of much-needed outdoor playtime for kids of all ages and buying a basketball hoop just amplifies the fun.
Making an informed purchase for your family ensures that your kids will be encouraged to get out there, get moving, and have fun doing it.
So, what are you waiting for? Get your trampoline ready for the game.
---
Comments
comments