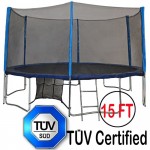 Zupapa is rather new to the trampoline game. They aren't as widely distributed, and they're still very up-and-coming. They're definitely a competitive company, creating trampolines that rival those produced by more popular brands.
Their packages are a revolutionary idea, including more than you would get from most manufacturers.
If you're looking for something all inclusive and you don't want to make any additional purchases to create a functioning trampoline, Zupapa has you covered.
An Overview of the Zupapa Safety Combo
Zupapa is one of the only trampoline companies that provides the consumer with a whole host of customizable options. You'll be able to select most aspects of your kit, so there is no standard size.
These particular trampolines come in 12 foot, 14 foot, and 15 foot varieties.
These trampolines are manufactured in Germany, and are subject to many safety tests. The TUV, which is a company that exists to rigorously test products for safety standards, have certified Zupapa trampolines as being among the safest on the market.
If you're purchasing this trampoline for family fun, you won't need to be concerned about the safety of your children when they're bouncing around.
These trampolines are lightweight, but don't be deceived. Lightweight doesn't mean light duty, because the high weight limit will safely accommodate several children, or up to three adults. The superior enclosure keeps everyone safe from backflip mishaps and bounce-offs. Its galvanized steel frame is nearly unbreakable.
Specifications and Features
These trampolines have a shipping weight of 65 pounds, and have a maximum weight capacity of 375 pounds. The total product height runs 94 inches.
The mat sizes range from 124.4 inches to 159 inches, depending on which size you select. These trampolines offer superior stabilization, with the poles and legs attaching in two places for maximum security. This makes for a very firm trampoline that isn't prone to twisting.
The frame itself is composed of deep galvanized steel. The pipes come in at 42 millimeters in diameter, and 1.5 millimeters in thickness. The pipes are rust resistant, so you won't have to worry about their integrity degrading over time.
Both the mat and the enclosure are UV protected to help them last. The sun will break down some trampolines and enclosures over time, because it causes fiber to become brittle. The UV protection boosts their strength, keeping your trampoline safer for longer.
In addition to this safety feature, the trampoline is padded by 10 millimeters of foam to prevent bumps and bruises.
Pros
When it comes to added value, Zupapa blows their competitors out of the water. While most trampolines will require additional purchases for their use, everything is included here. The enclosure, ladder, cover, safety pad, and even a shoe bag are included with your purchase.
Everything is ready to go right out of the box. Nobody else offers a total package that stacks up against Zupapas, and you won't incur any hidden costs.
Cons
While this trampoline is great, it's certainly not perfect. After all, nothing is perfect. While none of the cons directly reflect the safety of the trampoline, there may be some durability issues with the small parts.
Some people find the installation instructions to be a little confusing. To be fair, not everyone is naturally inclined to build things. Assembling a trampoline is a big deal, and it's going to take hours no matter who is doing the hard work. Some people feel that more detailed illustrations may have removed some of the confusion from the situation.
The nuts and bolts are of lighter construction, which means they may come loose sooner than heavier nuts and bolts. It's a good idea to routinely tighten nuts and bolts on a frequently used trampoline every three months to assure that everything is operating to maximum safety standards.
Though the enclosure net is UV coated for sun protection, it is quite thin. Some users wish the netting was a little thicker. As long as the netting isn't being intentionally damaged (for example, by children who like to pick things apart or scrape at the netting with sticks), the net is durable enough. Make sure that children know not to damage the net intentionally.
Some users have lukewarm feelings about the net poles, claiming that they feel flimsy. Many trampoline manufacturers built trampolines this way on purpose. Putting a little bit of give in the poles will prevent the net from ripping when someone bumps into it, and it's also more likely to prevent injury because collision with the poles will be lighter. Just make sure the poles are completely secured and regularly tightened, and you shouldn't have a problem.
Verdict
The value for money is outstanding with the Zupapa Safety Combo kit. While similar trampolines run hundreds of dollars more expensive and don't include required accessories, Zupapa stands out by offering you everything you need to start having fun the second the boxes arrive.
If you're working with a budget, your money is going to go as far as humanly possible if you select a Zupapa combo.
This trampoline comes highly recommended by youth cheerleading and gymnastics coaches for its safety standards. This is the kind of trampoline you want for your athletic child, no matter how rambunctious he or she may be.
The weight limit will allow the trampoline to support multiple children, so this is an excellent option for larger families.
While no trampoline can please everyone, the Zupapa Safety Combo seems to please the majority of its purchasers.
With everything you're getting for your money and its optimized safety for children, you'd be a fool to pass it up.
It's easy to overlook its small issues, and for the price, you can still afford to purchase galvanized nuts and bolts to replace the included ones if you have any concerns about their longevity.
This trampoline is an excellent sweet spot between price and quality.
Last update on 2022-05-22 at 15:09 / Affiliate links / Images from Amazon Product Advertising API
Comments
comments