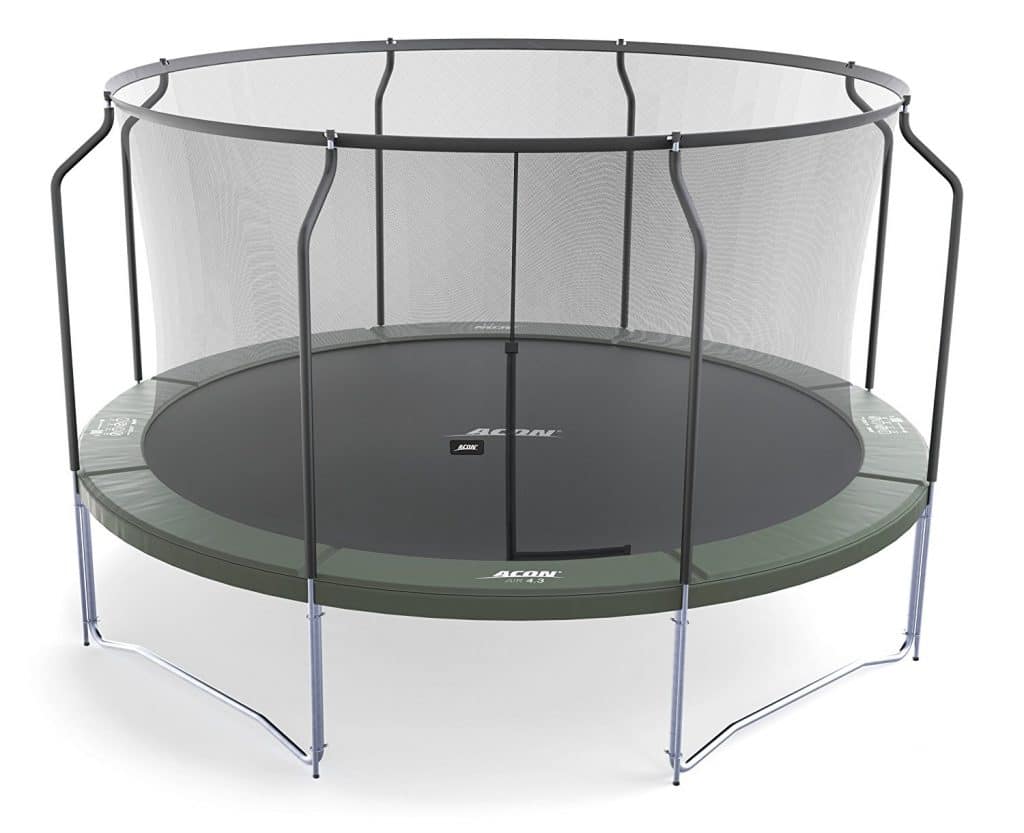 Founded in Finland back in 1996, ACON offers a wide range of innovative and high-quality products that drive people outside playing games. They started by importing trampolines into Finland and they have expanded into manufacturing over the years.
Trampolines are one of their line of 500 activity products that encourage kids to get out and have fun with friends.
Other ACON products include off-ice hockey training products, game tables, pedal cars, basketball hoops, swimming pools, and wooden swingsets.
ACON Finland manufactures these products themselves while they also import some quality labels such as Cornilleau ping pong tables and Berg pedal cars. All the products are designed with the mission to keep folks outside and active while having fun at the same time.
A Review of ACON Air 4.6 Trampoline 15′
The ACON Air 4.6 Trampoline guarantees families a durable trampoline due to the fact that it is made from heavy-duty materials than most different trampolines available.
The company asserts that you will never need to cover it amid the winter and never need to stress over any issues with the trampoline. The ACON Air 4.6 is designed to survive the climatic conditions in Finland and thus it ought to be more than fine in other parts of the world.
If you and your family have been looking to bounce your way to great wellbeing and fun, the ACON Air 4.6 trampoline might be what you need.
Features and Specifications
This heavy-duty trampoline is 15ft round with a superior enclosure. It comes with a 5-year warranty which is not only a statement about its lifespan but limits concerns if a new customer encounters any issues with the trampoline.
While there is no single jumper weight limitation on this trampoline, the total maximum weight that it can support is 800 pounds.
This is on the higher side compared to other brands Zupapa, JumpSport, Upper Bounce, and others.
That makes the ACON Air 4.6 Trampoline 15' a heavy-weight champion thus suitable for both kids and adults of any size. It also means that you can hop and play together as a family without stress.
At nearly 300 pounds, this trampoline is considerably heavy. Yet, this is due to the heavy-duty 110 heavy gauge 8.5 galvanized steel that makes the framework of this trampoline. The steel pipes are also 2 inches in diameter and the pipe thickness is .08 inches.
The springs are tough and resistant to rust. They are secured by a thicker cushion than any other trampoline available to make sure your children are safe while bouncing. In addition, it comes with a spring puller tool to help install springs on the trampoline.
The trampoline mat is solidly worked as well with polypropylene material. What adds to the sturdiness is the fact that it has been sewn 6 times as compared to ordinary trampolines which are just stitched crosswise 3 or 4 times. It is worth mentioning the fabric is UV treated for the benefit of the users.
It comes with a safety net alongside a spring hook to make assembly less demanding for you. There is a door on the net which shuts when guys are on the trampoline. The net ensures someone does not fall off regardless of how hard they play.
Pros
No weight limit; this trampoline offers the highest weight capacity of 800 pounds which is a huge plus for adults who want to join their kids in having fun. You can enjoy time together as a family without any worry.
All-weather trampoline; there is no need for disassembling this trampoline. It is perfectly designed for year-round use. You can bounce as much as you want in the summer heat and in the winter cold and snow. And if it withstands the harsh Finland weather, it is certain to stay put in any other part around the world.
High-quality construction; when you buy this trampoline, you are investing in thicker frames, the best-sewn mat, highest rated springs, heavy and thicker padding, and a strong, well-designed enclosure that fits tight to the mat.
The durability of this trampoline is hard to beat and no wonder it accompanies a 5-year warranty.
Cons
The ends of the poles are a bit rough and you could pinch while installing the top of the net to the support pipes. Some smoothening on the ends might mitigate the risk of any pinching.
Instructions are a bit lacking as they are only in pictures, with no explanations. The trampoline section assembles quickly and easily but most people will have a hard time setting up the enclosure.
It does not come with a ladder and other accessories. That means there is no aid on getting on and off the tramp. However, you can order them separately to come as one package but at an additional cost.
The warranty for this product should also be longer considering the quality of this trampoline.
Verdict
This trampoline is most loved because of its quality and weight capacity. The material that makes the trampoline is of the highest quality and even the frame features heavy-duty construction.
This means stability, safety, and longevity are guaranteed.
Many parents will also find the 800 weight capacity pretty encouraging for them to share the fun with their kids.
The major issue that individuals have with the ACON Air 4.6 Trampoline 15' is that the enclosure is a bit tricky to assemble. Still, most concur that once the net is securely set up, children and parents can bounce in it and doesn't move.
Perhaps you could make it more secure by buying an anchoring system or using tie-downs to hold it sturdy on the ground.
The trampoline does provide a good value for money. Being larger and sturdier, it gives parents the confidence to spend money on the ACON Air 4.6 Trampoline especially since it is backed by a 5-year warranty on its sturdy frame.
They also have all the replacement parts in stock and that's an advantage when you need to replace any parts with one or two issues. Ordering the parts is also a simple process.
The trampoline is not the cheapest nor the expensive side. For the vast size, quality, weight support, and durability, it is worth every penny.
There are a few drawbacks with this trampoline. The major one is the lack of a ladder and it's surprising that such a high-quality product doesn't come with one. Assembly instructions on the enclosure section are also a bit confusing but one can always maneuver on that.
Overall, the ACON Air 4.6 Trampoline 15' with Premium Enclosure is perfect for use with both kids and adults, all year round.
If having fun with your children in a long-lasting trampoline is something that excites you, we highly recommend this trampoline.
Bestseller No. 1
Bestseller No. 2
Bestseller No. 3
Last update on 2022-12-06 at 11:29 / Affiliate links / Images from Amazon Product Advertising API
Comments
comments