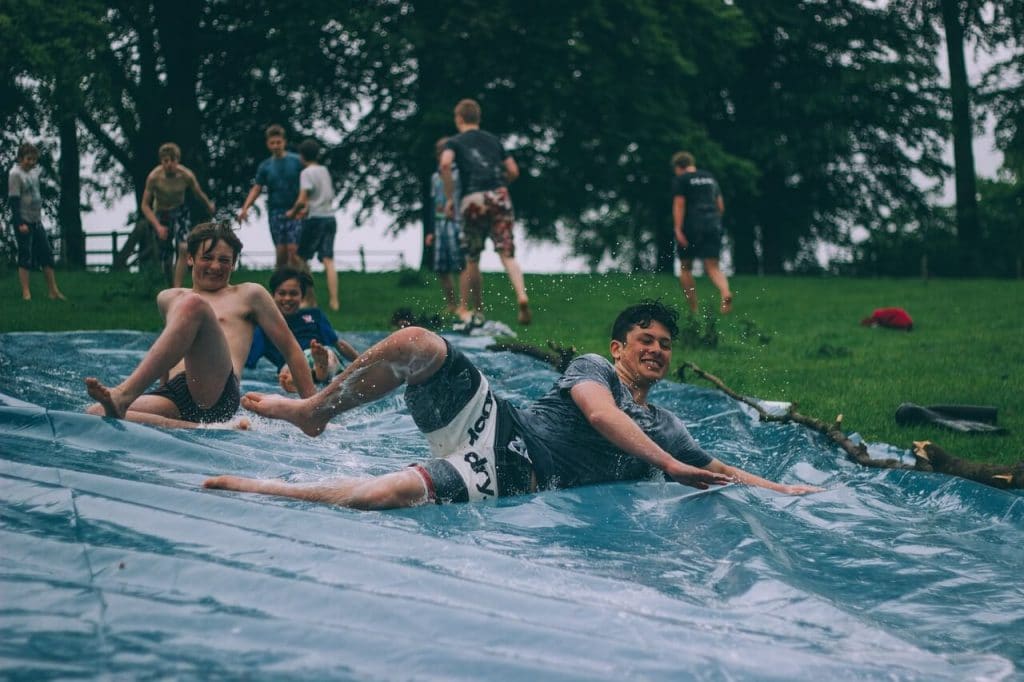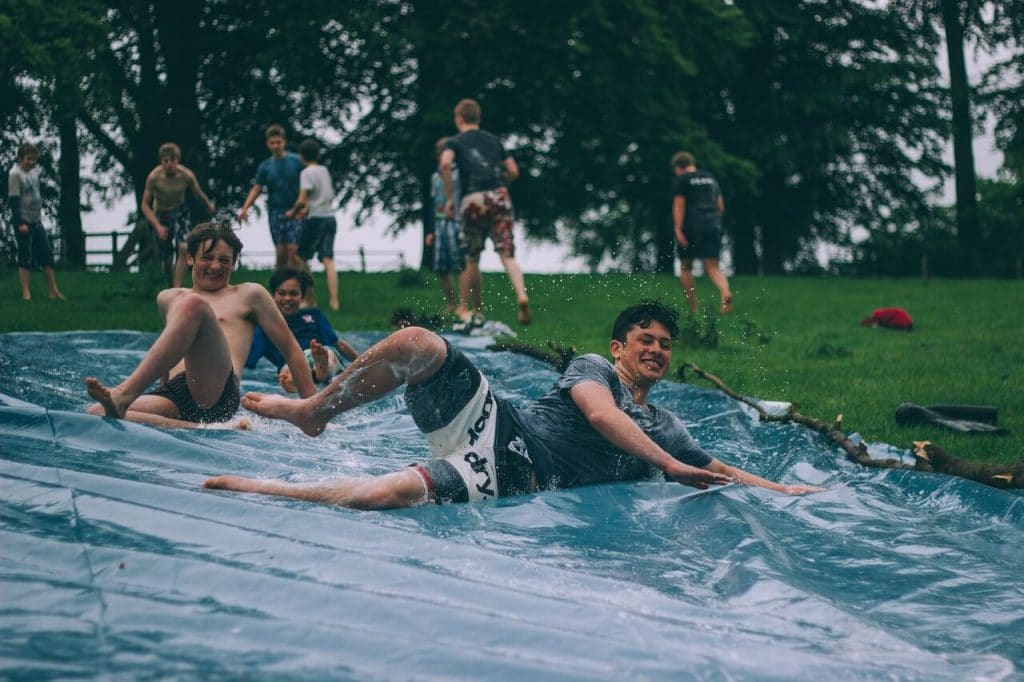 Waterslides have always been a thing of public waterparks around the world.
Today, you can enjoy the same experience from your own backyard using an inflatable waterslide. They are small yet they can be a great source of fun for kids and sometimes adults as well.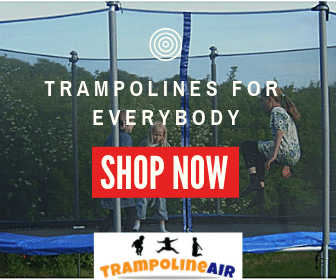 The major question with most of us is, which one do you buy?
For sure, finding the best backyard waterslide can be a daunting task but they do exist. They come in various models, versions, sizes, specs and other distinct features.
Obviously, it is easier and safer to keep your child playing in the backyard than going to a public facility. This is the major benefit that comes with a backyard waterslide in addition to the physical activity for the fitness of your child.
Waterslides buying guide
For those looking for the best backyard waterslides or the best backyard inflatable waterslides, here are the features to look out for:
Construction material
The best inflatable waterslides are made from either commercial grade nylon, gauge vinyl or polyvinyl chloride (PVC). These are the most durable known materials.
Of course, their durability varies. Commercial grade nylon is the toughest among the three, but PVC modes are the most popular choice.
Size and shape of the waterslide
This is important for a number of reasons. Can it fit in your backyard?
Keep in mind that you need to leave plenty of space around the waterslide. So, the shape is also important. Square shapes, for instance, take the least space but they tend to be smaller in size.
Recommended age
This is an essential factor to consider when looking for the best inflatable waterslides for kids. Some waterslides are designed for children aged up to 6 year while others can be used by children up to 13 years.
They also rank according to the height and weight capacity. Some can hold 100 pounds while others in excess of 150 pounds.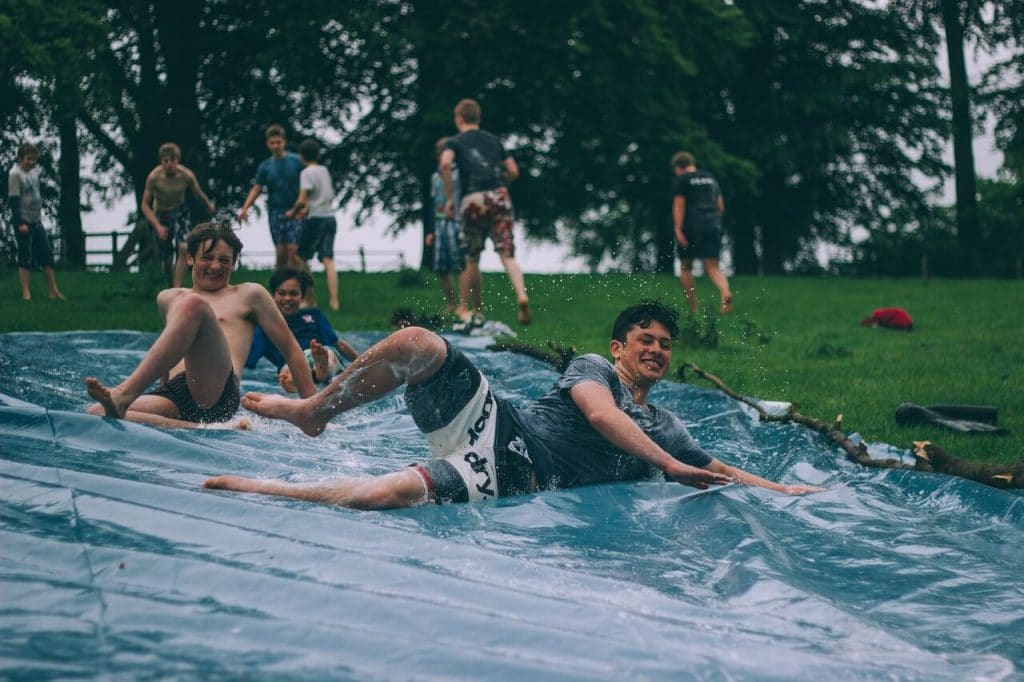 Number of chambers and slides
Look for the number of slides in the model that you want to buy. More slides imply more fun, yet bigger and extra weight.
If you have two or children, you will definitely need a waterslide with more slides. The best waterslides, usually regarded as the best buys have 4 slides.
Chambers are more or less the same. Models with more chambers mean more children of different age can play together at once.
Setup time
How long will it take to set up the inflatable unit?
Ideally, the best backyard inflatable waterslides require less time and effort to put up. Of course, that may depend on the size; larger models will take more time than smaller ones.
Some waterslides come with installation DVD's and instruction manuals to help with setting up. This is a feature associated with the top rated inflated waterslides. If you are DIY expert, you might need no such help.
Additional accessories
These can be an appealing factor of your purchase. Additions such as carry case, blower, repair kits, sprayers, and surprise buckets of water will add some convenience on top of the fun.
Some additions are only available for the premium, top rated inflatable waterslides while some come with exciting elements but at a cheaper price.
Price point
There are expensive models as well as cheaper ones. The high end waterslides are usually assumed to have high-quality features and durable.
Cheaper waterslides will still serve the purpose but you will be likely to go shopping for another one sooner.
This can be good on the other hand if your requirements change. If you don't intend to replace your waterslide any time soon, you will better off with an expensive model.
All things considered, let's take a look at some of the best waterslides for backyard use.
TOP 4 Best Backyard Waterslide Reviews 2018
Blast Zone Hydro Rush Inflatable Water Park
Blast Zone Hydro Rush Inflatable Water Park
Measures 18'L x 8'H x 11'W
Maximum User on Slide: 1, Maximum users on climbing wall: 1, Maximum users in splash area:...
Max Weight/User: 100 lbs., Maximum Weight on inflated Structure: 200 lbs.
The Hydro Rush Inflatable Water Park is a very popular water park that is loved by kids for the action and by parents for the quality, safety and durability.
Setup is quick and frustration-free with most taking less than 2 minutes to inflate. Simply unroll the park, hook the inflation tube to the bowler and stake it down then turn on the blower. When you want to take it down, turn off the motor and it deflates on its own.
The included blower is essential in feeding the inflatable water park. Some air does escape via the seams in the material but that's no problem at all. On another level, it creates a sturdier inflatable with ideal pressure so your bouncer can support as much playing as the kids can do.
This inflatable park features heavy duty construction on every part. All the bounce and sliding surfaces feature commercial grade vinyl material which are put together with up to quadruple high density stitching. This adds extra strength and extend the lifespan of the unit.
When it comes to safety, the fully enclosed bouncers with safety nets and climbing surfaces, with safety handles and plenty of footholes will give parents the confidence that their kids will enjoy fun and safe play.
Another thing that people love about Blast Zone is their stellar customer service. Furthermore, the company backs the Hydro Rush Inflatable Water Park with an industry-leading warranty; 1-year warranty on inflatable, 1-year warranty on blower and "2-year Promise" on Kit.
Talking of space, the unit has enough room to entertain up to 6 kids at once and still leave some room. Even one adult can join the action. There is a built-in flow restriction that helps in minimizing water usage.
Pros
Quick, frustration-free setup in no minutes.
Constructed from durable, safe products; giving parents enough confidence in the product.
Comes with extra accessories for a fulfilling experience; carrying straps, anchor stakes and sprayer system.
The unit is lightweight and portable for easy transportation.
Large playground for up to 6 kids.
Cons
It dries slowly making it susceptible to mold growth.
Conclusion
The Blast Zone Hydro Rush Inflatable Water Park is a fun inflatable water slide designed for kids aged 3 years and over. We like its large size, the durable construction, and the accessories that accompany the unit.
It is said to be lightweight and portable but this may not be the case to everyone. A major challenge comes when the fun is over; getting the deflated unit to dry and storing. It takes so much time to dry and sometimes you might be forced to use towels in drying it up.
Overall, it is a great kit that will keep kids entertained as much as they want and it will last through several uses.
Little Tikes Slam 'n Curve Slide
The Little Tikes Slam 'n Curve Slide features a unique inflatable rock wall design that kids have to climb up to the starting point of the sliding surface. This kind of challenge provides a great way for kids to get that extra energy out in a safe environment.
It is also designed in a way that parents can see all the action closely thus providing them the opportunity to monitor the play. This is important as sometimes kids can be messy or awkward playing and maybe injure themselves.
There is a basketball hoop in the spacious splash pool area that adds to the fun. With a small basketball, kids can enjoy throwing the ball to find the hoop and even compete among themselves. For information, the maximum number of kids allowed on this unit is 3.
By referring to the provided instruction booklet, you can setup this unit easily. It also guides you on storage, maintenance and care of the product.
A blower with GFCI plug is included for inflating the kit. Have it in mind that after inflation, the blower must run continuously while kids are playing.
The inflatable must be anchored firmly in place using the provided stakes. It comes with stakes for the bouncer and four for the blower. On the side-wall is a step-down for easy entry and exit.
This water slide also comes with accessories including a repair kit and storage bag. The combined weight is about 350 lbs which is a bit on the heavier side. The inflatable 90-day limited warranty from the date of purchase and the blower has 1-year limited warranty.
Pros
Easy assembly following the provided instructions.
It comes with extra accessories for better use of the kit.
Roomy splash pool for up to 3 kids.
Includes stakes for anchoring the inflatable unit and blower.
Easy entrance and exit through the step-down on the side wall.
Folds compactly for easy storage.
Cons
The combined unit is quite heavy.
Conclusion
When you have to entertain up to 3 kids, you only need an ideal water slide. The Little Tikes Slam 'n Curve Slide might just be that solution.
Setting up the unit is easy and it holds firmly on the ground using the provided stakes. You can be sure that your children are playing in a safe environment. Furthermore, its open nature ensures that you can closely supervise your kids as they play.
The included accessories ensure that you have everything you need for the fun experience. Kids will love the fun in roomy splash pool with a basketball hoop along with the motivating rock wall climb.
This unit is quite heavyweight yet storing it won't be an issue. All in all, this can be a good alternative when you don't have the option of a pool for kids to play.
Wahii WaterSlide 75
This water slide simply creates a water park in any backyard. It is extremely large, 75ft long and 12ft wide, and boasts as the world's largest lawn water slide. We have not compared it will other water slides but literally it's huge.
It needs a hill or slope for the slide to work effectively. If your garden has a sloppy landscape, you are in luck. If not, perhaps you will have to create an artificial slope if you intend to buy this product.
Also keep in mind that the recommended age bracket is 5-13 years.
Because of its vast size, Initial setup takes about an hour as compared to those waterslides that advertise quick setups in no minutes. You have to figure out on placement, laying it out, attaching the tabs and stakes, and setting the sprinkler in the perfect position.
The Wahii WaterSlide 75 is toughly constructed from thick, specially formulated plastic. The material is also UV protected. The sliding surface is exceptionally smooth and rated to hold 256lbs per sq. ft. It has fasteners that hold it firmly to the grass so kids can play with no worries.
Cleanup takes a while. You have to dry both sides, to prevent mildew, before you fold it up for storage. A beach towel will be handy for drying the last drops of water. When it comes to storage, make sure you keep it a dry place where rodents cannot access and probably chew holes in it.
Pros
Large waterslide for providing maximum fun experience.
Sturdily built to last through years.
Extremely smooth sliding surface.
Ideal for many players.
Cons
Cleaning up and putting away takes a considerable amount of time.
When drying on the lawn, the area under the slide can get extremely hot and burn grass.
It does not work with water alone – needs some smoothening supplements for a great sliding experience.
Conclusion
The Wahii WaterSlide 75 is the perfect play gear for large groups such as birthday parties, school fun, youth groups, church camps, company picnic, or any other large events.
It is large, built strong and UV protected for the safety of players. The surface is very smooth but the waterslide doesn't work with water alone. Some people add detergents to the sliding surface.
If you plan to buy this, be prepared to use considerable effort from assembly, to cleanup and storage. You also need a slope for the slide to be effective. If you got this, the Wahii WaterSlide 75 can provide your family with hours of entertainment and it comes at a fair price.
Intex Surf 'N Slide Inflatable Play Center
We wind up our list with the Intex Surf 'N Slide Inflatable Play Center, 174″ X 66″ X 64″, for Ages 6+. First of all, this model is pretty cheap compared to the first three models. The manufacturer recommends that it should be used for kids aged 6 years and above but still works even for 4 and 5 years.
First time setup can take up to an hour since you have to get used to all the 6 chambers. You must attach a garden hose for the sprayers to wet the slide surface. The inclusive landing mat underneath provides extra padding at the bottom side for a comfortable sliding experience.
It is worth mentioning that the unit has a weight limit of 176 pounds, so be careful how many kids you will throw on it. In any case, there are users who have allowed up to 4 kids on the Play Center and it held up well. You should also know that the Intex Surf 'N Slide is only suitable for use in warm weather.
The waterslide comes with a repair patch just in case of accidental damage. It also includes two surf riders with heavy duty handles for extra fun. At only 30 pounds, it is one of the lightest waterslides available.
Pros
Lightweight waterslide – ideal for taking out frequently.
It is quite affordable.
Includes a repair patch to use in case of damage.
The included landing mat ensures comfortable landing.
Cons
It is prone to leaks and often can cause a mess around the placement area. This even makes cleaning a heavy task.
It takes a lot of time to set up.
Conclusion
Sometimes you don't have to spend in excess of $100 for a quality waterslide for your kids. You can get the Intex Surf 'N Slide Inflatable Play Center for less and let your kids enjoy sliding on it.
However, it is only limited for summer use or warm weather. Also be prepared for long setup periods, initial will be quite long but subsequent setups will definitely be shorter, about 30 minutes. Cleaning may also take a toll on you.
In short, the Intex Surf 'N Slide is great fun for kids but can be terrible for parents.
To wrap it up
Kids would love having a waterslide in their own backyard. The fun and relaxation that comes with the waterslide is hard to beat. It is also cost saving to the parent as compared to taking trips to waterparks.
From the inflatable waterslide reviews above, it is clear that these artificial playgrounds come in different designs, sizes, recommended use, and price, among other factors.
Hopefully our guide will help you land the best backyard waterslide that suits your needs.
Comments
comments