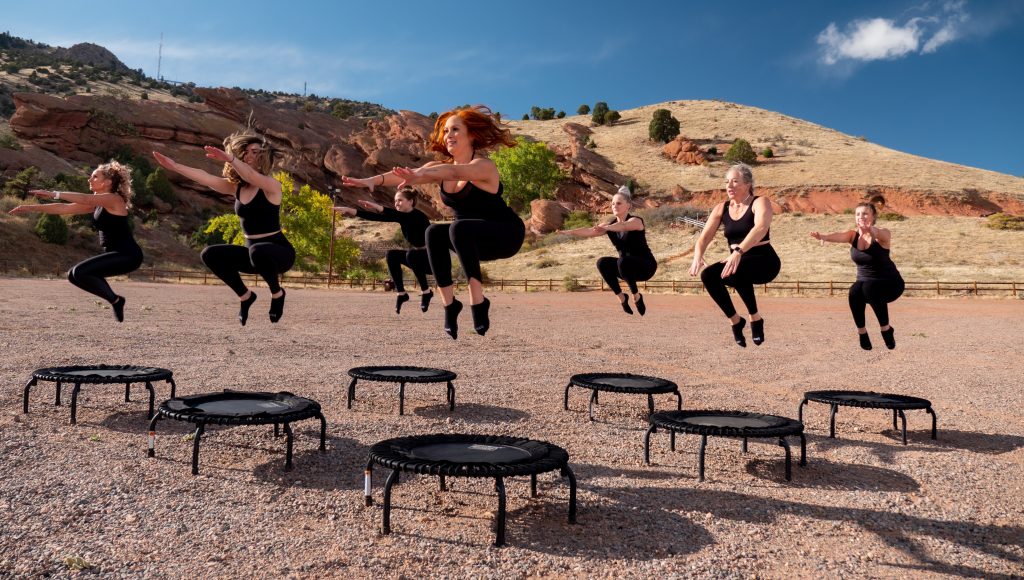 Just because we age does not mean kids get to have all the fun. Those in the know realize trampolines pack a massive punch with burning calories and have other health benefits as well. Before you run out and shop, you need to investigate the various features of the best indoor trampoline for adults.
Mini trampolines for adults, or rebounders, offer numerous health benefits often overlooked.
Plus, mini-trampolines for adults are often portable, quiet, and have features you did not realize you need.
Health Benefits of the Best Indoor Trampoline for Adults
Besides being fun, using a trampoline for adults has several health benefits.
Using a rebounder, also called an adult trampoline, is very low impact, which is fantastic for those with joint issues.
Also, you have control over the intensity of the workout.
However, if you work out at a moderate intensity, you can burn about nine calories a minute. Moderate intensity means you can still talk, but not very easily.
Best of all, you do not need to spend hours on a mini-trampoline to reap the rewards because this workout is highly efficient.
Lymphatic system
The lymphatic system is essential because it brings cell nutrients and carries away waste.
However, the lymphatic system relies on activity to keep it moving and to get the waste out of our cells and nutrients into our cells.
Therefore, bouncing on a rebounder is necessary because the system has sets of one-way valves, so vertical up and down jumping moves lymph fluid through the channels.
This action is especially helpful for those who are working through post-surgery swelling or those detoxing their bodies.
Mineralizing bones
Low-impact exercise helps stimulate new bone production without putting strain on joints. NASA ran into the problem with astronauts, and the research reveals that rebounding keeps bones from deteriorating.
What Is a Trampoline For Adults, Anyway?
If you wonder why you cannot just hop on your kid's trampoline and get in a good workout, there is a key piece of information you should know.
Often, when you hear about trampolines for adults, what you hear about are rebounders. However, the terms are interchangeable.
A rebounder looks nearly identical to a mini trampoline, but there are key differences.
For instance, rebounders are a little smaller, and they are often portable.
Usually, rebounders are of higher quality than the mini trampolines you typically see on the market because they have a higher quality mat with more support.
Also, the springs are better than what you see on a mini-trampoline geared towards children.
Therefore, when you see adult mini-trampolines for adults, you are usually looking at a rebounder.
Features to Consider in a Trampoline for Adults
It might come as a surprise, but the best indoor trampoline for adults has many features to consider.
Rebounders have weight limits, sizes, springs, and differing levels of portability.
Weight limits
Rebounders or mini-trampolines for adults function the same. However, they often have different weight limits.
Therefore, it is vital to consider the weight of those who are likely to use the rebounder before making your purchase.
Rebounding requires gravity to give you an efficient workout. By having the proper tension to accommodate your weight, you will find your workout is effective and safe.
Bungees or springs
Some rebounders use springs, while others use tightly drawn bungees.
Some believe the steel springs offer less bounce because of the shorter suspension. Less bounce might seem bad, but adult mini-trampolines for fitness are not the same as jumping high for fun.
The rebounders that use bungees offer less impact on joints, a quieter workout, and offer a deeper and gentle bounce.
Whether you prefer bungees or springs comes down to personal preference and the pairing of other features to get the workout you desire.
Safety features
Mini trampolines for adults have safety features.
You want to consider covers over the springs, so you do not injury yourself.
Also, some want the ability to attach or use a handle for balance.
Portability
One of the reasons rebounders are so popular is their portability.
Many indoor trampolines for adults fold relatively flat for storage, and they have different levels of breakdown before storage or travel.
The Contenders for Best Indoor Trampolines for Adults
We gathered ten options for the best indoor trampolines for adults.
Upper Bounce 48-inch Rebounder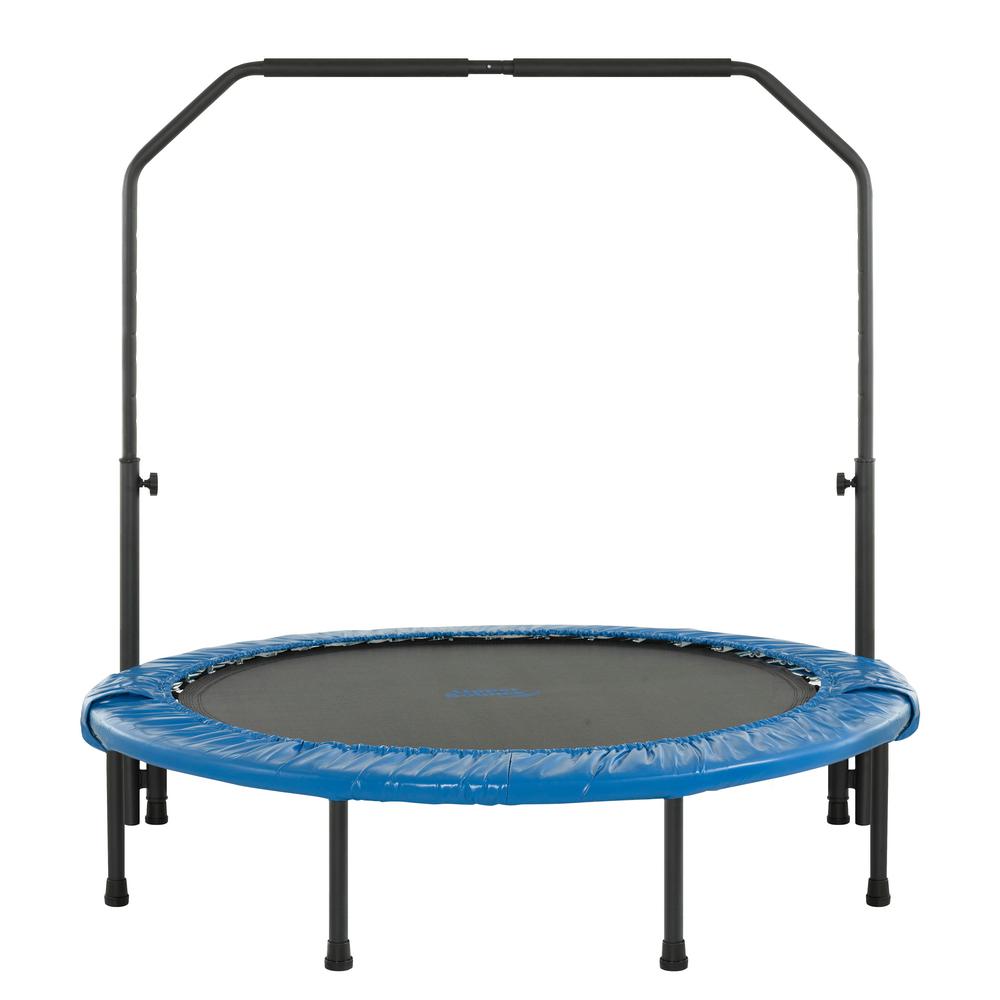 The Upper Bounce rebounder is a reliable option for the best indoor trampoline for adults.
This mini trampoline for adults includes a padded handrail that adjusts according to your height from 35 to 46 inches.
Also, the trampoline folds down for easy storage, but the total dimensions fully set up are 48 by 48 with a 10-inch high surface.
It has an eight-leg base, and the maximum weight is up to and including 200 pounds.
Lastly, the springs for this rebounder are metal, and there is a cover over the springs, so you do not have to worry about the springs catching or pinching.
RELATED READS: THE BEST TRAMPOLINE SOCKS TO KEEP YOU SAFE WHILE JUMPING
Upper Bounce Mini Foldable Rebounder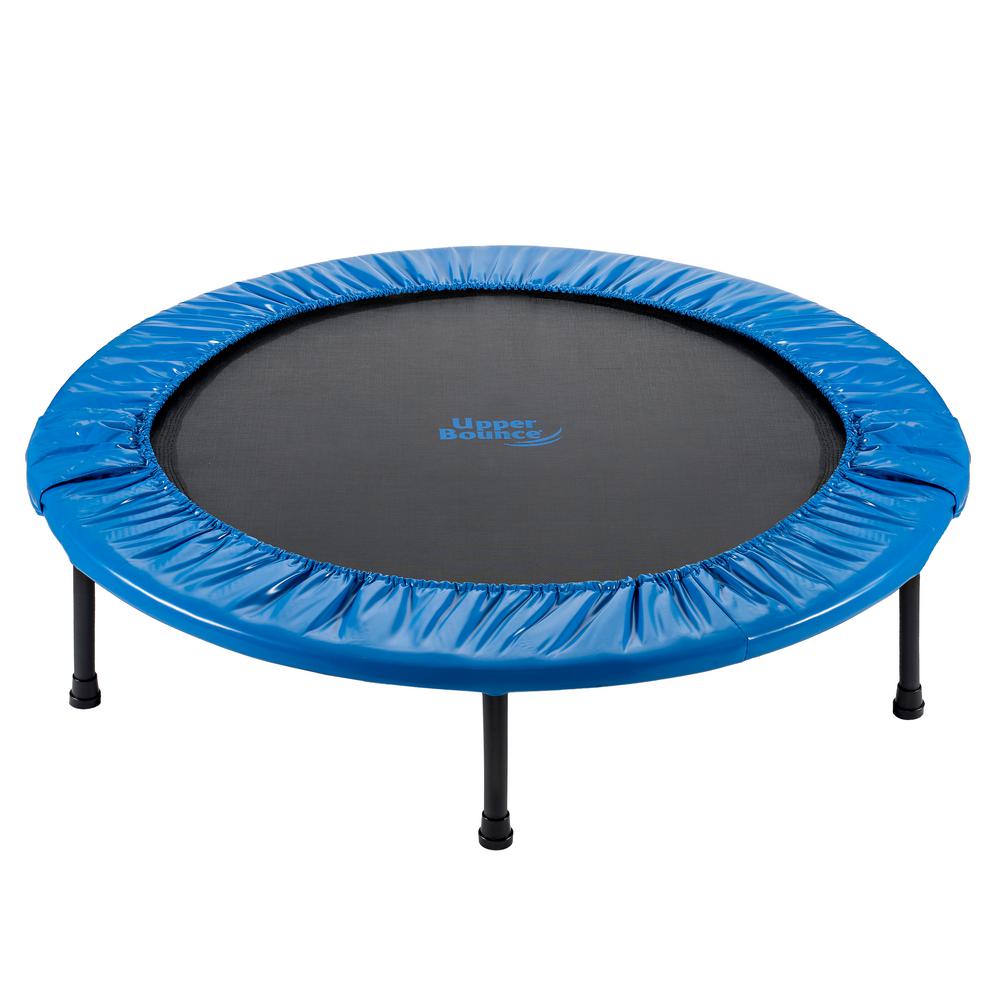 The Upper Bounce Rebounder is 44 inches wide, which is slightly more compact than the model above.
The mat and springs support adults up to 220 pounds.
Also, the springs have a cover to protect your feet while in use, and the frame itself is heavy-duty.
Despite its steel construction, this rebounder is very portable. The legs collapse down for storage, and the entire rebounder itself folds in half.
If you worry about your floors from scratches while using this rebounder, the feet have rubber caps to prevent marring your floors.
The total dimensions are 44 inches wide and long and 8 inches tall. Lastly, it is vital to note there is not a handle on this rebounder.
Raybee Fitness Rebounder
If you are looking for a rebounder that holds more weight, the Raybee mini trampoline for adults might be the one for you, as it holds up to 330 pounds.
This rebounder has an adjustable height handle, so it goes from around 44 inches up to 54 inches.
Also, the legs are longer on this option as they are just over 13 inches long.
Instead of being a circle, the rebounder is hexagonal with folding legs that make it super easy to store. Furthermore, the legs do not go straight up and down. Instead, they angle out just a bit to give a little more stability.
This rebounder is larger than some of the others at inches, and the overall dimensions when fully set up are 51.2 inches wide at its widest part and 54 inches high with the handle fully extended.
Also, you will not find springs on this rebounder. Instead, there are thick bungee cords to give this option of mini-trampolines for adults its bounce.
Furthermore, the bungees have a cover. Therefore, you do not have to worry about your foot slipping in between the bungees while in the middle of a workout.
BCAN 40" Foldable Mini Trampoline
There are a lot of similarities between the BCAN mini-trampoline rebounder and the Raybee.
The BCAN has an adjustable handle with 4 height options from 32 inches to 42 inches. The handle of the bar is covered with foam for comfort, as well.
This rebounder does use springs, although it does have a pad to cover those springs for safety reasons.
A unique feature of this rebounder is not only that it folds but how it folds. The legs and handle come off, and there are joints so you can fold the frame in half. Furthermore, the cover's design is intentional, so you do not need to take it off or break the rebounder down any further to fold.
Also, this rebounder holds up to 330 pounds.
ANCHEER Fitness Workout 40″ Mini Rebounder Trampoline with Safety Handrail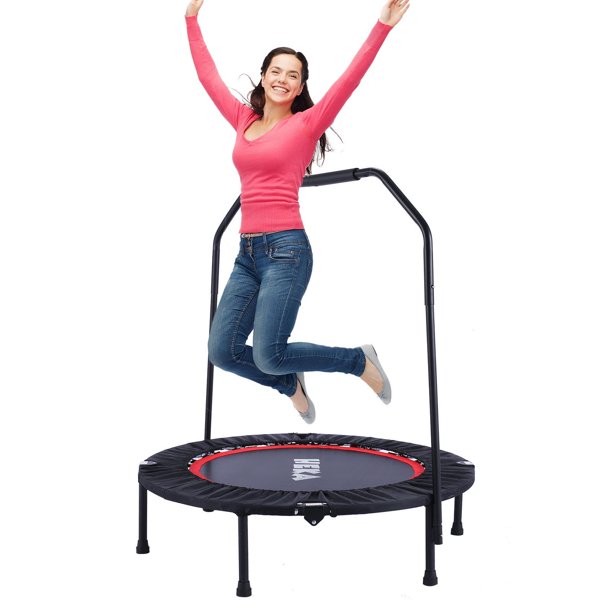 The ANCHEER Rebounder features a handle for safety and balance and a steel frame. The handrail is adjustable from about 32 to 35 inches.
Also, the rebounder uses springs and features a cover over the springs to prevent pinching or scrapes.
Furthermore, the steel legs are anti-skid due to the rubber caps at the bottom.
This contender for best mini-trampoline for adults holds up to 300 pounds and is about 40 inches wide.
Furthermore, the tallest height is about 44 inches, with the handle fully extended.
If you want to travel with your rebounder, you are in luck. This rebounder folds down to 16.5 to 30 inches for maximum portability.
Triple Tree Foldable Trampoline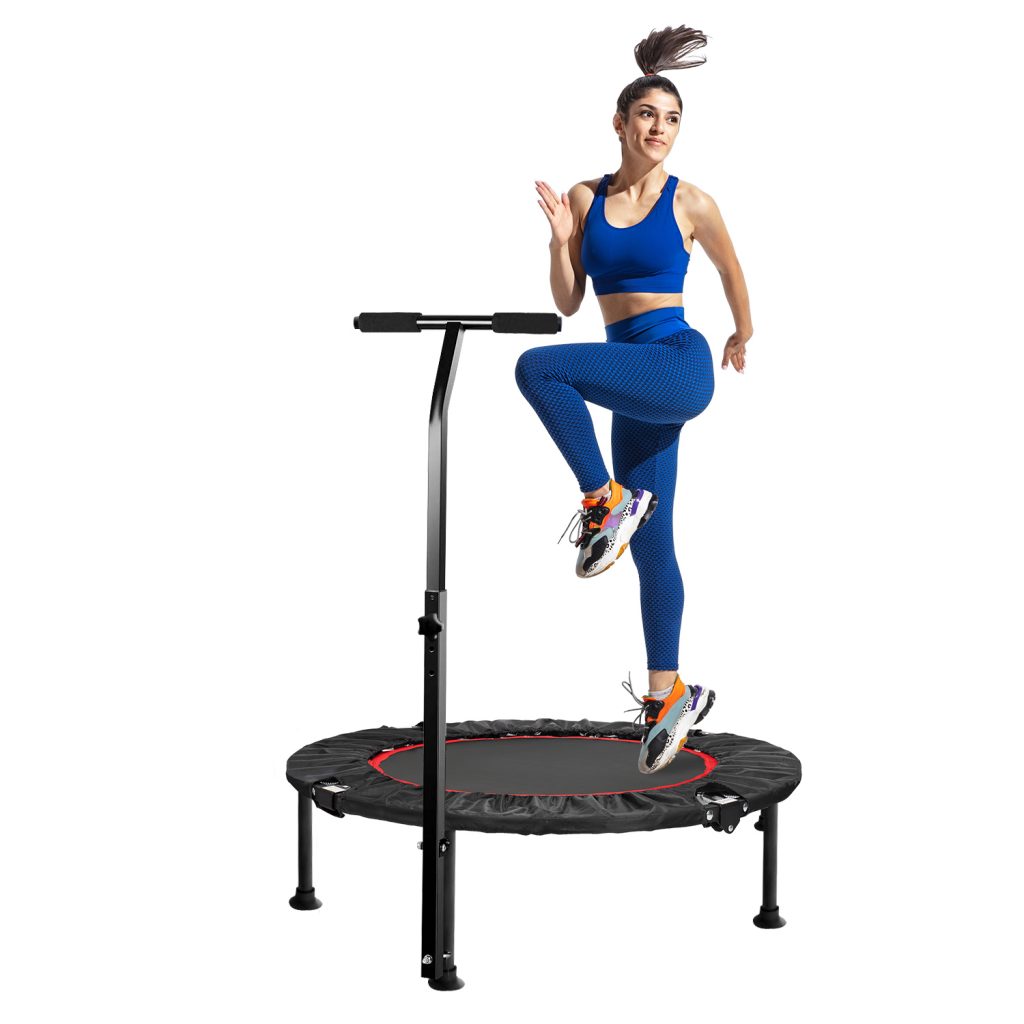 The Triple Tree mini-trampoline for adults is similar to the ANCHEER option. The Triple Tree also holds up to 300 pounds and is 40 inches in diameter.
This rebounder has 11-inch legs, which makes it one of the options higher off the ground.
Also, the adjustable handle on this mini-trampoline for adults adjusts from 42 to 46 inches. Also, the handle has a distinct and unique handlebar T-shape.
The overall dimensions are 46 inches tall at the max extension of the handlebar.
You can travel with this rebounder, though. The circle folds in half and then in half again for easy portability or storage in your home.
50" Smart Monitoring Fitness Trampoline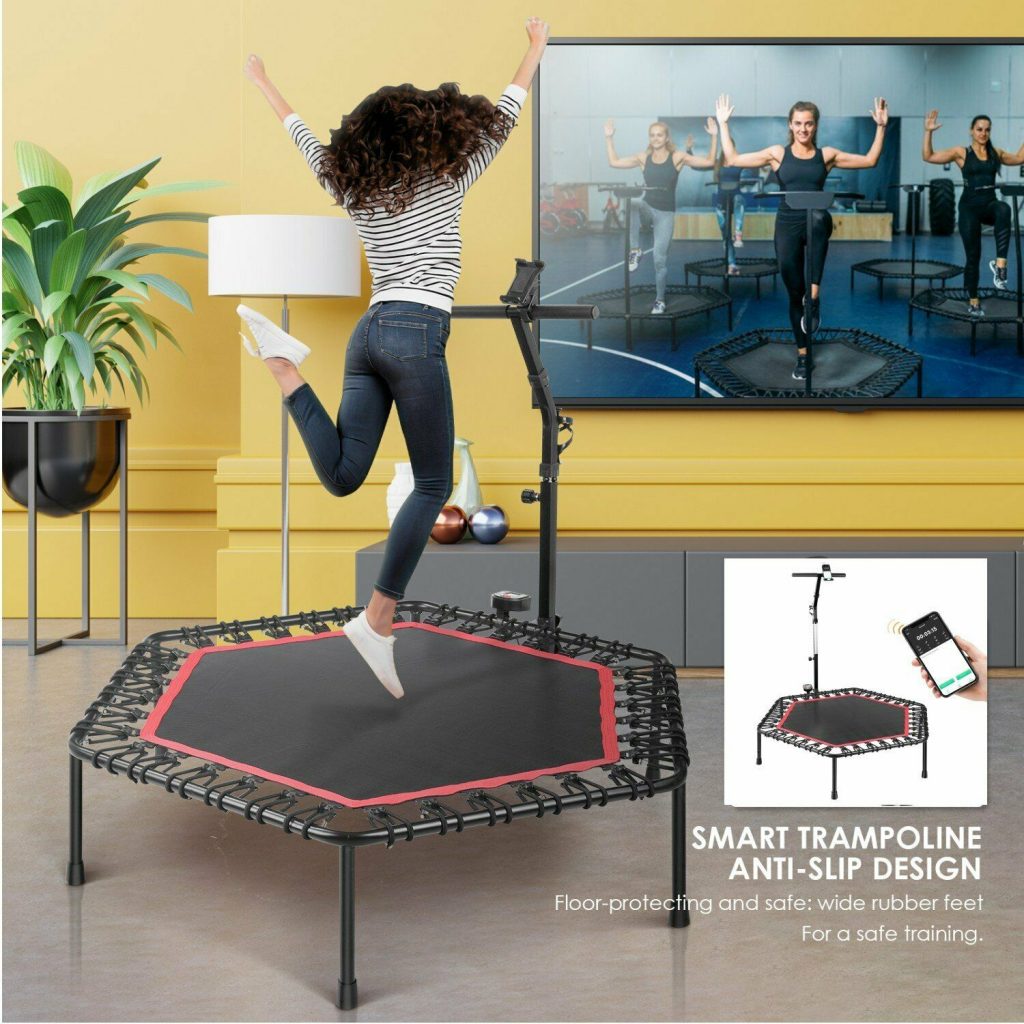 The Smart Monitoring Fitness Trampoline has the bells and whistles you might need.
This rebounder has a 50-inch mat, which is fantastic for those who need a larger surface area.
Also, this rebounder features a monitor that tracks jumps, calories expended, and time of workout. There is a heart rate belt, as well, if you want those details.
The data from the monitoring is smartphone-friendly through their app.
This rebounder does not use steel springs. However, it does have nylon bungee ropes and a mat that holds up to 450 pounds.
This mat's shape is hexagonal, and the handle adjusts from 34 inches to just over 42 inches, depending on your height. Furthermore, you have a cup holder and anti-slip legs on this mini-trampoline for adults.
Another key feature is this rebounder's legs fold in, so you can store it flat under furniture.
Run King 48″ Foldable Mini Trampoline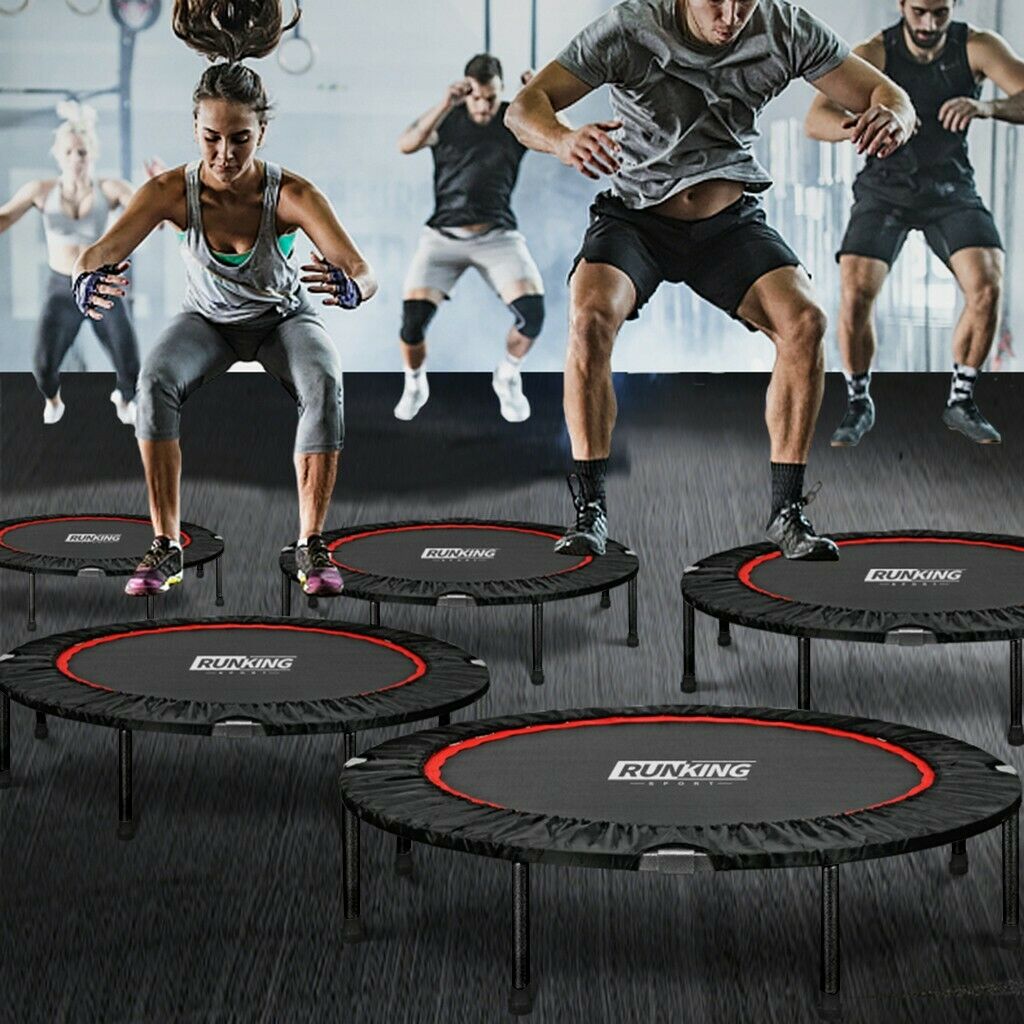 The Run King Rebounder is our last contender for the best mini trampoline for adults.
This rebounder is 48 inches in diameter, and the overall size is 48 by 48 inches by just shy of 6 inches.
Also, while this rebounder does not have handlebars for balance, you have the option to add bungee handles to the frame for an arm workout while rebounding. Be aware, though, this addition will not help you with balance.
Plus, this option uses springs and has a cover to prevent injuries.
If you need to take your workout with you, the mini-trampoline folds in half and then in half again one more time, making it rather portable.
Lastly, the legs have a rubber cap to protect your floor, and it has a gasket at the bottom of the leg that prevents it from cutting through to the rubber cap. This feature both protects your floor and makes this rebounder very quiet.
Best Indoor Trampoline for Adults: Jump on It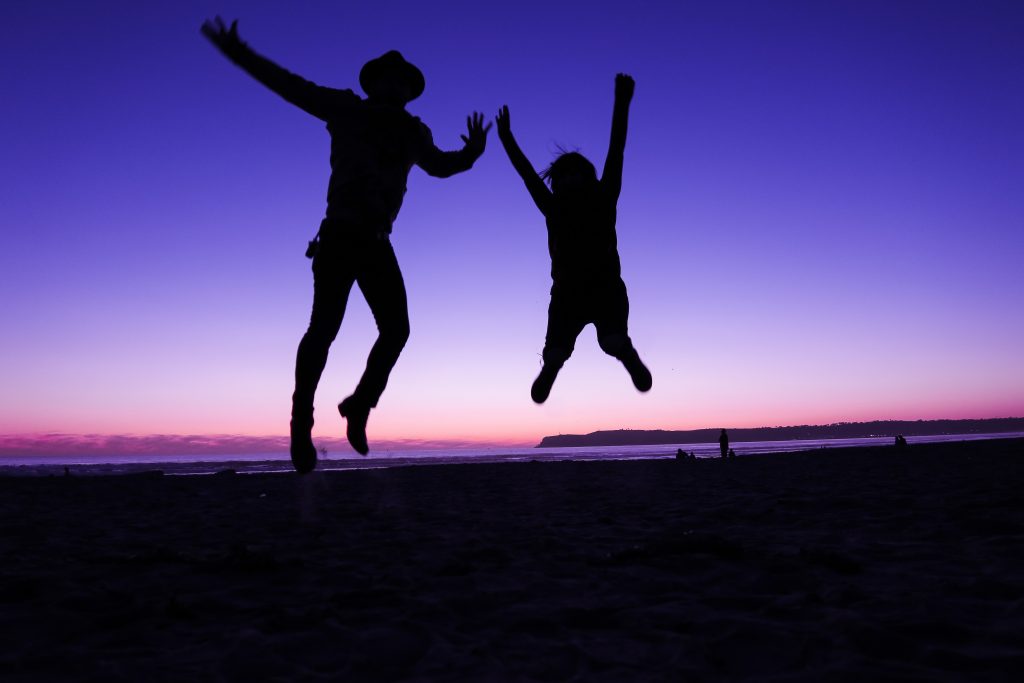 Due to the various health benefits mini trampolines for adults offer, it makes sense to add this low-impact workout to your routine.
Between burning calories, increasing your lymphatic system flow, and gaining stronger bones, you cannot lose with this fun workout.
Rebounders have a lot of similarities, but they tend to differ in diameter, maximum allowable weight, and in additional features such as handlebars or fitness monitoring.
Which mini trampoline for adults did you choose? Answer in the comments.
Last update on 2022-12-06 at 13:50 / Affiliate links / Images from Amazon Product Advertising API
Comments
comments