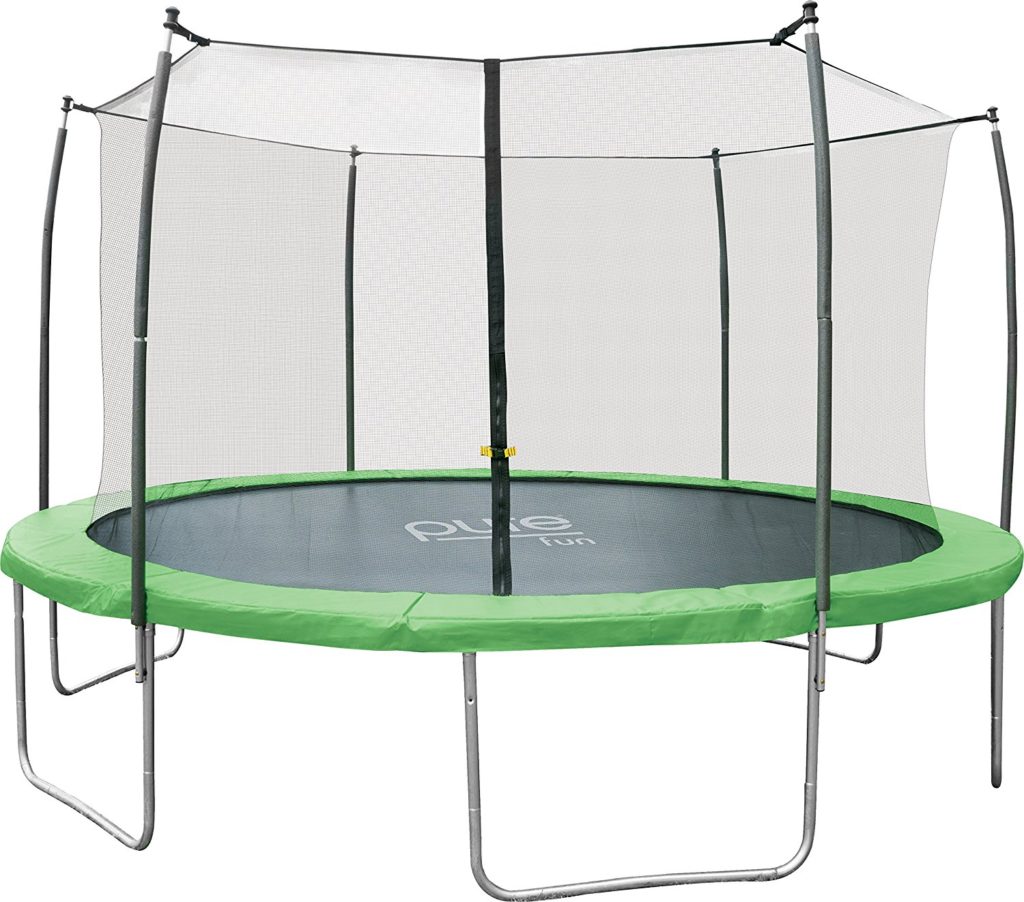 Pure Fun makes fantastic trampolines. Before you buy one, you might want to read Pure Fun trampoline reviews to see which of their products would work the best for your family.
Different sizes and features work better for various households. All you need to know is how many people that'll use it, and how much space you have for a trampoline.
From there, it's easy to find the perfect trampoline that they'll love for years to come.
| Picture | Pure Fun Trampolines | Available |
| --- | --- | --- |
| | Pure Fun Kids Preschool Jumper | |
| | Pure Fun Dura-Bounce 14-Foot Trampoline | |
| | Pure Fun Dura-Bounce 12-Foot Trampoline | |
| | Pure Fun 7-Foot Trampoline | |
| | Pure Fun 8-Foot Trampoline | |
Pure Fun Kids Preschool Jumper: 36″ Mini Trampoline with Handrail
Pure Fun is one of the only companies that makes a trampoline in this style. Younger kids who may not be stable are able to jump on Pure Fun mini-trampolines.
These models have small jump spaces and a foam padded support bar.
Toddler jumpers have a tendency to topple over when jumping on a traditional trampoline when they're new to walking, and balance is a developing skill.
By using the bar on the trampoline, little kids are more aware of their center of gravity. It's a safer way for toddlers to burn extra energy and get a little exercise. As small children develop their skills, they can move on to a full-sized trampoline.
Pros
It's easier for little jumpers to learn on this trampoline. Rather than falling over, they'll have something to hold on to and help them stay upright.
Since this trampoline is so small, it will fit anywhere and used indoors or outdoors. For extra security,  surround the trampoline with foam padded floor mats on hard surfaces or place it on carpeted flooring.
This option is less expensive than buying a full sized trampoline, especially if you don't need one. It's a great alternative for single-child households with young children.
Cons
Since this trampoline is only designed to be used up to age 7, your child will eventually outgrow it.
Only one child at a time can use this trampoline because of the foam padded safety bar.
Conclusion
If you have one toddler that's always anxious to play, you're going to love this trampoline. A lot of parents are constantly looking for ways to get a toddler engaged in active play, especially if there are no other children around to interact with.
Set this up in the living room and keep an eye on your child while you're folding the laundry. They'll have safe fun and exercise, while you monitor them.
Pure Fun Dura-Bounce 14-Foot Outdoor Trampoline with Enclosure
No products found.
This 14-foot Pure Fun trampoline offers plenty of space for kids of all ages to jump. If you have multiple children who want to play together, you'll appreciate the square footage of this large jump pad.
The maximum weight capacity is a staggering 350 pounds, which means an adult is able to safely jump with a child as well. Not many trampolines are designed to accommodate three middle school-aged children at once, but this one is up to the task.
The jump pad is surrounded by an included enclosure net that connects around the padding. The internal enclosure makes it less likely that a child is pinched by the springs or fall through the gaps.
Since the enclosure zips and locks, you won't have to worry about kids sliding through an open space. Plus, the six u-shaped legs provide maximum stability, and the weatherproofed materials won't degrade from constant exposure to sunlight.
No products found.
Pros
Your kids won't outgrow this trampoline. With such a high weight limit, they'll be able to use it all the way into high school. Adults can jump too, which is a bonus.
The frame is reinforced with t-brackets that provide additional stability. On top of its steel construction and balanced legs, you're also getting more strength from its special brackets. This Pure Fun trampoline isn't likely to break.
If you have multiple children who want to jump at once, this trampoline is perfect. Alternatively, if you have an only child who likes to have friends over during the summer or after school, everyone can enjoy it together.
Cons
It's pricier than similar trampolines, but you get what you pay for. Less expensive trampolines often have lower weight limits and are constructed with subpar materials.
Conclusion
This trampoline can do everything. If you're looking at Pure Fun trampoline reviews to find the most durable product they offer, this is the one.
It can handle rowdy teenagers as well as bouncy toddlers. Also, it withstands rigorous use, and it's designed to last an eternity. This is the kind of trampoline that, if well maintained, lasts for many years. If you want to make the best investment, this is a superior selection.
Pure Fun Dura-Bounce Outdoor Trampoline with Enclosure (12 foot)
No products found.
The 12-foot Pure Fun trampoline is great for families that want a full sized outdoor trampoline, but may not have enough space in their yard for a giant model.
Twelve feet of jumping space is modest, but it's certainly enough for your children to play on. Like most Pure Fun outdoor trampolines, the weight limit is rather high. It can accommodate up to 350 pounds, therefore many children will be able to enjoy it together.
Pure Fun utilizes an enclosure net system that secures around the jump pad. It eliminates the gaps between the jump pad and the springs, which is a safety concern. Bouncing children can stumble through the springs, getting their legs caught or their skin pinched.
An accident like that is almost impossible with an internal enclosure net. Children can be zipped and locked in, and are kept safe during high bounces or flips. This trampoline was designed with safety in mind, and kids only require minor supervision once they've perfected their trampoline jumping skills.
No products found.
Pros
With such a high weight limit, you can be certain that your children will never outgrow this trampoline. They'll be able to enjoy it with their siblings or friends, as the springs are designed to hold up multiple jumpers.
The enclosure net, jump pad, and spring protectors are all made of UV resistant materials— meaning the sun won't fade the material or make it brittle. The metal is weatherproofed and rust resistant, so rain nor snow will affect its durability. You can keep it up outside all year round.
The compact size means that this trampoline is easy to fit in smaller back yards. If you live in a townhouse or a duplex, this trampoline is likely the perfect diameter.
Cons
Since the size is smaller, children may not have enough space to play games or use accessories with the trampoline. If they're primarily wanting to bounce, the size shouldn't be a problem.
Conclusion
This is a traditional trampoline in a smaller size. This may be the only size you can fit in your yard, and you won't have to compromise on safety or quality.
Pure Fun makes some of the safest trampolines available, no matter the size. Their high weight limits and assured durability makes all of their trampolines great investments, and this one is no exception. If you're struggling to figure out where you'll put a trampoline, you'll be satisfied with the compact size of this model.
Pure Fun 7-Foot Trampoline with Enclosure Set
This Pure Fun trampoline for kids is certainly one of a kind. It's an indoor/outdoor trampoline designed with young learners in mind.
The trampoline is lower to the ground, limiting the height of jumps and making it safer for youngsters. It's completely covered by a tall enclosure to prevent children from falling off of the surface, and the springs are covered by extra thick padding.
The jump pad itself features a tic tac toe board by using regular sidewalk chalk to play the game. Also, they can draw on the trampoline, and it's easy to wash off. The enclosure net poles are covered with foam, and the metal frame is coated in durable plastic.
This trampoline won't scuff or damage indoor flooring so you can set it up on a back porch, in a garage, or in a mud room.
Pros
Children are able to use this trampoline regardless of the weather. Plus, it can be moved inside when it's hot outside, during a storm, or when it's snowing. Your kids can bounce year-round!
The bonus feature of the chalk makes this trampoline fun. The trampoline is not only a valuable tool for the exercise your children need but also a large surface to create artwork. It serves two purposes.
It's perfect for families with two young children who may not need a large trampoline.
Cons
This trampoline is only designed for young children. Middle school kids or teens won't be able to make use of it —due to the small jump pad size and low weight limit.
Conclusion
This Pure Fun trampoline is very versatile. The ability to jump indoors keeps your children active no matter what the season or weather conditions are.
When used inside, it won't be damaged by falling leaves, twigs, or harsh storms. Since the jump pad is also a giant chalkboard, it acts as two toys in one.
Small children will appreciate this indoor trampoline, and you'll be able to supervise them while you're tending to indoor tasks. Furthermore, it removes many of the restrictions that affect a child's ability to jump outdoors.
Pure Fun 8-Foot Trampoline with Enclosure Set
An 8-foot trampoline isn't very big, but that may be exactly what you need. If you don't have much of a yard, a trampoline of this size might be the solution. If you live in an apartment or a condominium, you probably have little to no space outside.
A smaller diameter trampoline is the perfect compromise, and it's fantastic for households with only one child. If your kid desperately wants a trampoline and you have no idea where you're going to put it, an 8-foot jumper makes the logistics a lot easier.
This Pure Fun trampoline is built on a round frame which allows maximum bounce for its modest size. It's completely encircled by a safety enclosure net to keep your child safe. The net itself is suspended by four evenly spaced poles, and the enclosure shuts securely with a simple "L" shaped zipper mechanism.
Pure Fun 8-Foot Trampoline with Enclosure Set
Trampolines made with strong, rust-resistant galvanized iron steel tubing using patented...
Snug, secure fit of T-Section assembly ensures extra stability and prevents shifting over...
W-shaped legs with eight balanced contact points add stability and prevent wobbling or...
Pros
It's perfect for single-child households and designed to handle one jumper at a time.
If you're low on space, the size may be the only way you can purchase a trampoline for your child.
Allows children to bounce high, unlike many smaller diameter trampolines.
Cons
Not meant for multiple children to use at once. It's small and only designed to withstand one child at a time. Overloading the trampoline can put too much stress on the frame, causing the poles to bend.
Conclusion
If you're pressed for space and you still want to be able to provide your child with a toy that will encourage them to exercise, you'll appreciate the compromise on size.
A single child can enjoy this the same way they would a larger trampoline, while still having enough space to do a few tricks.
Which Pure Fun Trampoline Should You Buy?
Pure Fun offers trampolines for several age groups. Buying a trampoline with features suited to your child's size will make for a safer playing experience.
It's easy to learn which trampoline corresponds with each age range simply by reading the collection of Pure Fun trampoline reviews.
If your child is growing quickly, it may be worth investing in the next size up. Doing so means your child will be able to enjoy the trampoline for longer, and you'll be getting the most for your money.
Final Thoughts On Buying A Pure Fun Trampoline
As you can see, Pure Fun has tons of options to choose from. The great thing about their products is that they're so versatile. No matter what your situation is, there's a trampoline for you. Your kids will love having such a fun way to burn off energy and spend time with friends. Plus, buying a trampoline is an awesome investment. Unlike other toys, it lasts for years, and your kids won't get bored with it. There's always new video games, dolls, and action figures popping up in stores, so it's easy for your kids to grow tired of their playthings. However, you can always count on a Pure Fun trampoline to be there when you need it!
Last update on 2022-12-06 at 11:39 / Affiliate links / Images from Amazon Product Advertising API
Comments
comments