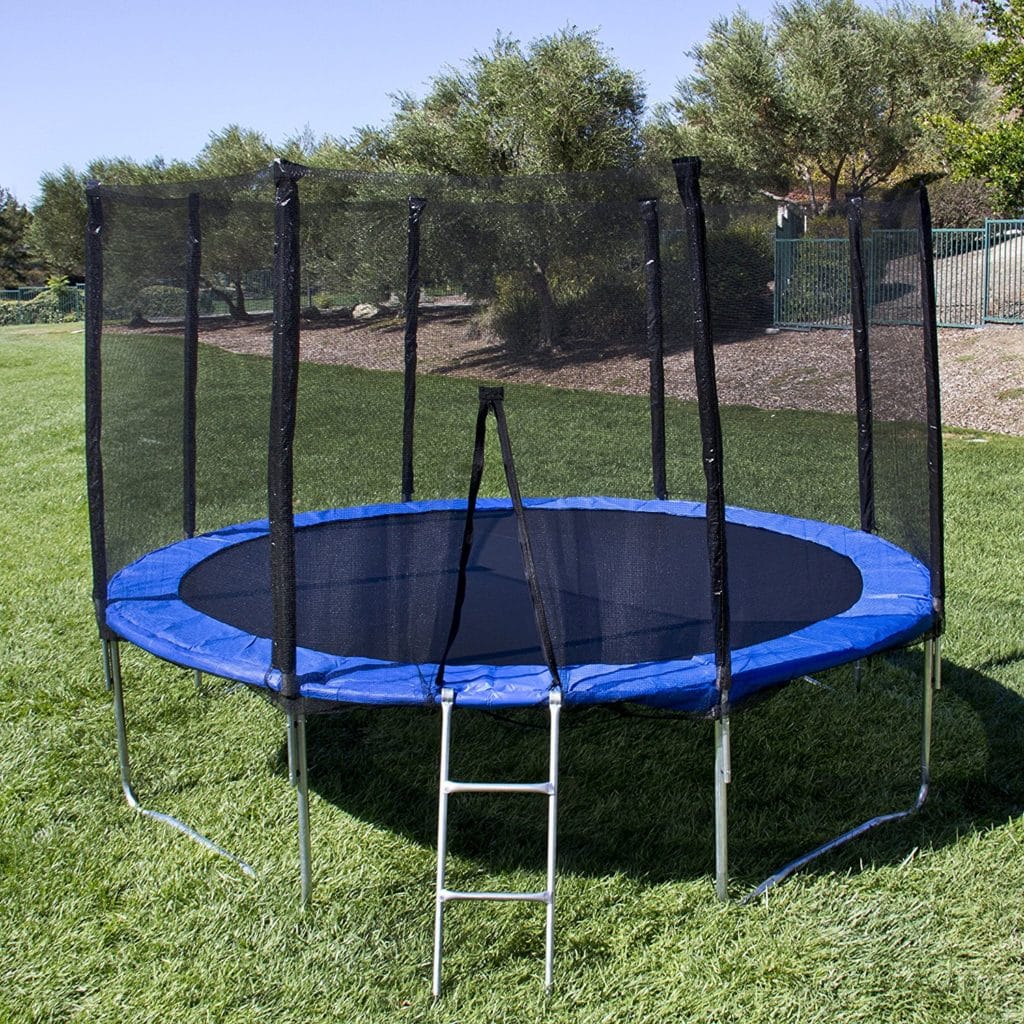 Trampolines can be expensive, so most buyers want to know they're getting the best deal available.
Trampolines aren't a one-size-fits-all solution, so understanding the needs of your children and their level of athletic skill will help you narrow the list down to the perfect trampoline.
TOP 7 trampolines for the money
Skywalker Trampolines 10 Ft. Round Trampoline
Skywalker is known for making excellent quality trampolines. Some of their models are exceedingly expensive, and this 10-foot trampoline bundle is their budget offering. If you want Skywalker quality for a reasonable cost, it's hard to pass up this deal. Skywalker uses a patented gapless enclosure system for maximum safety and reinforced construction for your peace of mind. It even comes in a variety of colors.
Pros
10-foot diameter offers an excellent compromise between budget and size. 12-foot diameter trampolines are very expensive and occupy a lot of space. 10-foot trampolines are slightly less expensive, and they're easier to place in your yard.
The patented gapless enclosure offers you peace of mind. You'll never have to worry about your children playing a little too rough and bypassing the safety net.
175-pound weight limit makes it safe for two or three children to jump together.
Cons
Reinforced frame makes the trampoline safer, but also a little more difficult to set up. If you intend to take it down during the winter, it may be complicated to put it back up again.
Conclusion
Skywalker is offering you the perfect way to get a name brand trampoline without spending a fortune. If you want to stick with a tried and true brand with an outstanding reputation, opting for their budget package is an excellent choice. Everyone loves a quality product for a great deal.
Propel Trampolines 7-Foot Trampoline with Enclosure
Indoor/outdoor trampolines for toddlers are hard to find, but they're still easier to find than indoor/outdoor trampolines that will work for school-aged children with an active interest in tumbling or gymnastics.
If you're looking for a durable indoor/outdoor trampoline that your child can use to practice flips and tumbles, this one won't let you down. It's height makes it easy to use in a garage, and its 7 foot diameter is easy to make room for on both a lawn and a patio.
Pros
This trampoline will hold up well for children with real athletic interests. If your school-aged child takes dance or gymnastics lessons, this will provide them with a great way to practice at home.
High enclosure net offers extended protection that your child will need to practice flips and trips from the center of the jump pad.
150 pound weight limit means that two children can jump together without putting too much stress on the springs.
Cons
Though this is an indoor/outdoor sized trampoline, the feet aren't padded to prevent floor scuffs. If you decide to use it inside, make sure you don't use it on flooring that cannot be damaged.
Conclusion
This trampoline fulfills a very specific need, and it may be in line with your child's special interests. It's easier than going to the practice gym to prepare for a cheerleading or gymnastics competition, and the convenience comes at an affordable cost.
Skywalker Bounce-N-Learn Trampoline
If your child is just learning to jump, you probably don't want to spend a fortune on a trampoline. You'll be looking for a decent starter set that supports the development of athletic skills.
This is exactly what the Bounce-N-Learn provides. The gapless enclosure with the extra padding comes in handy for little ones who aren't so quick on their feet, and the colorful design allows children to easily spot and avoid the enclosure poles.
Pros
This trampoline will help your child build the foundation for lifelong athletic skills. By providing them with the tools they need to learn while they're still young, you're encouraging them to grow into healthier adults.
The enclosure comes with a built-in safety ring that children can use to hold for balance. As they're learning to jump, they'll be able to find their footing.
Cons
Since this is a learner's trampoline, it's best to only allow one child at a time to use it for the sake of safety.
The diameter is small, as it's designed to only hold one jumper at a time.
Conclusion
If safety is your primary concern and you're looking to get your children active from a young age, nothing compares to the peace of mind you'll get from a learner's trampoline. Skywalker thought of everything when they constructed this design, and every tot will benefit from its numerous safety features.
Last update on 2022-10-01 at 00:49 / Affiliate links / Images from Amazon Product Advertising API
Comments
comments