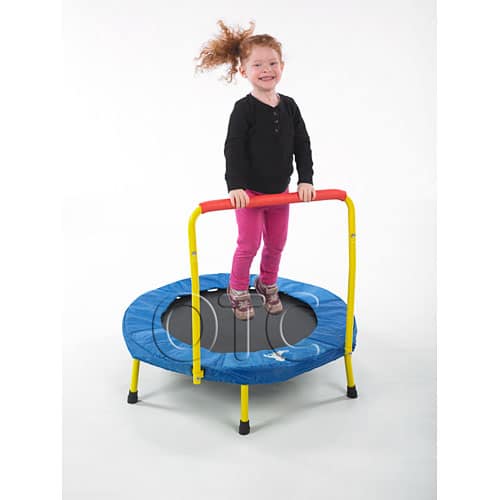 What to Consider when choosing a Toddler Trampoline with the Handlebar
Choosing a trampoline for the little ones is no easy decision with many considerations to be thought through when deciding how to select the best trampoline with handlebar for your toddler.
You will be able to find some great research and suggestions here that should assist you with knowing exactly what to look for. When conducting your search for the best toddler trampoline with handlebar, you will be introduced to a wide array of choice in design, size and construction materials.
It will be very important to make your choice based on safety and durability instead of just eye appeal.
Here we will take a look at why these trampolines are considered the top choices and what other parents have to say about their experience in choosing the best trampolines with a handle bar.
Most first time little jumpers will want the added security of the handlebar so they can gain self assurance and become familiar with the bouncing experience.
Once this confidence is achieved, you will become the head cheering section for all of those new and exciting maneuvers that toddlers achieve with daily practice.
Little jumpers greatly enjoy the sense of accomplishment and freedom as their little feet rise from the mat to meet with open air.
Trampoline play makes learning a fun experience for children while improving motor skill functions and meeting the daily recommendation for healthy exercise not to mention a great escape from tv and video games.
The Original Toy Company Fold & Go Trampoline
Several appealing facts can be brought to the table for the theoriginaltoycompany.com/59609/fold-go-trampoline-tm which makes it a hot sales item and top of the line in popularity with parents. Aside being terrifically easy to assemble, this handy jumper can be packed up and taken along from toddler age to 150 pounds thus placing this model above and beyond a best toddler trampoline with handlebar.
Your toddler will be able to enjoy great fun and exercise well into their elementary school days in most cases. Parents have suggested that even though assembly is designed with simplicity in mind, it often comes out better with two assemblers working together especially during the folding process.
Parents also suggest attaching two 5 pound weights to the rear section of the trampoline for added stability. With this being mentioned as a safety concern for many parents, the aforementioned solution has been noted to work for children within the weight limit.
Foldable
Safety Pad
3' Diameter to welcome jumpers up to 150 lbs
Steel frame with heavy duty pre attached elastic straps
Recommended for both in and outdoor play with supervision.
Little Tikes 3′ Trampoline
The Little Tykes three foot jumper is much like the other best mini trampolines with handlebar in safety and durability. There are however some slight differences that should be noted when making a buying choice for the children.
Certain construction differences make the Little Tike suitable for indoor use only and this should be kept in mind when researching to purchase the best toddler trampoline with handlebar.
The springs are securely covered to protect your little one from harm, the jump mat is round and the frame on this model is made of both plastic and steel as opposed to other competitors in this grouping. Little Tike also kept children's safety and fitness in mind when designing their exercise trampoline with handlebar for the three to six year old age group.
Also differing from competitors the handle bar on the Little Tike series is well padded and positioned  across the middle of the trampoline perhaps to provide greater assurance of stability. Parents have praised Little Tike for easy assembly, great exercise fun and excellent indoor fun. Some parents have noted issues with their children biting on the foam handle bar and the back lifting from the floor during exercise.
Other jumpers have suggested weighting the back legs on some of the other models.
Perfect trampoline for toddlers to burn off energy
Features large jumping surface and handle bar for stability
Plastic and metal combination
Trampoline is for indoor use only
Skywalker 60" Round Seaside Adventure with Enclosure
Skywalker offers young jumpers a bright attractive bouncer here that is perfect for indoor play and the security of an enclosure with a padded handlebar completely around the inside of the safety net.
The jump surface is fully safeguarded from all metal parts and the grab handle is padded as well. Parents have provided some outstanding reviews about the Skywalker unit along with offering valuable insight into the fun their young ones experience bouncing safely inside the zippered enclosure.
Some parents have mentioned that they have added pool noodles to the bars and poles for added color and durability. This sounds like a great idea for reinforcement and to enhance the longevity of this cute and sturdy trampoline.
Gap free enclosure design attaches to the jumping surface eliminating gaps
Reinforced zipper secures the enclosure door to provide a secure bouncing area for young children
Padded foam enclosure frame and handle provides a soft handle for little bouncers to use for support as they develop their balancing and bouncing skills
Wide frame base and arched enclosure poles provide stability and safety as children bounce
Stretch bands provide a fun yet soft bounce with no springs and no worry about little fingers
Padded stretch band cover attaches securely and provides a secure surface for children climbing in and out of the bouncer
Lower enclosure attaches to the padded stretch band cover preventing little ones or small objects from entering underneath the jumping area.
Recommended for ages 3 through 7 with a 100 lb. weight capacity
Diggin HopTop Trampoline with Handlebar
For our tiniest of little jumpers the best exercise trampoline with handlebar is the Diggin HopTop recommended for toddlers as small as 12 months. This hopper is just the right size at 23 inches of padded heart shaped bounce mat fun that can keep toddlers busy for long periods of time.
The mat is specially designed for safety being low to the ground, padded, completely covered with a special stretch mesh fabric and brilliantly colored. The parent reviews seemed to be very mixed on this unit possibly having a lot to do with the size of toddler using the jumper. It is designed and suggested for 44 pounds and under.
Some parents mentioned they felt the weight limit should be lowered while others claimed their very small toddlers do just fine with it. Many parents claim the little jumpers are pleased with their bounce fun.
Toddler Trampoline
Hours of hopping fun!
Includes padded easy grip handle
Features sewn padded cover for safe bouncing
Ideal for small spaces
Low height makes storage easy
Easy to Assemble
Recommended Age: 12 Months and Up
Weight Limit: 44 Pounds
Conclusion
The importance of safety is the biggest concern when planning children's activity with any trampoline with handlebar.
Keep in mind that every activity can be dangerous for little ones if they are left unattended and rules or recommendations are not taken seriously as the manufacturer has suggested.
There is usually some sound advice offered from parents who have experience with little jumpers and are able to provide an objective review.
Many parents have excellent tips and tricks to remedy issues that they have come across to insure the safety and longevity of your new purchase. With a well put together plan and some good advice your little bouncer will have a healthy and fun method of exercise on one of these best trampolines with handlebar during their formative years.
Last update on 2022-10-01 at 00:40 / Affiliate links / Images from Amazon Product Advertising API
Comments
comments