If you've ever had the exhilarating experience of jumping on one of the biggest trampolines, you're probably hooked for life. If you haven't, get ready for the most thrilling adventure that one can have in their backyard! As long as a safety net protects you, that trampoline fun could be all you need for that rush of adrenaline.
Jumping on the biggest trampolines the market has to offer can change the way you view at-home activities. It's a great workout. A 10-minute session might burn as many calories as a 30-minute walk! When you have enough space for everyone, jumping could be a great way to spend quality time with your family. Plus, it's a fun outdoor activity to help kids get some fresh air and exercise.
Do you have a large yard and a lot of kids who love trampoline jumping? If so, it's time to invest in one of the biggest trampolines.
11 Biggest Trampolines That Will Help You Touch the Sky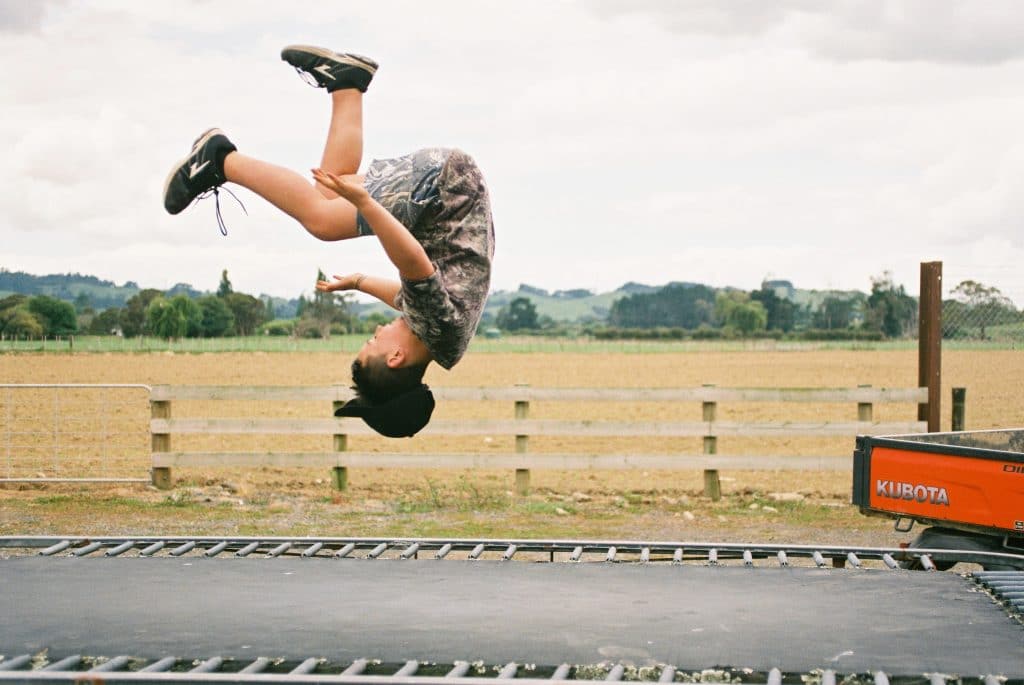 The biggest trampolines out there come in various price ranges, weight limits, dimensions, and so on. Some also have fun accessories, such as basketball nets. You may find the variety a bit overwhelming. So, want to know what is the biggest trampoline you can buy? We've picked out the best of the lot. Let's talk about each option in some detail.
1. Upper Bounce
When kids are jumping high in the air, the first and foremost thing on a parent's mind is the question of safety. Will your kids (and anyone else) be safe while taking on one of the biggest trampolines? With the Upper Bounce trampoline set, you have a safety enclosure system and an ASTM-certified steel frame to set your mind at rest. There's also a blue safety pad to make the experience even more risk-free.
This outdoor trampoline is suitable for both kids and adults. But make sure that the combined weight of the jumpers doesn't exceed 330 pounds. Of course, you'd have to assemble the trampoline yourself. With the detailed instructions, that task shouldn't take more than half an hour even when you're working alone.
Since this contraption was made for the outdoors, we're pleased to see that its materials are corrosion and rust-resistant. This feature will ensure that you don't have to replace or repair anything too often.
2. Tatub
Jumping on a trampoline might get a little dull after a while. So, why not add some basketball to the mix? With the 16-feet offering from Tatub, we now have a trampoline with a basketball hoop!
The other features include rust-resistant steel construction and six U-shaped legs. With the stability assured, it should be a whole lot of fun to shoot some hoops while soaring through the air.
Along with the sturdiness and safety of this option, we also have flexible qualities to consider. The jumping pad with this trampoline has high elasticity, with 90 high-tension springs. Accessories like these give this option a great boost when we're shortlisting the biggest trampolines around.
3. Skywalker Trampoline
Do you fancy one of those huge, square-shaped trampolines in your backyard? With one of the Skywalker Trampolines, this goal is now possible. These models are ideal for gardens and any other outdoor space. These comprise high-quality materials and a structure that meets ASTM standards.
The safety features here are sure to set your mind at rest, especially the net enclosure's unique No-Gap design. This feature means that the netting has a separate attachment to every single spring. Such a design will ensure that there are no gaps between the jumping surface and the safety net. If you have little kids, you'd want this feature so that no little feet get stuck while they're jumping around.
The latch clip and zippered entrance make this choice even more kid-friendly. Unless they're small (and probably shouldn't be jumping on a trampoline in any case), children shouldn't have any problem getting in and out of the enclosure on their own.
4. Merax
The biggest trampolines might seem tempting to a lot of people. Fortunately, it seems like the Merax trampoline might be a viable substitute for its more expensive counterparts. The lower price also means a smaller trampoline but the additional attachments and easy assembly have us convinced.
For those who would like to introduce their kids to the trampoline experience, the Merax option is a great place to start. Though it may be small, this big trampoline still has a 330-pound limit, a basketball hoop, and a heavy-duty ladder.
Wondering about the safety features? Worry not. They have pretty much everything covered. Their precautions include 72 galvanized springs and 5 poles with padded foam covers.
5. Exacme
Looking for a relatively inexpensive option for the biggest trampoline in town? You might want to check out the Exacme 16-foot trampoline. The quality material and excellent features make this choice a logical one.
The weight capacity here is up to 398 pounds. That's still competitive when compared with other brands.
The steel frame of this trampoline is galvanized and resistant to rust as well. With all this effort on behalf of the manufacturer, we can expect a frame that will last a long, long time. It might get exposed to the sun or other elements, but the mat isn't prone to fading.
In the end, we're impressed by the strong jumping mat and the steel springs that give us a lot of bounce.
6. Awlstar
With a frame of rust-resistant, galvanized steel, we can be sure that the Awlstar trampoline is one of the best and safest options out there. The other components are no less impressive; even the foam on the jumping pad is made from soft play materials that ensure everyone's safety. What's more, the woven net of polyethylene has a secure zipper, which is complete with a latch clip.
With a large number of galvanized springs inside, users can rest assured that the elasticity on the trampoline is all that they desire. The maximum weight capacity for this option is just 375 pounds, but that does mean that a lot of kids can jump at the same time!
7. EDGHHG
If you're going to order a trampoline online, one of your priorities should be an easy assembly. Fortunately, you can get this ease with the EDGHHG 16-feet trampolines. The 360-degree safety net is properly attached all around. Besides, a heavy-duty ladder made of galvanized steel makes it easy to get in and out. With this combination, you can easily make your way around the trampoline without the fear of getting your foot stuck in any pesky gaps.
With this model, you're also likely to get a lot of stability. Every joint is pressed onto a framed piece, so you get the minimum amount of frame noise, movement, and overall wear and tear.
The instructions here might be a bit brief, but it makes sense to follow them whenever possible. They might help you get over the trickiest parts!
8. HABITRIO
No products found.
When every trampoline from a company is thoroughly tested to establish durability and safety, you know you're in good hands. The HABITRIO 16-feet trampoline has it all: a safety net, a spring mat, a ladder, and a basketball hoop. With the U-shaped legs underneath, the model divides the pressure of each jumper's weight and reduces the chances of any sudden folding.
We also like how the manufacturers of this trampoline have been through when it comes to putting in a ladder. This feature will certainly help small kids, and even adults clamber in and out of the trampoline whenever they need to.
With durable materials and a comfortable design, even novice jumpers will be sure to enjoy themselves immensely. If there's an issue with the quality, the company is willing to stand behind their product and offer replacements whenever needed.
No products found.
9. Happy Trampoline
You know you're getting maximum safety when even the legs of your trampoline have patented technology! That's what we get with the Happy Trampoline provided by Galactic Xtreme. The stabilizer frame is made of heavy-duty materials, with the 3mm-thick steel tubing galvanized both inside and out. Even the rail braces are licensed for providing excellent stability and security. Finally, the galvanized springs withstand a whole lot of weight.
We can go on and on about the sublime safety of this option. Safe to say, parents will adore this option for their kids if they can afford it. The name of Galactic Trampolines is a known one in the market when it comes to making quality trampolines. Overall, you can feel perfectly safe with the polyester mesh net, the spring pad, the reinforced T-brackets, and other delightful features of this commercial-grade trampoline.
10. Giantex
Safety features might rack up the price of the biggest trampolines available today. That doesn't seem to be the case with Giantex and a few other names, though. The outdoor trampoline by Giantex is relatively inexpensive but doesn't compromise on safety features. The bonus? You're still getting one of the biggest trampolines out there!
The U-shaped legs of this trampoline are great for dispersing weight in the best manner. This helps to keep us safe while jumping. The net enclosure is directly attached to the steel poles through the foam sleeves. So, there are no dangerous gaps between the net and the mat.
11. Globalucky
If you're in search of a trampoline with all the bells and whistles, you should try out what Globalucky has to offer. It's undeniably one of the biggest trampolines on the market. With this investment, you get the jumping mat along with a basketball hoop, a spring pad, safety enclosure nets, and many more safety accessories.
What's more, the U-shaped solid feet will ensure that the trampoline is as stable as possible. The company places safety as its top priority. Therefore, you'd do well while following their instructions closely. With this precaution, you can make sure there are no unnecessary gaps and that the foam covers will protect the young ones.
In short, you'll have a lovely, worry-free time after setting up this trampoline. It's a great way to get that blood pumping and make some memories at the same time!
So, Which of the Biggest Trampolines Provides the Most Fun?
Each of the biggest trampolines on the market provides its fun and exercise. No matter what model you end up getting, the decision is sure to be an excellent one. If we had to choose one of the options from the above-mentioned list, the Happy Trampoline by Galactic Xtreme would probably be our first choice. It has all the features you could want, with high-quality material ensuring safety and security all around. Still, we'd advise parents to first read the safety guidelines and then assemble the trampoline.
Do you have a favorite among the biggest trampolines on the market today? Let us know your final choice and spread the word to your friends!
Last update on 2022-10-01 at 00:09 / Affiliate links / Images from Amazon Product Advertising API
Comments
comments