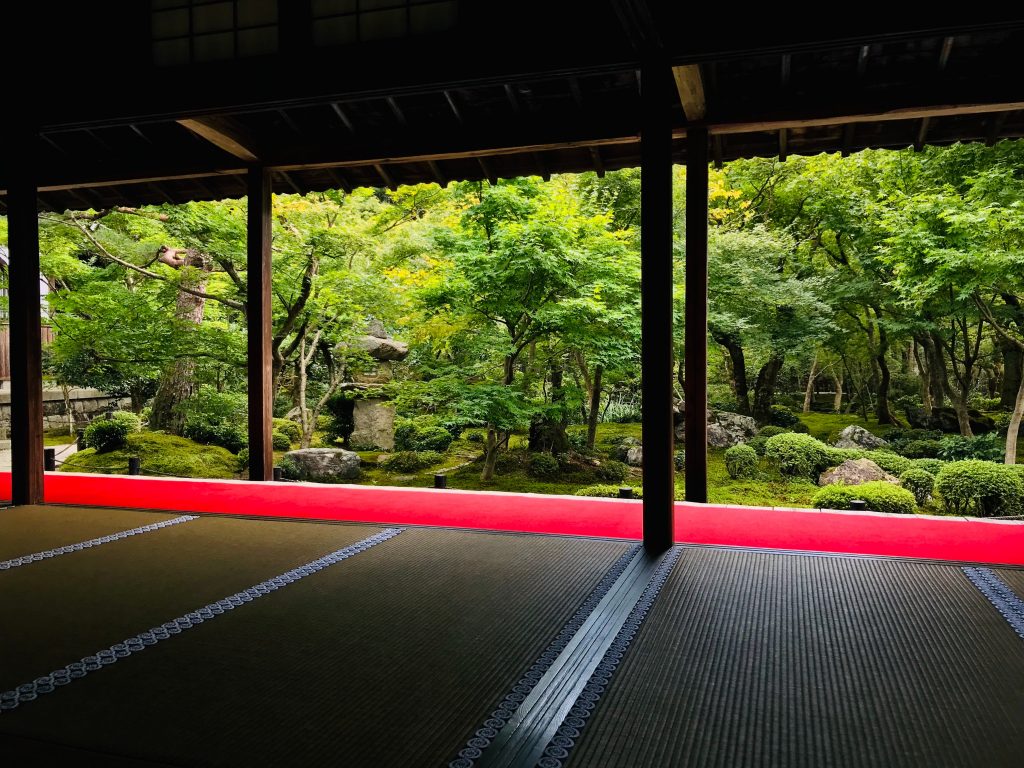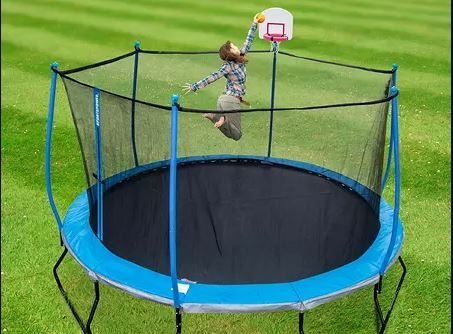 As you research trampolines, you're going to come across plenty of information on a variety of different trampolines. We're here to help you sift through the information by giving you one of our very own Bounce Pro Trampoline reviews.
It's no secret that trampolines are meant to be fun while giving you the opportunity to make healthy choices by using them. These reasons are generally why people choose to purchase a trampoline.
Why You Want a Trampoline
Trampolines have a lot of health benefits and can help improve blood circulation, relieve anxiety, and improve coordination.
The health benefits of a trampoline are quite impressive as they can provide you with an opportunity for low-impact cardio workouts and improve your lymphatic function. As you jump, you will also get better at keeping your balance and improving your overall coordination.
Of course, there's the bonus of trampolines just being fun to use. Feeling that bounce is a fun form of exercise that can be perfect if you enjoy bouncing through the air.
They're also found in different shapes and different sizes, making them something you can put into just about any backyard or even in your house.
Over time, many brands have become reputable and earned a place among the top ones, much like the Bounce Pro trampoline.
You'll find Bounce Pro trampolines in your local stores like Walmart or online via Amazon and is often thought to be one of the best brands available on the market.
The Pros of a Bounce Pro Trampoline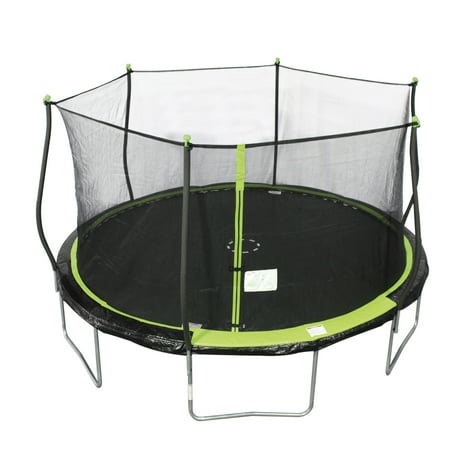 Buy at Walmart.com
You'll see Bounce Pro trampolines in 14 and 15-foot options with 14-foot models being the most common. The measurement refers to the diameter across, so you'll need to decide if that extra foot makes a difference to you.
Along with the large jumping area, Bounce Pro trampolines are also highly durable. These trampolines also come with safety enclosures.
Enclosures are essential because they help your kids from falling out. Additionally, the structure of the designed enclosure will keep you from the impact you'd feel if you fell out.
The 14' model with electric game offers an additional bonus of being interactive with the jumpers. This is a huge plus because it means your kids will be outside more often.
Construction of the trampoline is also quite excellent in that it is easy to assemble and robust once completed. Just be careful to verify that all of the parts are there before you get started building.
Something else that might sway you to purchase of these is to remember that they are one of the lower priced models available on the market.
Reasons to Buy the Bounce Pro
If you are new to trampolines and aren't sure where to go with them, the Bounce Pro trampoline is the perfect entry level piece of equipment.
Since they are less expensive than their counterparts, they are an excellent choice for a first timer. With the price tag, you'll find plenty of amenities that are often found in higher priced models.
Some of these amenities include the safety enclosure net. Products that are similar in price and size don't have the net included more often than not.
The addition of the game is a perk that is often not available in similarly priced models, too.
Reasons to Avoid the Bounce Pro
If you want something that is going to last for a really long time, then the Bounce Pro is not going to be the best choice. Be aware that while the price is superb, it probably won't last for more than a few years.
As was mentioned earlier, always make sure to check for parts because it is not unusual to have parts missing. You'll need to make sure you have everything so you can get it set up properly.
Bounce Pro 14' Trampoline Specifications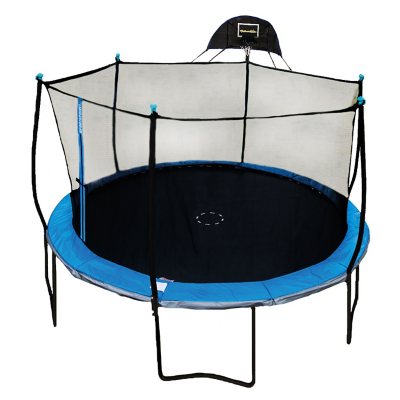 Here are some key things that you need to know regarding the 14' trampoline from Bounce Pro.
Trampoline Specs
Diameter: 14' x 14'
Construction material: galvanized steel
Springs: galvanized steel
Jump mat: UV resistant
Max weight capacity: 220 lbs
Warranty: 2 years, limited
Safety Enclosure Specifications
Poles: padded
Ring top: Steelflex ring top
Safety Features
Reinforcement: double steel plate on leg joints
Visibility: 360 degrees
A Quick Few Words About the Bounce Pro Reviews
Think about the online reviews that you've seen for the Bounce Pro trampoline and make sure you take them with a grain of salt. One negative review may express issues with customer service and parts missing. The other was about the quality of the bounce mat.
The bounce mat complaint is not a common complaint, which likely means that it was a result of poor quality control at that time. However, if you look at the positive reviews, there are far more positive reviews than there are negative reviews.
Choosing to Buy A Bounce Pro Trampoline
If you want to buy a trampoline but don't want to fork over a ton of cash, then this is the option for you. Read through other reviews, too, to get a good idea of what you'd be getting.
Do some research into other trampolines, too, in case you've got a bigger budget to use. You'd be happy to find many other options available, as well.
In any case, do your homework and you'll be happy with what you get so long as you are informed.

Comments
comments