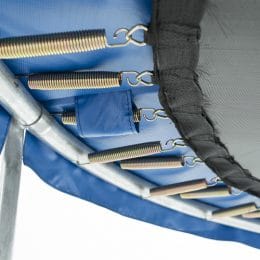 A trampoline can be a great investment for any type of family. Whether you have children who could use more exercise or enjoy using a trampoline for aerobic workouts, you are sure to find a way to benefit from one of these fun and useful outdoor products.
Trampolines are available in all sizes and in a broad range of prices. You can find affordable trampolines that may last for a few years of frequent use or invest in a more expensive trampoline made from high-quality materials that will last much longer.
Regardless of what type of trampoline you buy, you should always look for one that includes safety features such as a protective net or an extra-stable frame to keep users safe at all times.
While most higher-end trampolines are designed to last, issues can come up at any time and require you to replace the frame parts, mat or your trampoline's pad. If any of these items become damaged, you don't have to throw out your entire trampoline and start shopping around for a replacement.
You can find frame parts and replacement jump pads for most trampolines. These parts will cost much less than buying a brand-new model and are usually very easy to install. If you initially set up your trampoline yourself, you are already familiar with how to install the frame, pad, mat, safety net and other parts.
So, adding your new replacement piece shouldn't take much time and you can go back to enjoying your family trampoline once again.
How to Measure for Trampoline Mat Replacement
You may have owned your trampoline for years before the mat needs a replacement. And if that is the case then you may have also forgotten the exact measurements of the mat.
When it comes to replacing parts on your trampoline, there are several measurements that you will need to guarantee that the parts you purchase are the correct size.
Even if you don't need a new net or frame, you may still need to measure these parts to ensure that the replacement parts you do need will work correctly.
When you need a new jump mat, you are required to measure the frame size of your trampoline. If you already know the frame size then you shouldn't have any issues, but if you are unsure, it is a good idea to double-check so that you know you are ordering the correct replacement part.
Measure from one outside edge of the frame to the other side to get the diameter of your jump mat. Along with measuring the frame size, you will also need to measure the spring size from one hook to the other.
The usual lengths for trampoline springs are 5.5-inches or 7-inches. To correctly measure a spring, remove it from your trampoline. Then measure it from one end to the other, including the hooks. You want to measure the entire length of the spring to get an accurate replacement.
Most replacement jump mats are available in 8, 10, 12, 13, and 14 foot. You will also want to count the number of eyelets on your mat for the hooks. But if you miscount the eyelets by a few holes, you shouldn't worry. You can always space out the springs enough so that the replacement jump mat will still fit correctly.
How to Measure for a Replacement or New Trampoline Safety Net
These days practically all new trampolines come with a safety net. But if you have an older model trampoline or purchased one without a net, you can order one to add to your trampoline. You can also find replacement nets if your current one has become damaged.
The first thing you will need to do is measure your frame size. Start at the outside edge of the trampoline's metal frame and go across the widest part or diameter of the frame.
Count the number of enclosure poles that you have, and check to make sure the poles are straight. You should have either six or eight safety net poles.
A universal safety net enclosure is a great choice for a replacement safety net. This product will slide over straight poles and includes a zippered closure.
You may also find some other options that do not feature a zipper that are usually much cheaper.
If you can purchase a stock replacement safety net for your trampoline, it may be your best option, especially if you are unsure about the measurements. Instead, you can go by the trampoline's make or model number to order your replacement part.
Sale
Ordering Replacement Poles for Your Trampoline's Safety Net
Trampoline safety net poles are available in various lengths, so you want to make sure you are buying the right type and the right amount for your trampoline.
There are two primary lengths for trampoline poles, one that is suitable for an 8-foot trampoline, and the other that works for all other sizes such as 10, 12, 13, or 14-foot trampolines. It is best to order poles that come with foam padding around them for added safety.
Also make sure that the poles you order come with their own brackets, or else you may have to look elsewhere to purchase those separately.
To make sure that your replacement poles will work with your trampoline, check if your poles are straight and fit on the exterior of your trampoline. Another option is to measure the overall height of your trampoline starting at the ground and up to the top of the frame.
Then measure from the frame to the top of the safety net. This will let you know if the pole length that order will fit.
When to Replace a Trampoline Jump Mat
The jump mat is the primary part of your trampoline. Without it, you are left with a useless frame and safety net. If you have a good quality trampoline that you invested in, and you do not want to buy another complete trampoline just because of a bad jump mat, you can save a lot of money by purchasing a replacement mat.
Trampolines are manufactured to be used for several years. Most are made to withstand all types of weather conditions so that you can leave it set up all year long. But if you begin to notice that your jump mat is tearing or fraying where it is connected to the springs, you should stop using it until you get a replacement mat.
The Reasons Why A Trampoline Mat May Wear Out
Trampolines have weight limits and if you and your family has used it multiple times while exceeding the weight limit, then you could easily wear down the fibers of the jump mat quickly. And even though most mats are designed to withstand rain, snow, and harmful UV rays, being left out in severe weather over time can also cause damage to the mat.
Plus, if you have had your trampoline for more than 10 years and it has been used frequently, it could become worn down simply due to how much it has been used.
Sale
How to Tell If Your Trampoline Jump Mat Needs Replaced
If you notice that your jump mat doesn't provide you with the same strong bounce as it once did, if the middle of the mat starts to sag, or if the mat is fraying around the edges, it is time to replace it.
A trampoline mat may also become overstretched if too many people jump on it at the same time. And if it has held large amounts of snow, dead leaves or debris during the fall and winter seasons, this can also cause wear and tear to the mat.
Another sign that your trampoline may need a replacement mat is if the stitching or the rings attached to the mat start to come off. Any time you notice these things, you need to look into replacing your jump mat right away. This is a sign that your mat has been used frequently over the years.
It is also common for kids or pets to make small rips or tears in the mat material. While you may not notice them at first, over time these small rips can become larger. A trampoline jump mat that has holes in it could result in unwanted accidents or injuries.
Some users have ended up in the emergency room with broken bones or sprains due to this type of issue. Replacing your jump mat with a brand-new one will help you and your family to avoid these injuries and make your trampoline safe to use once again.
How to Find a Replacement Jump Mat for your Trampoline
Once you have correctly measured all the necessary parts to order a replacement jump mat for your trampoline, you need to find one that will fit your frame. Sometimes you can find replacement parts on manufacturer's website. But if that option is not available to you, you can always search online for the part that you need.
Most jump mats will have rings for springs built in, but you can also find mats that have elastic bands that will loop over the frame. It is important to know which type of jump mat you need and the number of springs that your mat has, if any, so that you order the correct part. You may also want to purchase a spring tool that can help you remove the old trampoline mat and rings safely and much faster.
What is the Best Material for a Trampoline Jump Mat?
When you are looking for a replacement jump mat for your trampoline, you will want to make sure that the new mat is made from strong and durable material.
The highest quality and safest mat material is Permatron Polypropylene. It is UV-resistant and even sewn with UV-resistant thread. The V Rings that attach to the springs should also be galvanized to prevent rust or corrosion.
If you own a competitive or Olympic trampoline, the replacement mat may need to have extra-strong and durable fabrics. That is because these trampolines are designed for use strictly by professionals.
Therefore, you shouldn't purchase one of these mats for your regular trampoline because you think it will more durable. You should purchase a mat that is designed to fit your trampoline.
Do You Need Replacement Parts for Enclosure Systems?
If you have a trampoline with an enclosure system that includes netting and poles, you will need to measure the parts differently to order replacements.
The outside frame must be measured, and you will need to do a thorough inspection of the feet of the trampoline to find out exactly how many legs it has. This will help you to determine how many pole uprights you will need.
For a new trampoline frame, you will need to measure the size of your frame from one outside edge to another. Measure across the widest part of the trampoline, also known as the diameter.
The padding on your trampoline is the part that covers the springs and protects users from accidents or injuries. If you need replacement padding due to years of wear and tear, you will need to measure the size of your trampoline's frame.
Go from the outside edge to the opposite outside edge of the metal frame to measure the diameter. Most frames are close to an even number such as 8, 10, 12 or 14, however, there are frames that are 13 feet as well. As long as you are within 2 inches of the correct size, you should be fine when ordering a replacement pad.
Always Make Sure that Your Trampoline Is Safe to Use by Checking for Issues
After a long winter season, you and your family will be ready to head outside and jump on the trampoline once again. Be sure to check for any of the above-mentioned issues such as sagging in the middle of the mat, fraying, tears in the fabric or fraying from the springs. Inspect the entire trampoline thoroughly to check if you need to order any replacement parts before you start enjoying it once again.