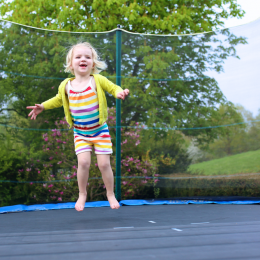 You probably already know what a trampoline looks like, but you may not know all of the trampoline parts. Adding a trampoline to your home could be one of the best decisions you ever make. It's a great way to encourage your family to get outside and get some exercise. In addition, it's a way for everyone in the family to have some fun together.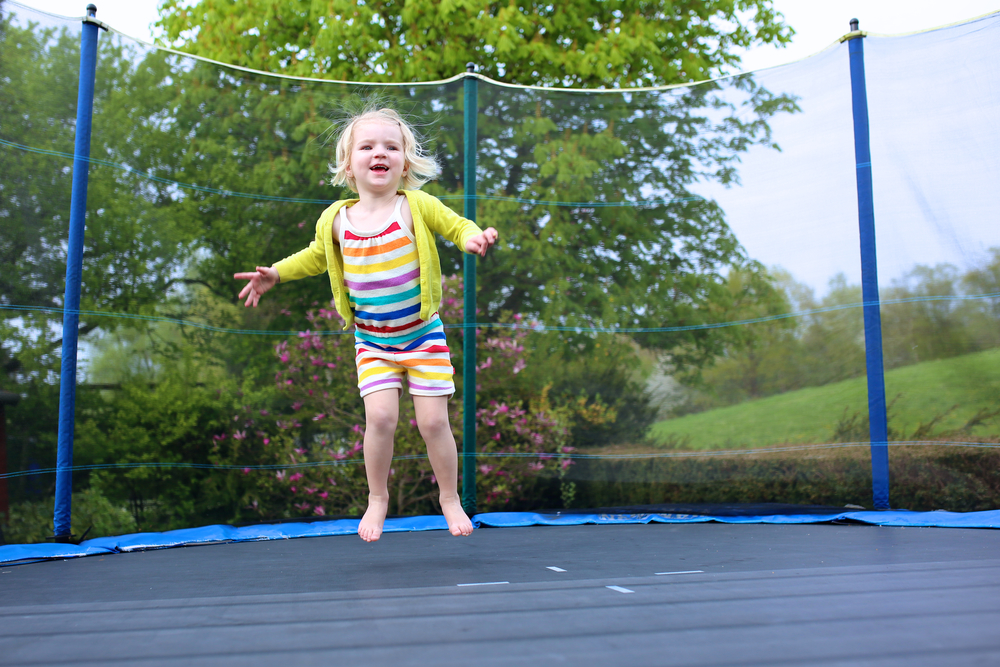 Essential Trampoline Parts
Trampolines aren't overly complicated. However, there are some essential parts every trampoline needs for them to work the way they are supposed to. Without these components, you don't have a trampoline.
When it comes to buying a trampoline, you can get them either new or used. Depending on the size, the price of this equipment can vary widely, as can their construction and safety. To ensure that your family is safe when they use the trampoline, you need to be aware of what you're looking at. Below are the essential trampoline parts you should know about before buying this piece of equipment.
Frame
The frame is what dictates the size and shape of the trampoline. Often, it is constructed of heavy gauge steel for strength and support. The frame is the most important component in keeping jumpers on the trampoline safe, and it consists of legs that have vertical and horizontal components and a top rail.
The frame is what keeps the trampoline stable as people jump on it. You want to make sure that the legs are spaced evenly around the top rail. If the trampoline falls into the medium-sized category, you can expect there to be four legs. If the trampoline is larger, it will have five to six legs. The legs should connect to the top rail securely. If you notice that they are loose or cracked, then they will not provide the safety you are looking for.
The top rail is where the trampoline springs connect. It will be the size and shape of the trampoline you want to buy. Thus, the top rail will either be round or square. Like the legs, the top rail should be securely connected to itself. If you notice any cracks or breaks in the top rail, you will need to look for another trampoline.
Even if you are placing your trampoline into the ground, you will still need a frame. This is what the other trampoline parts connect to so that people can enjoy jumping on the equipment. To determine what size you'll need, consider how many people will be jumping at once (or how many you will allow to jump) and what their combined weight is.
Springs
These trampoline parts are what make jumping on this piece of equipment fun. Without this component, you would not be able to get high into the air or enjoy much bounce. They are an incredibly important part of the trampoline, so you want to make sure you have the right ones for your equipment.
Trampoline springs are constructed from various materials, including steel, fiberglass rods, or electric straps. The most common is steel. However, depending on the type of trampoline you buy, you may have springs made from the other materials. Springs also come in different sizes, so you have to get the right one for your trampoline.
If you get the wrong size, this could have an impact on how your trampoline performs. It may have too much bounce, which will make it a safety hazard, as this could toss people too high into the air and have them crash down with force. They may also not have enough bounce, which could lead to the mat getting ripped or people not having fun when jumping.
You'll also want to check your springs on a regular basis, as they can wear out. If you find that they are rusted or don't bounce back to their original shape when pulled, they will need to be replaced. It's a good idea to have extra of these on hand, just in case.
Mat
This is the part of your trampoline that people actually jump on. Commonly, it is made from waterproof canvas fabric or woven polypropylene. Even though this material looks thin, the trampoline mat is incredibly strong and durable. With that being said, it will still come with a weight limit. It may be tough, but it's not invincible.
If you don't adhere to the weight limits set forth by the mat, you run the risk of someone getting injured. In addition to the mat having a weight limit, the springs and frame will also be rated to a certain weight. These can vary depending on the size and type of trampoline you get, but you need to abide by the limits to keep all jumpers from getting hurt.
These trampoline parts weren't meant to last forever, so you'll need to regularly inspect your mat to look for holes and tears. If they are small (usually smaller than a U.S. quarter), then you can
patch the hole yourself
. If they are larger, you may need a professional to help with this task or you may need to get a new mat.
Ladder
Unless you are putting your trampoline into a hole in the ground, you are going to need a way for people to get on it. Trampolines can be incredibly tall, so having a
ladder
can help people climb onto and get down from the equipment safely.
Ladders may not come standard with all types of trampolines. However, adding them to your equipment is a good idea. If you have younger children, this will ensure that they can use the trampoline when they want.
You'll also want to keep an eye on this component to ensure that it is connected to the trampoline correctly so that it won't fall off when weight is put on it. You'll also need to ensure that the rungs aren't damaged. If they are, you'll need to replace the ladder to keep your family safe.
Non-Essential but Recommended Trampoline Parts
The above trampoline parts are needed to ensure that your family has a good time on the equipment. If any of these are missing, they may not be able to access the trampoline, and they certainly won't have any fun jumping on it.
In addition to these essential trampoline parts, there are some non-essential ones that you might consider adding to your equipment to keep your family safe and the trampoline protected from the elements.
Frame Pads
Trampoline frames are constructed out of heavy gauge steel to ensure that they are tough and strong. That also means that they are hard. If someone runs into them while they are playing in the backyard, this could cause injury. However, if you put soft coverings over the legs, this could reduce the number of incidents that occur with the frame legs.
You might also consider putting a frame pad over the springs on your trampoline. Leaving these exposed increases the chance of extremities getting pinched in the coils. Without a cover, jumpers also run the risk of slipping off the side of the mat in between the springs and the top rail, which could also lead to injury.
Safety Net
To ensure that no jumper gets thrown off the side of the trampoline, you might consider
adding a net
around the entire perimeter. These are recommended for new jumpers, as they may not be able to control their body movements as they bounce through the air.
However, it can also benefit anyone who is jumping on the trampoline.
These come in a variety of heights, materials, and sizes to fit your trampoline, so finding one that will work for your equipment will not be a challenge. You will need to inspect the net regularly to ensure that there are no holes or other damage. A damaged net will reduce its ability to keep jumpers safe and is an indication that it needs to be replaced.
Even if you have an in-ground trampoline, placing a net around it can be useful. Not only will it keep the jumpers in, but it will also keep other things off. If you have pets, then keeping them away from the trampoline can reduce damage to the mat and protect them from injury.
Mat Cover
If you're looking for a way to keep your mat protected from the elements, then adding a cover will help with that task. This is a good idea if you keep your trampoline out year-round. If you take it down during the winter, then you'll want to make sure that you store it properly to keep the trampoline parts from getting damaged.
Most mat covers will protect the surface of the trampoline from rain, snow, and hail. All of these can weaken the material and cause it to tear. The sun can also wreak havoc on the mat, but since most people are jumping during the day, the only time you'll need to put the cover on is when your trampoline is not in use.
Putting this on during the night when no one is using the equipment can prolong the life of your mat. If critters scurry across your trampoline at night, the cover will prevent their claws from tearing holes in the surface. It can also protect it from falling debris.
Determining Which Trampoline Parts Are Necessary
When it comes to determining which trampoline parts you need for your equipment, you'll need to realize that the first five listed need to be in place if you want your trampoline to work properly. You could probably live without the ladder, but this could make accessing the trampoline difficult for some people.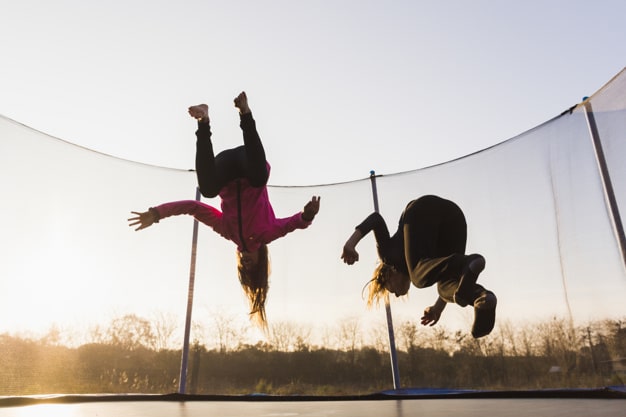 When it comes to deciding which non-essential trampoline parts you will need, this will come down to personal preference. You don't need to add any of these to ensure that your trampoline works. They are extras you add for safety. If you're convinced that the people jumping on your trampoline will exercise the utmost caution, then you don't have to add any of them if you don't want to.
However, it's important to keep in mind that many of the non-essential trampoline parts not only protect the jumpers, they also protect your equipment. If you plan on having your trampoline for a long time and you want all the components to last as long as possible, then doing what you can to protect them will help with that endeavor.
There are many different places where you can find these accessories, including in stores and online. You are sure to find something that will fit your needs and your budget. It may be worth the extra investment to keep your family and your equipment safe.
Conclusion
If you're considering adding a trampoline to your home, this can be a great way to spend quality time with your family and get some exercise. There are many different sizes of trampolines, so you'll want to find one that works for the space you have in your backyard and the combined weight of your family. If you have questions about trampolines or trampoline parts, then talking to a professional can be beneficial.
There are some essential parts you'll need to ensure your trampoline works properly, and there are some extras you can add for increased safety. No matter what you decide, make sure to regularly inspect your trampoline parts to ensure they aren't worn out. If they are, make sure to get them replaced.