Double trampoline, also known as double bounce trampolines, are unique because they incorporate a dual-layer platform.
Not only do double bounce trampolines offer a lesser shock to the joints upon landing, but they also increase the overall height jumpers experience.
These do tend to be pricier than their single-layer counterparts, so take the time to get to know the ins and outs of double trampolines.
Best Double Trampoline Comparison Table
Double Trampoline Manufacturers and Sellers
There aren't many manufacturers that make a double trampoline because there is some amount of controversy as to the safety of the trampolines. If you are interested in a double bounce trampoline, make sure you purchase yours from a reputable manufacturer.
JumpSport, creator of the AlleyOop Double Bounce trampoline is at the leading edge of double bounce platforms. The company has been in business for over 20 years and prides itself on being a leader in the trampoline industry. They manufacture several different trampolines including the Double Bounce trampoline.
Hammacher Schlemmer also sells a Double Bounce trampoline and is measured at 14' in diameter. They do not specify who the manufacturer is, but the company has gained a positive reputation for being a consumer advocacy group that presents only the best consumer products on the market.
There is also such a thing as a double mini-trampoline, although those are used in gymnastics. Smaller than an Olympic regulation trampoline, these are manufactured by companies specializing in gymnastics training. Some of the manufacturers include but are not limited to Eurotramp, Geofei Sport, Gymnaova, and PE-Redskaber.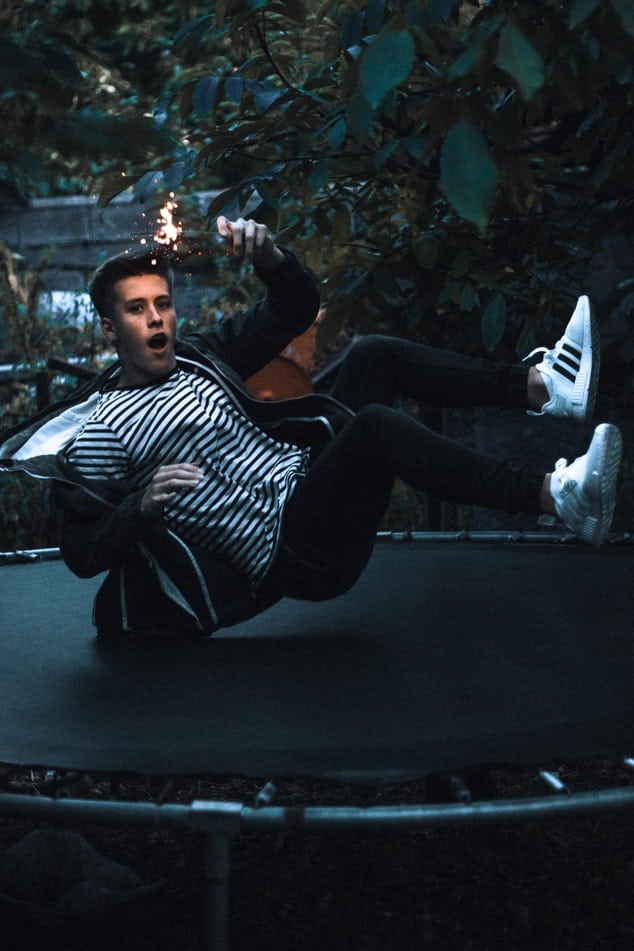 A Quick Tutorial on Buying a Double Bounce Trampoline
With quite a few products to choose from between the manufacturers, it's a good idea to ask yourself a few questions to help you along your way.
1. What Are Your Options?
Read up on the manufacturers and review the various features provided by each one. You'll want to compare them, so you know what you're getting.By doing so, you'll be able to set out with realistic expectations when you finally start deciding on which trampoline you're going to buy.
2. What Do You Need In a Trampoline?
What is your primary purpose for getting a trampoline? Is it for a toddler? Is it for your older children? Maybe the trampoline also needs to be available for adults, too.Those are all things to think about as you decide what you're looking for. A younger child may be better off with a smaller trampoline that is lower to the ground, while adults and older children would benefit from a larger trampoline.
3. Is The Trampoline Modern or Dated?
This question relates to the overall design and technology used in creating and developing the trampoline model you're thinking about buying.
Some trampolines out there have not undergone any real changes in their design and are still using technology that is older and outdated. The lack of improvement means that their trampolines may not be as safe as newer ones.
4. How Much Can You Afford to Spend?
Money speaks volumes regarding investing in a trampoline. More expensive trampolines tend to be of higher quality and have more features.At the same time, if you can't afford a top-of-the-line trampoline at a brand-new price point, that doesn't necessarily mean that you're left high and dry.You may be able to find pre-owned trampolines that are in good condition at a much lower price. If you do decide to go with a pre-owned option, inspect it before you buy it to make sure that everything is still in working order.
5. What Do the Reviews Say?
Reviews need to be the bread and butter of your decision. Real customers will tell you more information than anything else because they're on the front lines dealing with the trampoline firsthand.They'll be able to tell you more about whatever product you're thinking about buying and will help you decide if the trampoline is the best one for you.
The AlleyOop trampolines are made with high-quality materials and can be expected to last for a number of years.
Granted, these trampolines are not the most inexpensive options, but they fit the old saying of you get what you pay for. Built with longevity and safety in mind, JumpSport does not skimp on quality.
The Double Bounce Trampoline was designed to keep safety at the heart of the product. The double mat provides an extra safe jumping experience complete with a safety enclosure netting that goes all the way around the trampoline.
Add the way that the Double Bounce is easy to set up, too. The provided instruction manual gives you directions on how to get your trampoline in working order.
It comes with high-quality springs that have an approved weight capacity of up to 250 lbs. The Double Bounce trampoline was also tested up to 800lbs successfully. That means that adults can enjoy the trampoline, too.
Highlights of the AlleyOop Double Bounce Trampoline
There are some major perks to owning this particular trampoline. Here are just a few that will help you decide whether or not to purchase one.
Safety features are top notch.
AlleyOop uses latest technologies available for their double trampoline.
The mat design prevents injuries.
Trampoline set up is easy.
Plenty of positive reviews from happy customers.
According to the product description, this trampoline uses a dual-layer platform for high performance and soft landings. The platform is also UV-resistant.
The double platform is made of polypropylene and is shock absorbent to reduce the impact on your joints. A double layer also provides for a higher level of bounce.
The springs are made of galvanized steel and are adjustable for age as well as weight, to be able to accommodate multiple jumpers.
The platform sits 40" off the ground with a weight rating of 260 lbs. The netting is 11.5 feet high and provides protection all the way around the trampoline. The foam-padded poles are designed to absorb the impact of a jumper falling into the net and then push them back towards the jumping surface.
Hammacher Schlemmer also provides a fantastic lifetime guarantee that guards against everything. In fact, they state "if this product ever disappoints you, for any reason, you may return your Hammacher Schlemmer purchase for exchange, credit, or refund."
Highlights of the AlleyOop Double Bounce Trampoline
Clearly, there are some significant considerations to think about when considering purchasing a trampoline, and Hammacher Schlemmer does not disappoint.
Safety features are a high priority.
The mat design prevents injuries.
The springs are adjustable for age and weight of jumpers.
The Lifetime Guarantee is excellent.
Plenty of positive reviews from happy customers.
Real Reviews of the AlleyOop from Real People
There are plenty of different reviews about Hammacher Schlemmer, although not many are to be found regarding the trampoline specifically. Even still, you'll be happy to see that they fulfill their promise to provide good customer service.
SandalsLee claims, "I bought a clock in 2006 and it started loosing (sic) time. Loved the clock so wanted to exchange it for a new one. When calling customer service they couldn't find my old order number and I no longer had it or remembered when I bought the clock. They sent me to Terry Coolidge who spent quite a bit of time researching to find my order number so that I could exchange the clock. Way to hire professional, dedicated staff that bend over backwards (sic) to make customers feel important and well-taken care of. Terri made sure that Hammacher Schlemmer is a company I will continue to buy from for years to come! We hear of life-time guarantees that normally don't occur, Hammacher Schlemmer delivered on their promise." This review was left May 2018, a full 12 years after the reviewer's initial purchase.
Another reviewer, Tcbgd2002, has more positive things to say about the company. "Hammacher is my "go to when ordering online, especially if it's a new product, even if a similar item is available elsewhere at lower price. I know that I can rely 100% on the description, quality and services provided."
Over and over, the familiar refrain is the way that the company handles their customers day in and day out. Should you decide to purchase a Double Bounce trampoline from them, you won't be disappointed if you need help with something later on.
A Bit About Double Mini Trampolines
These are worth mentioning if you're in the market for gymnastic training equipment. A double mini-trampoline has a flat surface on one side with an incline on the other. You've probably seen them in gymnast competitions.
A gymnast will run up to the double mini, jump on the inclined side and then on the flat part before performing the dismount. As of right now, there are only two that are approved for international competition, although there are others that are available for training.
As these are true pieces of gym equipment, you can expect a price tag to go along with that to the tune of as low as four thousand dollars over eight thousand dollars. Before you invest in the equipment, talk to gymnast coaches to get real feedback and recommendations. You'll also want to check reviews as needed.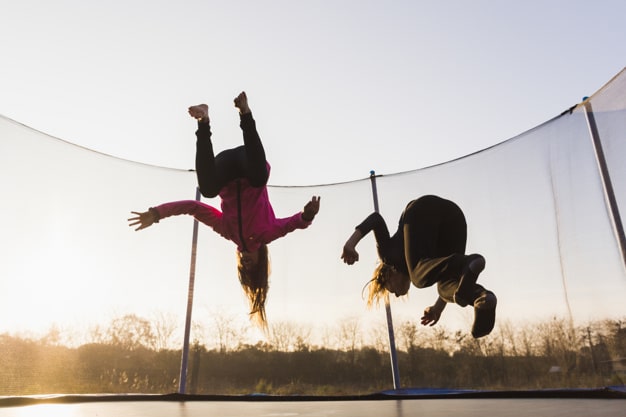 A Final Few Words on Double Bounce Trampolines
Double trampolines tend to include both the double bounce trampolines that are used recreationally, while double mini trampolines are explicitly used for gymnastics training.
Remember to ask yourself questions to figure out what you actually need so you don't overspend and end up purchasing precisely what you want.
Happy jumping!
Last update on 2022-10-01 at 01:30 / Affiliate links / Images from Amazon Product Advertising API
Comments
comments