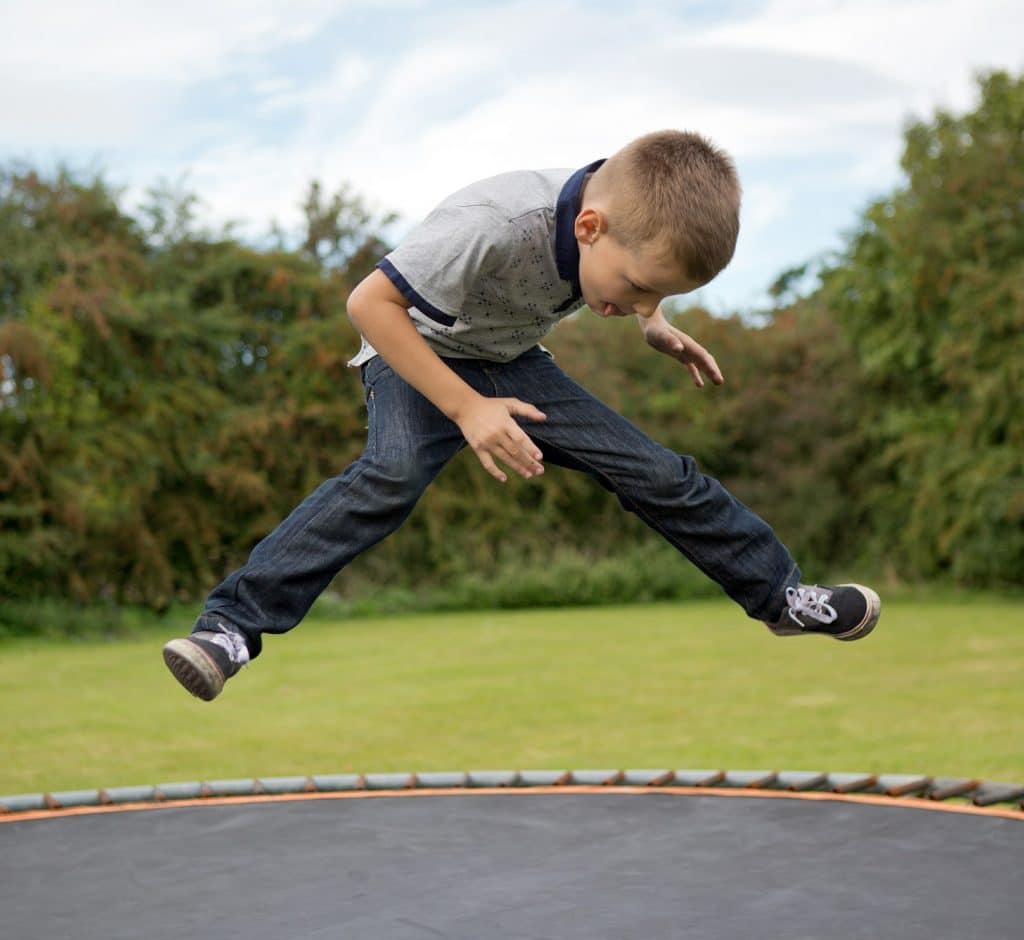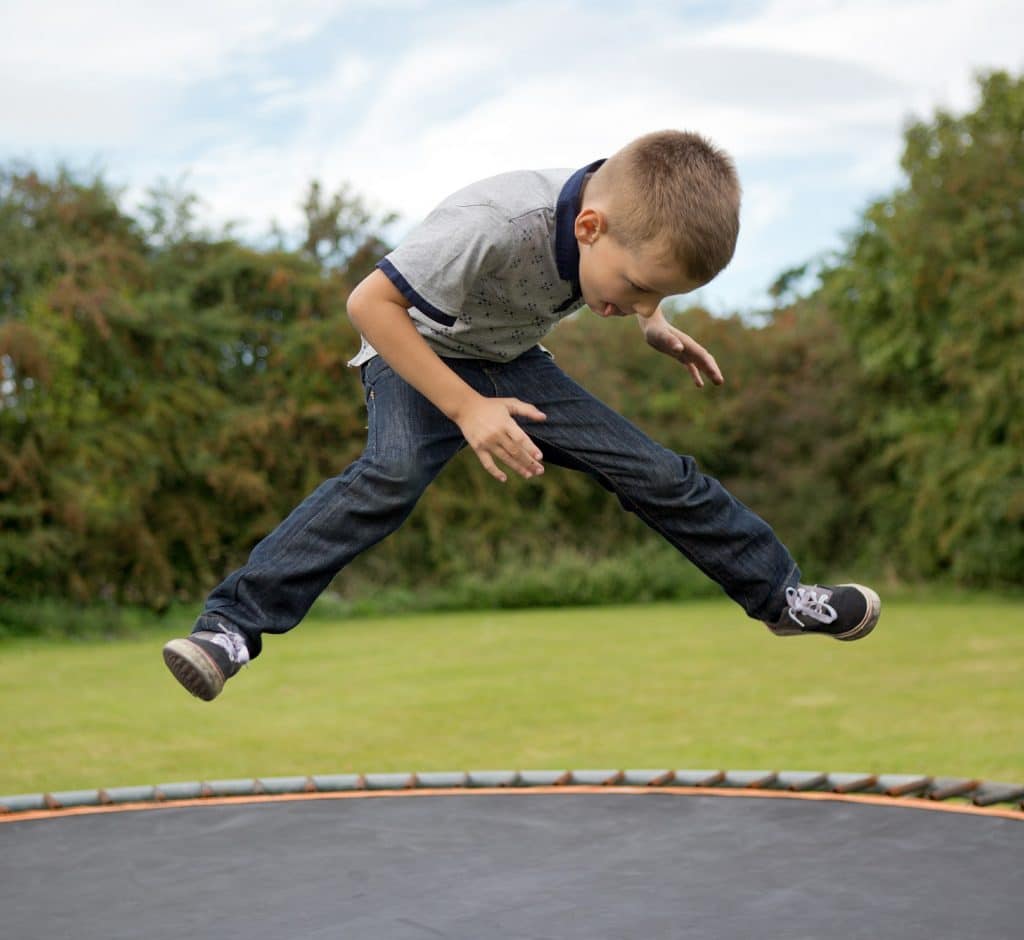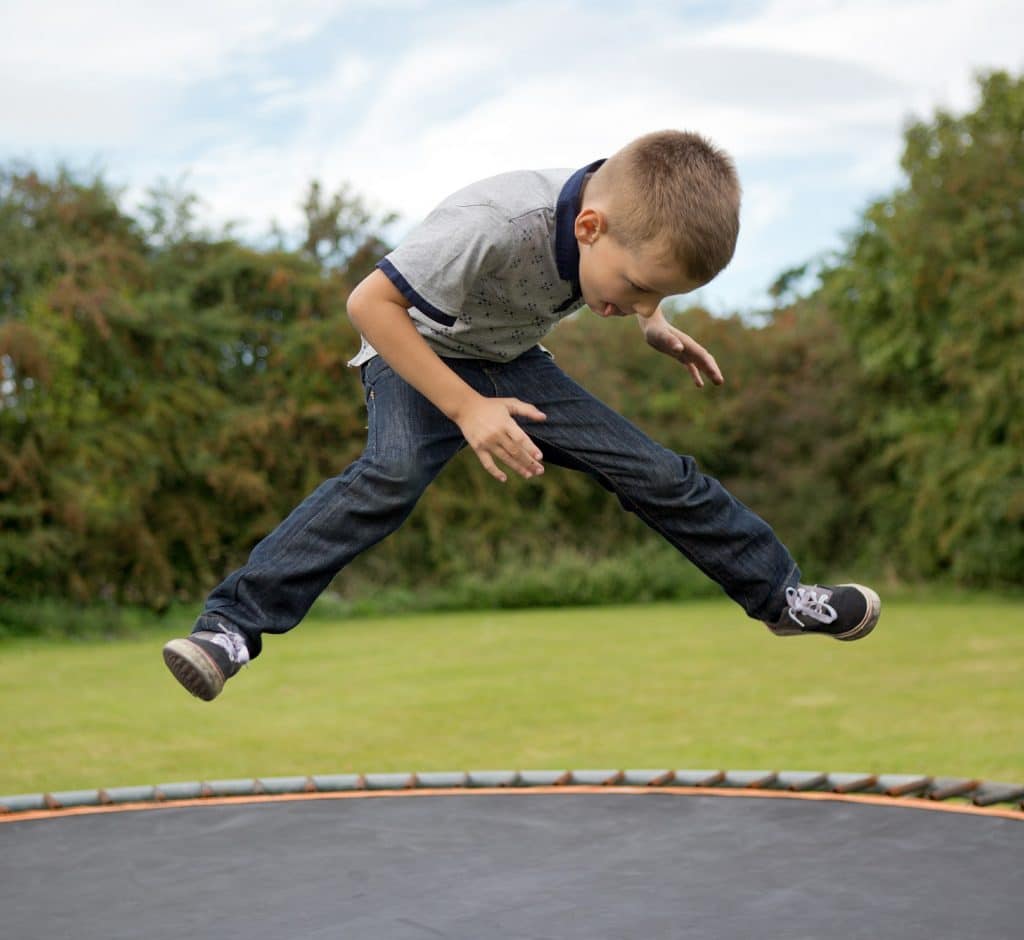 Whenever you visit a trampoline park, have you ever thought to yourself, "How much weight can a trampoline hold?" Sometimes, older trampolines have the capacity to break after multiple uses and excessive force. The last thing you want is to be on the trampoline when it happens — much less your kids! The truth is, trampolines are meant to hold up to 450 pounds maximum, but each trampoline is different. So, you need to know what to expect before you bounce in your backyard.
However, the safest way to answer this question is through extensive research of each individual trampoline since every bouncing apparatus is different. We did some research ourselves to best understand how much weight a trampoline can hold based on a few key factors. Read along to better inform yourself about the different types of trampolines, and which is the safest and most durable depending upon your individual needs.
How Much Weight Can a Trampoline Hold?
The amount of weight that a trampoline can handle really depends on the following factors:
The style
The size
The materials used to make the trampoline
The brand
If you are truly curious to know how much weight a trampoline can hold, it's important to understand that there are several key factors that come into play. The style can make a difference or the length and height. In addition, the materials used to put it together as well as the brand are also important to consider. Read along to understand just how crucial these factors are, and how they all connect.
The Style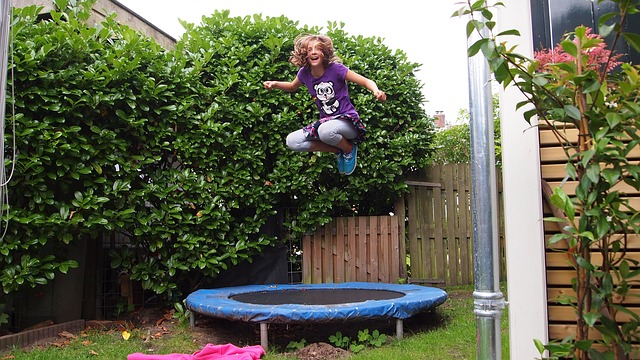 How much weight can a trampoline hold when the style is on the table? From round to rectangular or springs to springless, the many different styles of trampolines hold varieties of weight. Read below to view the main styles of trampolines.
Round Trampolines
Round trampolines are most commonly used for occasional outdoor and recreational activities. Because of their family-fun nature, they usually have safety netting and padding around the springs for extra precaution. Typically, round trampolines are between 12 and 18 feet in diameter, with the ability to hold 250 to 350 pounds.
Rectangular Trampolines
Rectangular trampolines are a step up compared to round trampolines. Its shape is more suitable for athletic use because there is additional room for aerial movement, and it promotes a higher bounce. Even though they are more expensive, rectangular trampolines are usually 17 to 18 feet long with the ability to hold over 400 pounds.
Springless Trampolines
A newer type of trampoline introduced to the market uses long, fiberglass rods instead of springs to give the safest bounce. Since more springless trampolines have yet to be sold, the diameter is between 12 and 18 feet with the ability to hold up to only 250 pounds maximum.
The Size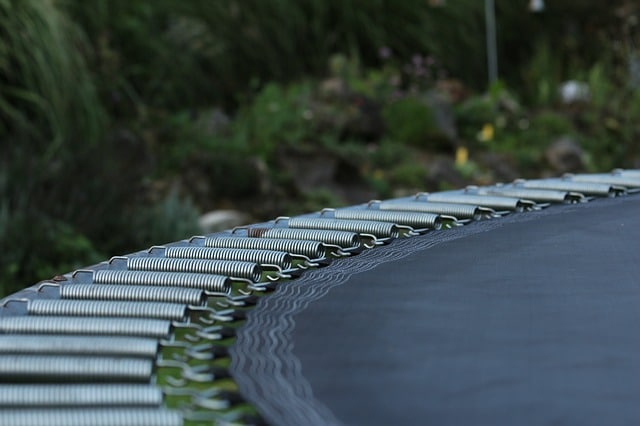 How much weight can a trampoline hold if the product is smaller or larger in size? Just like anything else, the same rules apply: the bigger the object, the greater the weight, and the larger the force that the object can handle.
Weight Requirements
Below, you will see some general guidelines to follow:
A 12-foot trampoline has a weight limit of 250-350 pounds
A 14-foot trampoline has a weight limit of 300 pounds
A 15 to 16-foot trampoline has a weight limit of 400 pounds
A mini trampoline for kids has a weight limit of 150 pounds
Now, keep in mind that these are just general guidelines. For your safety, it's very important to read the weight limit specific to whichever trampoline you buy, and it may also be helpful to read online reviews to get a better idea of the "true weight" of the product.
RELATED READS: Best Trampoline Tent, Shade, and Cover
Weight Requirements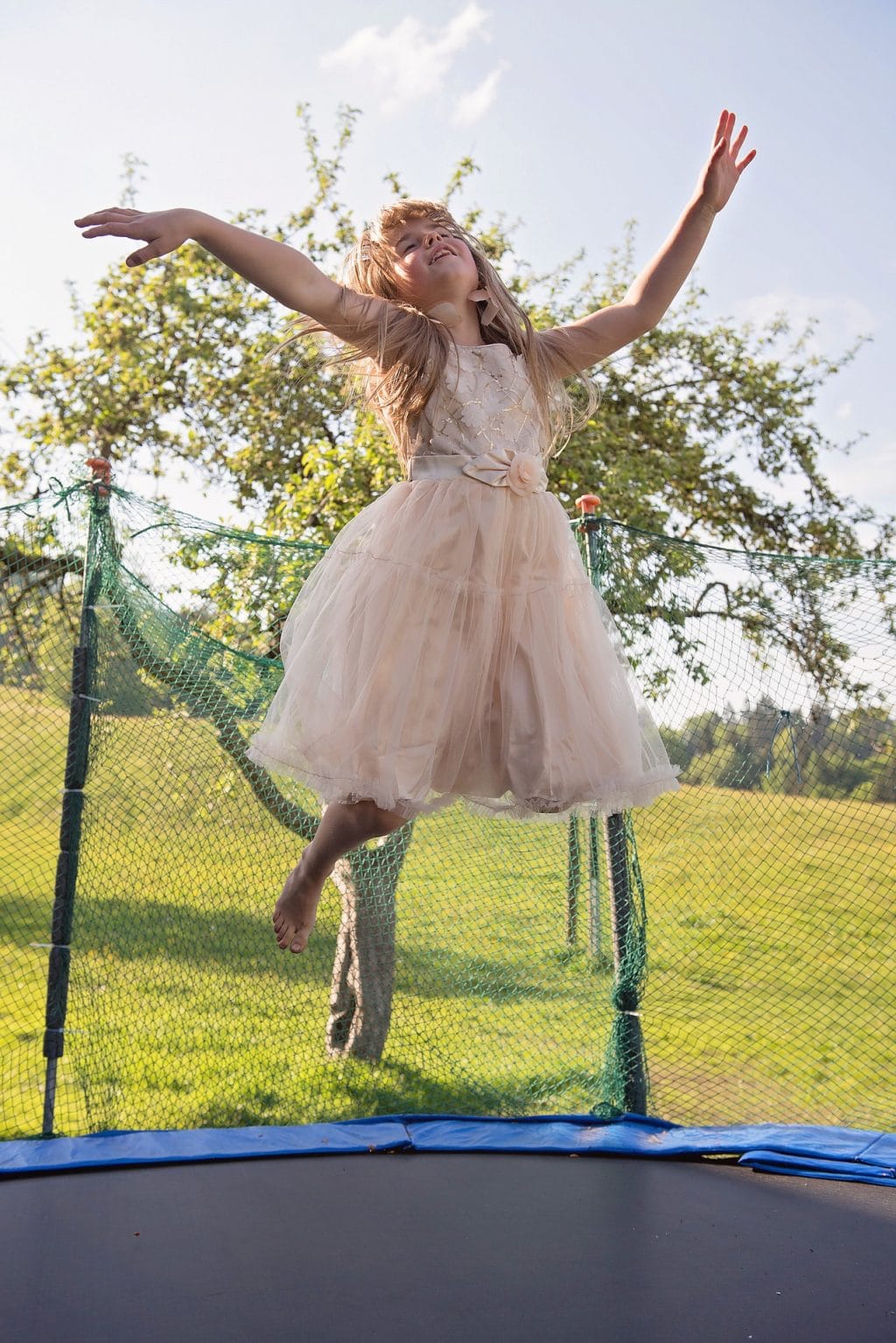 For the most part, how tall you are doesn't have an impact on the weight limit of a trampoline. However, if you are concerned about the safety enclosure around the trampoline, your height may have an effect on how safe you feel.
On average, a person will jump to a height of up to about 16 feet. Ideally, the safety net is supposed to accommodate this jumping height. Obviously, the taller you are, the higher in the air you will be compared to shorter people. So, to put this into perspective, a good safety enclosure should rise to at least waist-high of the tallest jumper.
On the plus side, you will probably never have to worry about hitting your head on the ceiling of an indoor trampoline park no matter how tall you are. According to the International Trampoline Federation, an indoor trampoline facility must be at least 26 feet in height. Unless you are an athlete or you are trying to break world records with your friends, you shouldn't have to worry about a 26-foot high ceiling.
The Materials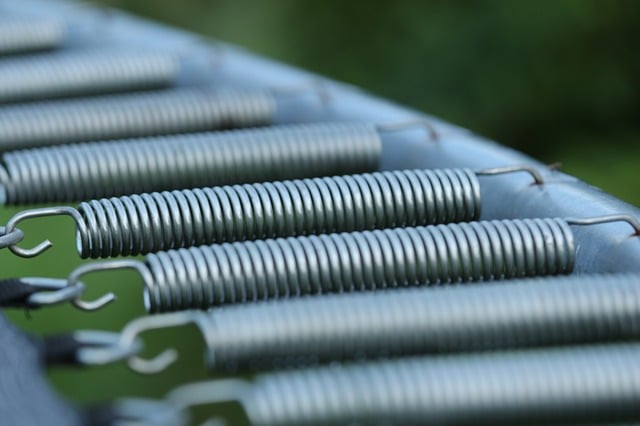 If you purchase a brand new car, you want to be 100 percent positive that you can rely on the car to get you from point A to point B in one piece. On the flip side, if you purchase an old beater, you can't fully trust in the car's ability to get you to your next destination.
Similar to a vehicle, the materials used to make the finished product are equally as important as the finished product itself. If you think about it, each piece of material is like putting together a puzzle. You need all the pieces to make it run smoothly.
The Jump Pad
The quality of the pad a person jumps on is a huge deal. Obviously, trampoline engineers and manufacturers can't use just any material, or the jump pad could break and cause injuries. Generally speaking, most trampolines are made out of strong, waterproof canvas or woven polypropylene.
The Springs
As mentioned above, there is such a thing as springless trampolines, but typically, coiled springs provide the elasticity and potential energy needed to give the jumper a good bounce.
So, how much weight can a trampoline hold if there are fewer coiled springs? Interestingly, the number of springs doesn't necessarily matter. Yes, the quantity of springs does have an effect on how much weight a trampoline can hold but remember: fitting all of the pieces together in the most effective way is crucial to a high-quality trampoline.
The Frame
Most trampoline frames are metal, and they have a similar purpose to the body of a car. A strong, metal frame holds all of the pieces together. Without it, we would have a tough time bouncing. Depending on the engineering, some frames are taller, sturdier, and wider than others. In fact, if you own an in-ground trampoline, the frame isn't going to look much like a frame at all in comparison to your typical, circular trampoline frame.
Regardless, each of these main components makes up a trampoline, and the quality of each piece is crucial to the overall quality and safety of the finished product.
The Brand Matters
Even if you don't want to admit it, everyone has a favorite brand of something. Maybe your favorite shoe brand is Nike, or maybe your favorite brand of dish soap is Dawn. Sometimes, people don't even realize they prefer one brand over another until they pay closer attention to their shopping habits.
The same holds true for a trampoline brand. The only difference is that a trampoline is a big purchase.
People want to choose wisely, especially when safety is a major concern. So, when looking at a few top brands, how much weight can a trampoline hold? Read along to find out.
JumpSport Soft Bounce
JumpSport, a company based in the United States, is considered a top brand due to its dedication to safety, long-lasting quality, and a 10-year warranty. One of the company's most popular trampolines is known as the "Soft Bounce." This 14-foot, circular trampoline provides a soft-impact landing, 80 stretchy springs, and it also has the ability to hold up to 245 pounds.
AlleyOop Double Bounce
AlleyOop is a highly trusted brand due to its heavy focus on unique quality and customer service. By unique quality, we mean that the brand offers both rectangular and circular trampolines with many distinct features. A family favorite is called the "Power Double Bounce." This 14-foot, circular trampoline offers 192 springs and a strong safety net to hold up to 295 pounds.
Springfree
Perhaps you're interested in a fitness trampoline. Springfree is an elite brand specifically meant for gymnasts and other competitive athletes. Its rectangular shape and ultimate springs promote stability, usability, safety, and durability. Used in the 2016 Olympic games, Springfree can withstand 572 pounds with its longer, 17-foot frame.
Conclusion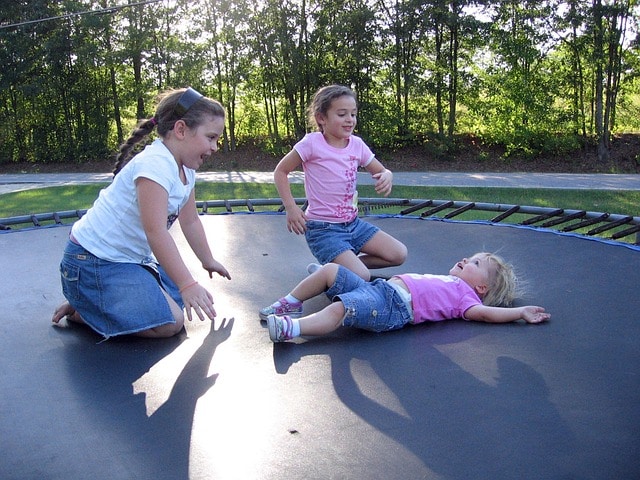 How much weight can a trampoline hold when considering all of the above factors? As we've learned, because there are so many different trampolines out there, the weight limit is not set in stone. Many trampolines are customized nowadays, so make sure to read the directions that come with the specific trampoline your purchase before use. There will be specific safety protocols depending upon the trampoline you purchase, and it's critical to follow them.
Last update on 2022-09-30 at 23:49 / Affiliate links / Images from Amazon Product Advertising API
Comments
comments