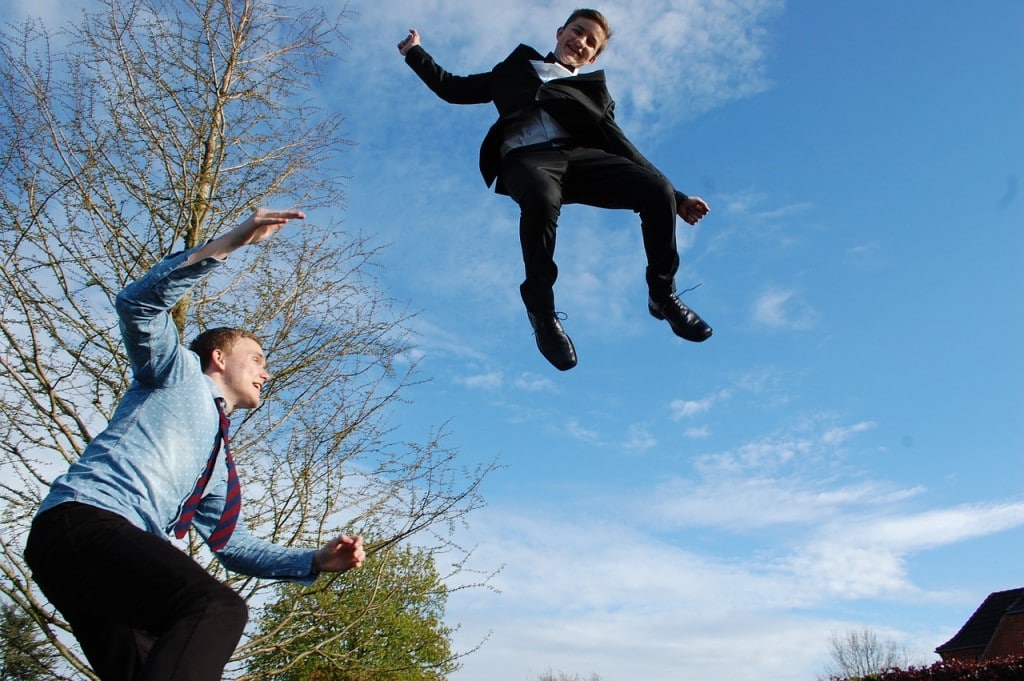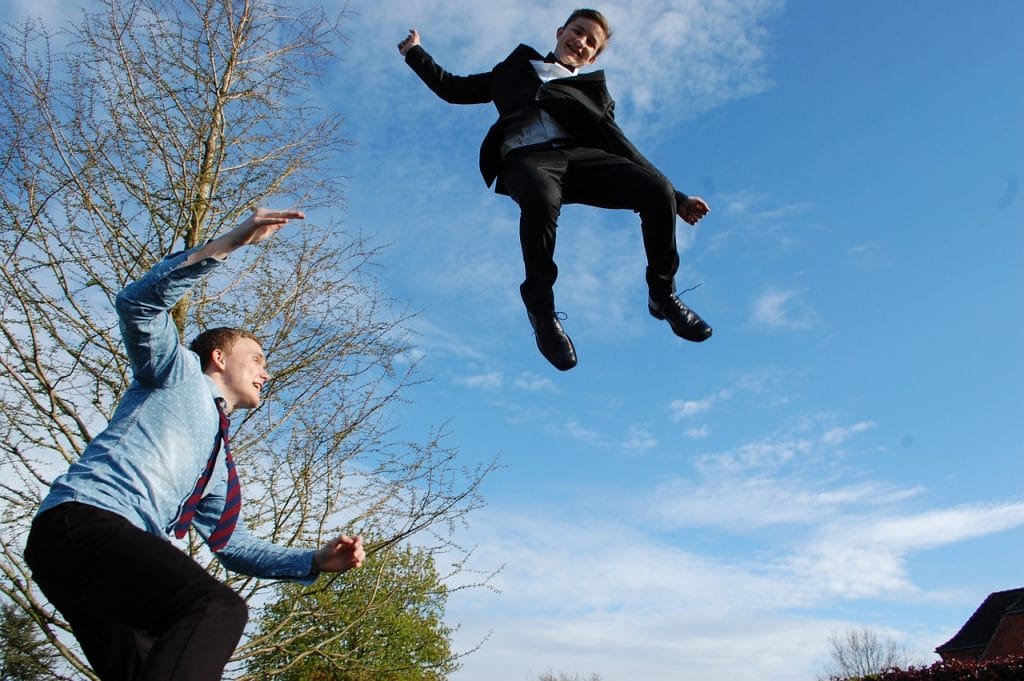 There are endless benefits to owning a trampoline. It's a one-time investment that creates a healthier family.
Children will enjoy themselves while getting some much-needed exercise, and adults can join in the fun as well. One of the most agreeable ways to promote a better lifestyle and combat the epidemic of childhood obesity, you simply can't go wrong with a trampoline.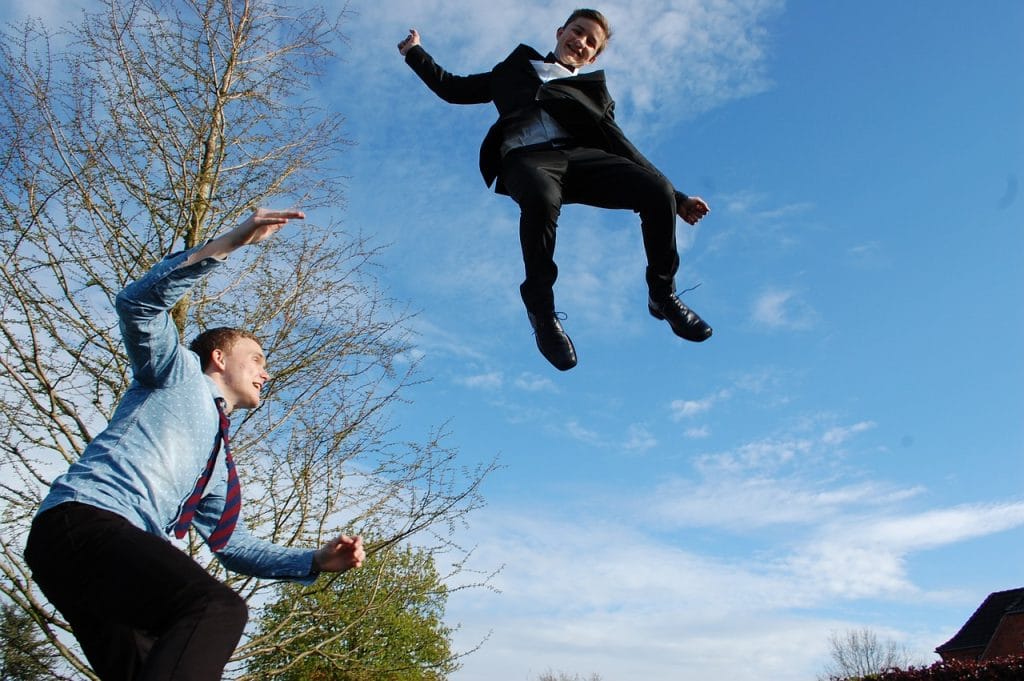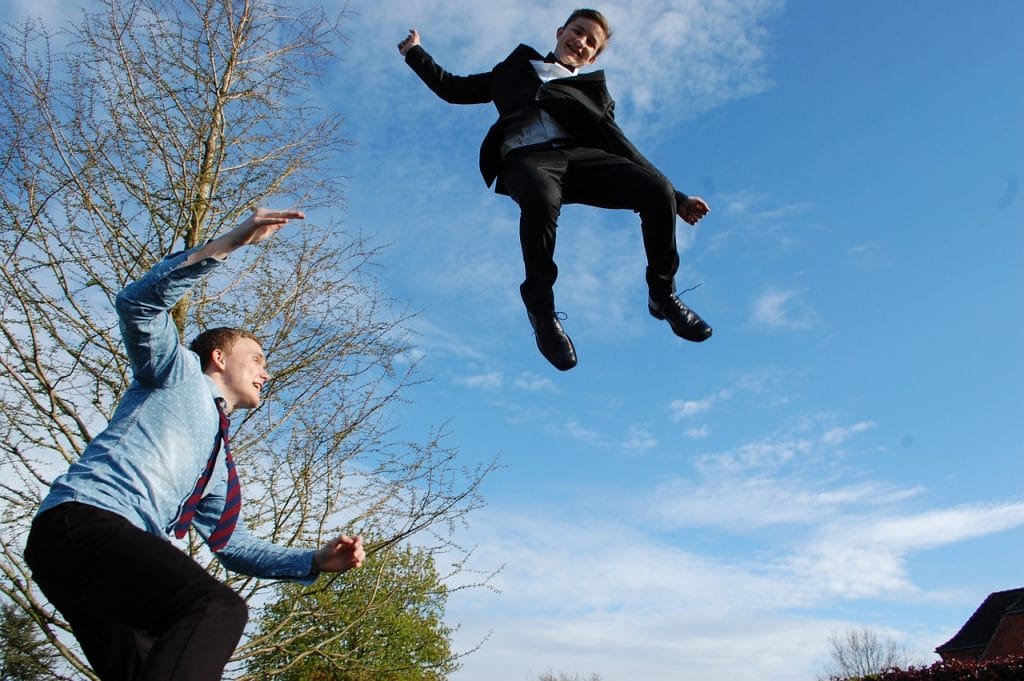 Proper trampolines with enclosure nets are one of the safest ways to provide heart-healthy fun for your entire household, but they are a hefty investment.
A trampoline can last decades if it's maintained properly. Trampolines are an investment, and in order to get the most out of them, you'll need to spend some extra time to keep them in working order.
Doing so will prevent you from having to invest in a new trampoline as a result of neglecting your original purchase. The good news is that it isn't especially difficult to take care of a trampoline.
Some regularly scheduled repair and frequent checks on the state and stability of the trampoline can allow you to prevent problems and extend the longevity of the product.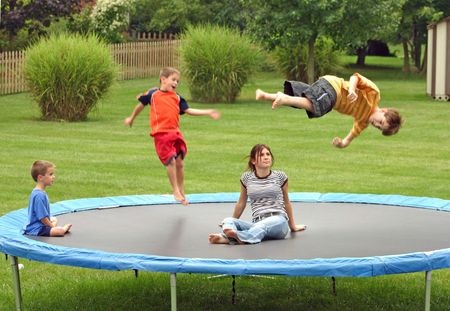 Carefully Follow Assembly Instructions
Winging it can lead to failure. If you misunderstand the assembly instructions, the end result can be an unsafe trampoline that will fall apart and injure its users.
If you aren't sure, call the company or visit their website for additional information. Never attempt to guess or take shortcuts if the assembly instructions don't make sense to you.
You could be missing a vital piece of hardware, so always make sure all of the components are in the box. Never replace the included components with different, similar parts. If they aren't an exact fit, they may break the trampoline.
Never compromise on safety.
If you aren't comfortable assembling it yourself, some companies will recommend professional assemblers for an additional fee.
Always use the assemblers suggested by the company, because seeking assistance elsewhere may void your warranty, especially if those people don't assemble your trampoline the way the manufacturer intended for it to be assembled.
This is your best bet for the sturdiest trampoline possible, and it will save you some work.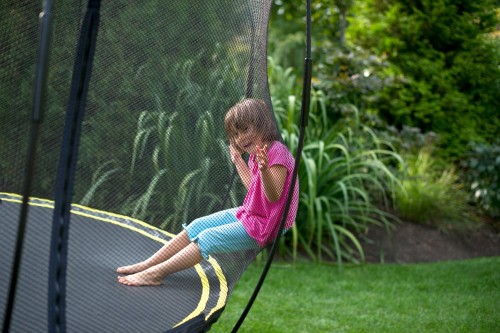 Abide By The Trampoline's Restrictions
In the manual, product description, and information printed on the box, your trampoline will have a clear weight limit. Some may specify the maximum number of users that can occupy the trampoline simultaneously.
Always abide by these weight limits. If you exceed these weight limits, you can weaken the springs, which will lessen the reliability of the trampoline. As a general rule, you can extend the life of the product by always staying ten pounds under that weight limit.
Never use your trampoline to store things. When mowing the lawn, it may seem like a good idea to toss patio furniture onto the trampoline to make the job easier.
It doesn't matter if the weight isn't bouncing – it will still take a toll on the components. That having been said, any toys or games you use with the trampoline should be figured into the weight limit. The limit doesn't only apply to the weight of jumpers.
Dress For Success
Not only is it dangerous to wear shoes on a trampoline, but they can damage the jump pad. If jumpers aren't willing to go barefoot, socks are also safe.
Always pay attention to the clothing worn on the trampoline. Belts with spikes or sharp earrings can cause some serious accidents.
Always make sure jumpers have removed any sharp objects from their pockets or their person before jumping. If they don't, they aren't only risking their own safety, but they can inadvertently damage the trampoline.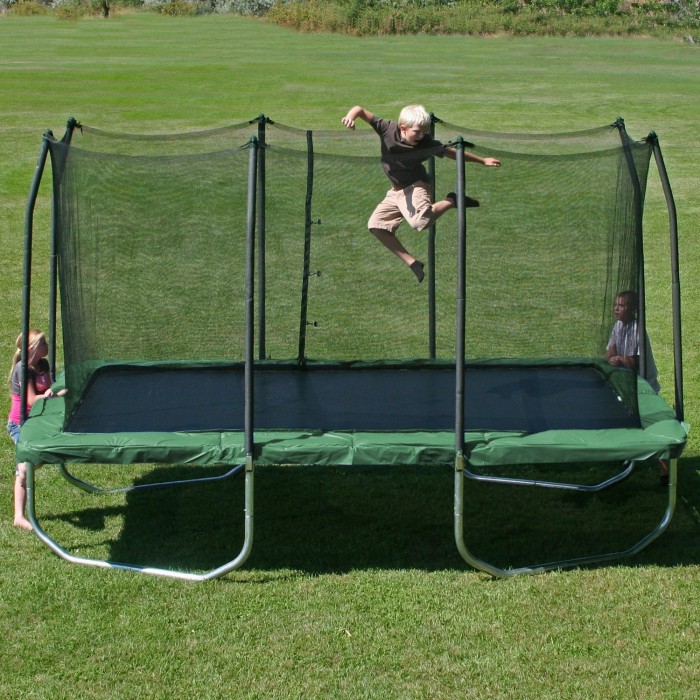 Prevent Weather Damage
Some trampolines are built to survive tough winters outdoors, but the majority are not. If your model doesn't specify that it is suited for all weather conditions, you need to take your trampoline down or move it to an indoor area, such as a garage, for storage.
Large, windy storms can also put your trampoline in jeopardy. Having the basic knowledge to disassemble and reassemble your trampoline is crucial.
This will allow you to protect it from severe weather.
If you live in an area prone to windy storms, you need to consider that when placing your trampolines. You'll want to keep it far enough away from tall trees.
If these trees are uprooted by a storm, or struck by lightning, you run the risk of the tree falling and smashing into your trampoline. Always place your trampoline far away from large trees, buildings, and power lines.
Though it's not likely something terrible will happen, when it comes to protecting your investment, you're better off safe than sorry.
Move Your Trampoline Safely
If you've chosen to move instead of disassemble your trampoline due to the weather or other factors, make sure you're moving it safely.
Grabbing it and dragging it can weaken the infrastructure of your trampoline. Before moving your trampoline, wrap all of the connectors and joints with industrial-strength duct tape. This will reduce the risk of vital components coming loose during the move.
The move requires two people standing on opposite sides. Lift the trampoline off of the ground, holding it horizontal. Slowly step it to its new location.
If you plan on moving it farther than across your yard, it's inadvisable to carry the trampoline. Instead, you should disassemble it and reassemble it in its new location to reduce the risk of damage.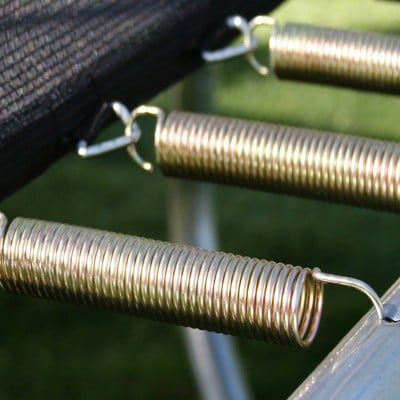 Never Attempt To Modify Your Trampoline
You're taking risks if you decide to modify your trampoline. There is a delicate balance at play.
The infrastructure is secure, and components are designed to support each other in specific ways. Making modifications can damage the framework of your trampoline, and any modifications will void the warranty. You run the risk of ruining the product and having to purchase an entirely new trampoline on your own dime.
Modifications may also reduce the safety of the product, so they're unwise to attempt anyway.
Regularly Inspect and Repair Your Trampoline
Depending on the amount of use your trampoline gets, you'll want to check it in anywhere between biweekly to monthly intervals.
This means taking a look at the bolts to make sure none of them have come loose. Make sure it's sitting level, and not tilting to one side.
Make sure the springs haven't done any damage to the safety padding, and the enclosure is working properly. Check the jump pad to make sure there aren't any spots of weakened fibers or scuffs that could damage its integrity.
Components like the springs are major ones to keep an eye on. If you're using your trampoline as instructed, you aren't likely to see any damage to the springs, but accidents still happen. If one spring has been stretched, broken, or come loose, this has a largely negative effect on the entire jump pad.
One damaged or improperly secured spring pushes the other springs to work harder, exceeding their limits. This can cause a domino effect, leading to other damaged springs.
Do not use the trampoline until any questionable springs have been repaired, or replaced.
In the event that you need replacement parts, check your warranty status.
Many trampolines come with part-specific warranties that range between one and three years, and companies may allow you to purchase an extended warranty. If anything needs to be replaced, contact the manufacturer.
Even if your warranty has run out, you may find that they're willing to send you parts at a discount.
Never go to the hardware store and guess what you need.
Though it may seem simple to replace basic components, such as screws and bolts, it's a lot more complicated than you may realize. Certain metals may be too soft, threads may be too deep, and many common hardware parts aren't rustproof.
Any parts you use must be specifically intended to be used with your specific brand and model of trampoline. Trying to score a deal can cause severe safety issues.
Clean Your Trampoline
Your trampoline is outdoors, and it's going to get dirty.
This can encourage bugs, mold, and fungus to take up living inside of or on top of your trampoline. It's relatively easy to clean a trampoline with a garden hose.
Using low pressure, spray down the trampoline. Wipe away any dirt with a soft cloth. Never use an abrasive brush or cloth, as this can damage the trampoline.
Once it's dry, it's safe for jumping. Jumping on a wet trampoline can cause severe injuries, so encourage jumpers to be patient.
Never use any solvents or chemicals to clean your trampoline.
The metals are often coated with rustproofing agents, and these keep your frame from eroding. Mats, pads, and enclosures are often coated with a UV protectant, which keeps the sun from damaging them and weakening the fibers. Solvents can remove the protective layers your trampoline needs.
Water should be enough.
Always check enclosures and mats for leaves, sticks, twigs, and rocks. These need to be removed with care. Leaving them there, or roughly yanking them out, can do irreversible damage.
Jumping with twigs in the mat can stretch it out, weakening the fibers and causing large holes. Never allow any debris to remain on your trampoline. If necessary, purchase a trampoline cover to protect it from nearby shedding trees.
Always Keep Your Trampoline Horizontal
Most trampolines have a circular frame to distribute weight evenly. Structural damage can occur when a trampoline is tipped or stored on its side because when your trampoline is off-balance, the side on the ground is taking damage.
If you aren't using your trampoline, disassemble it. Never flip it on its side and push it out of the way.
The same thing goes for trampolines that have been placed on uneven terrain. A trampoline is intended to support weight evenly, and the springs are placed in a way to meet that burden.
If your trampoline is placed in a way that isn't level, such as half on concrete, and half on the grass, the higher side will incur damage.
The springs won't be able to distribute the weight evenly, and half of your trampoline will wear out much faster than the other half.
Springs will come loose and the frame metal will warp. If that were to occur, you'll likely need to by a whole new trampoline.
If your trampoline is sitting in soil, depending on the nature of that soil, your trampoline will naturally work itself down into the ground a small amount through regular use. If one side is lower than the other, you'll be putting too much pressure on the joints.
Use a leveling tool to make sure your trampoline is as close to horizontal as possible. If you need to, safely move the trampoline and fix the terrain beneath it.
Sale
Bestseller No. 1
Bestseller No. 2
Last update on 2022-10-01 at 01:19 / Affiliate links / Images from Amazon Product Advertising API
Comments
comments