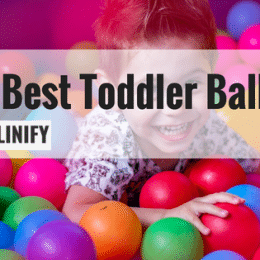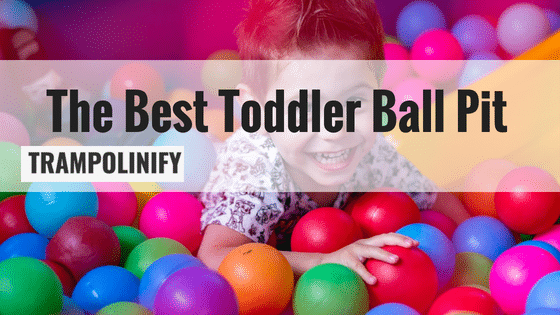 Encouraging your kids to play outside is a struggle these days. With screen time taking up so much of playtime, even for toddlers are getting less physical activity. If you are concerned about your child's level of active play and want to provide them with some fun outdoor options, a toddlerball pit is a great place to start.
The Top 10 Toddler Ball Pits 
There are many types of toddler ball pits available that range in price and quality. When buying one of these items, you want to find a product that's strong and durable enough to withstand years of use.
There are some ball pits that will grow with your child so that you don't have to buy a replacement once they pass their toddler years. However, some products are strictly for indoor use while others can be used indoors and outdoors.
To help you narrow down your choices and decide which toddler ball pit is the best option, here are the top 10 best-selling products in this category.
Truedays Kids Playhouse Tent 
If you need a large ball pit for multiple kids or playdates, the Truedays Kids Playhouse Tent is a great option. This tent is the largest outdoor/indoor play tent and ball pit currently available. It measures 55.1″x 47.2″x 47.2″ and features Velcro door closure and two tunnel ports for exploring.
The large ball pit is designed to withstand weight from impact and has a waterproof floor, and a shock-corded PU coated pole system for added stability. The product is easy to assemble, and it offers a large and safe place for your little ones to play whether it's indoors or outdoors.
Pros
Cute little house

​Easy setup/takedown

Big enough for two kids. 
Cons
Not a windy day playhouse.
Hexagon Pop Up Ball Pit Tent 
The Hexagon Pop Up Ball Pit Tent has plenty of room inside for your child to move around and play. It is 30" tall and more than 4 feet wide. There is a large entrance that makes it easy for your toddler to crawl in and out, and there are five mesh windows for breathability.
It's also easy to set up and conveniently folds flat for storage in the included zipper bag. It is made from a high-quality polyester material that can withstand plenty of wear and tear.
Pros
It's a great buy

it's great!

Looks larger than the picture! 
Cons
Doesn't last long before the edges start tearing
Fisher-Price Train Inflatable Ball Pit 
The Fisher-Price Train Inflatable Ball Pit is a bright and colorful option for kids with active imaginations. This fun inflatable is shaped like a train's engine and offers plenty of features for exciting indoor or outdoor play. It's easy to set up within minutes and deflates quickly once playtime is over.
The train ball pit includes 25 plastic, PVC-free, and Phthalate-free balls. It's ideal for  kids that are ages 2 and up.
Pros
Nice size for mommy and baby

The train is wonderful!
Cons
Bestway Helicopter UP IN & OVER Ball Pit 
The unique design of the Bestway Helicopter UP IN & OVER Ball Pit is sure to catch your attention. Your child will love playing inside this spacious ball pit and pretend they are flying high in the sky in this helicopter shaped inflatable.
Kids ages 2 years and up can enjoy this toy and it's suitable for both indoor and outdoor use. It measures 52″ x 31″ x 27″ and comes with 50 non-PVC and Phthalate-free balls.
Pros
Great Ball Pit

The best inflatable.

It's the perfect size.
Cons
It's great if you get the extra ball set, but if you don't you will probably regret it.
Playz 3pc. Rocket Ship Astronaut Ball Pit 
The Playz 3pc. Rocket Ship Astronaut Ball Pit is a great choice for children who need more options for active play. This creative spaceship ball pit offers plenty of opportunities for your child to enjoy themselves The set includes a castle tent, crawl tunnel, and a basketball pit with a hoop.
Each piece can be used together or separately for multiple playtime activities. This toy kit is approved by the USA CPSC Toy Safety Guidelines and it's designed for both indoor and outdoor use. It's also portable, durable, and easy to assemble. Fold it up and store it away in the included storage bag once playtime is over.
Pros
Well-made, sturdy, and huge! Your kids will love it.

This is a large three-piece playset for a toddler and older kid.
Cons
Some comments say that it became damaged from the first use.
My Bouncer Little Castle
No products found.
No products found.
The My Bouncer Little Castle is one of the best toddler ball pits available. It comes with 500 colorful balls and an easy-to-assemble inflatable house that is ready for use within minutes. The house is made from the same material used for tents, making a strong and durable product. Also, the fabric is torn and puncture-resistant, and it's free for lead, BFA, Phthalate, and PVC.
This bouncy castle can be used both indoors and outdoors. It includes a blower pump for a quick and easy set-up. Plus, it includes a storage bag and instructions. It is lightweight and easy to carry around from one location to another. The castle measures 100″D x 118″ W x 72″H when assembled.
The My Bouncer Little Castle can support up to two kids safely and there is no weight limit.
Pros
The kids love the bouncy castle

Noisy but worth it and decent size for the price
Cons
The hole is large enough for a child's head to go through.
Utex Pop-Up Kids Tent
The Utex Pop-Up Kid's Tent is a 3-in-1 play area that any toddler will enjoy. The play tent includes a tunnel and ball pit that is great for babies and toddlers. It is designed to be used both indoors and outdoors, and it folds up easily once playtime is over.
This pop-up tent is made from strong and durable polyester fabric that is resistant to wear and tear. The two main pieces may be used together or separately for even more creative play. This toddler ball pit and play tent include a lightweight zipper storage bag for easy transport.
Pros
The kids love this! It is large and requires space if you want to set it all up at once.

Perfect gift for toddlers
Cons
It's VERY big so this wouldn't work well for a small room.
eWonderWorld Twist Play Ball Pit 
The eWonderWorld Twist Play Ball Pit is a great choice for energetic toddlers who need a fun and safe place to play. The hexagonal ball pit includes a storage bag for easy portability, but it does not come with any balls.
The best feature for this playpen is the added safety meshing for visibility purposes. The Twist Play Ball Pit uses twist technology that allows you to set it up easily in seconds. It measures 46″ L x 39″ W x 38″ H and features three openings for your child to crawl through.
Pros
Larger than expected and an instant hit

Great fun for kids of all ages

Best ball pit EVER!
Cons
Would be a bit better if you have a method for keeping it upright and keep it from folding in on itself.
Kuuqa Kids Ball Pit
The Kuuqa Kids Ball Pit has a colorful display and features a fun hexagon shape. It's a great choice for infants and toddlers based on its size and the vibrant colors. This ball pit is more of a playpen made from strong polyester fabric. It remains stable thanks to the high-strength memory steel holder.
The material for this ball pit is waterproof and easy to care for. It can be folded once playtime is over and stored conveniently. it's also great for both indoor and outdoor use. The only drawback is that the balls are sold separately. However, it's very affordable.
Pros
Exceeds expectation.

Fun for everyone!
Cons
It should have a SAFETY HAZARD! Broken sharp wire!!

Tiny and Flimsy. 
EocuSun Kids Ball Pit 
This fun and spacious toddler ball pit is perfect for both indoor and outdoor use. It includes a polka dot tent house, tunnel, and a ball pit all in one package. The 3-piece play area creates a fun place for your toddler to roam around and explore. It also assists with fine motor skills and improve hand-eye coordination.
Each piece of the EocuSun Kids Ball Pit may be used separately, which provides a variety of playtime activities for your little one to take part in. The fabric for this kid's tent and ball pit is eco-friendly, soft, non-toxic, and odorless. It has a breathable mesh design so you can watch your child as they play inside. It's mosquito proof and comes with its own zipper storage case.
Pros
Uses 400 balls to fill it to a good level. 

Perfect size

​Great little ball pit!
Cons
Why Parents Should Buy a Toddler Ball Pit 
Children of all ages love to play on inflatable bouncy castles and inside of ball pits. Adding a brightly-colored toddler ball pit to your backyard is sure to lure your little ones outside this summer for hours. These products are great to have for birthday parties and other special events. But they can also be used on a daily basis when your child needs to burn off some energy.
Ball pits range in shapes and sizes, and there are even some small enough to fit inside of a bedroom or playroom. While you may be more inclined to buy an outdoor version, an indoor toddler ball pit is a good option for year-round play, allowing your child to have fun regardless of the weather.
The Benefits of a Toddler Ball Pit
Aside from giving parents a break from their active toddlers, a ball pit has many excellent advantages that can help your child more ways than one. Ball pits offer a fun and colorful way to help toddlers grow physically and mentally.
This safe and effective toy can improve a child's sensory-motor functions, allow them to develop depth perception, and helps them explore their body equilibrium— which is important for their physical growth. Ball pits are even helpful in assisting with color and pattern recognition.
Important Things to Consider When Buying a Ball Pit for your Toddler 
Now that you know what types of ball pits are out there, it is time to learn more about the important factors to consider when buying a toddler ball pit.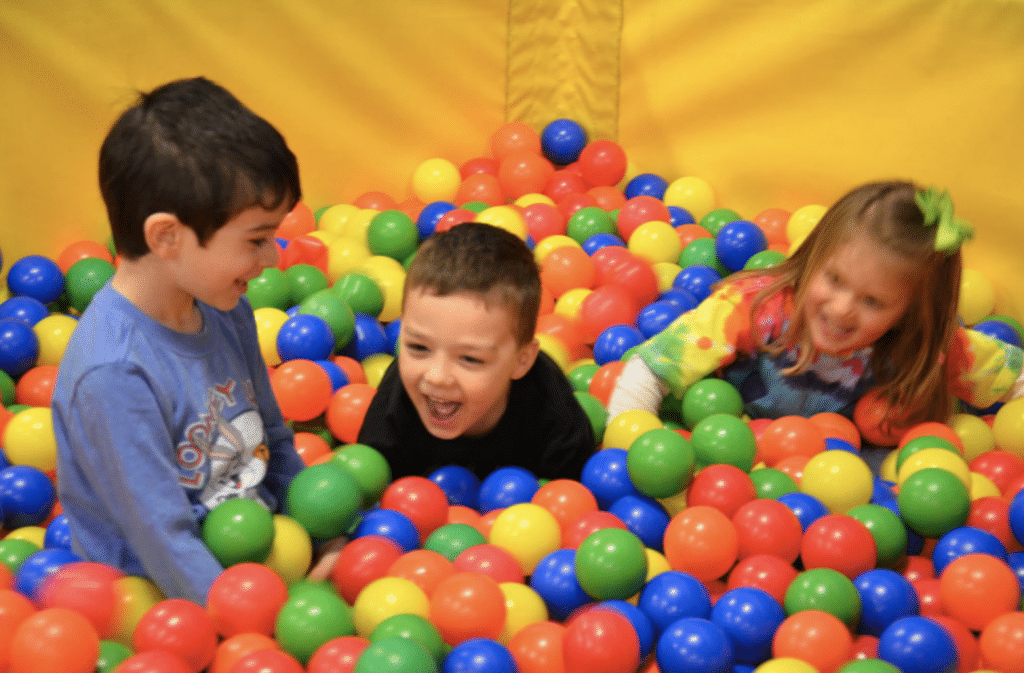 Age and Weight Limits
Toddler ball pits are designed for smaller children in mind. While there are some that can withstand the weight and active use of an older child, most of these are made exclusively for infants and toddlers. Therefore, you should always check age and weight limits when buying a ball pit to determine how much use you will get out of the product.
Add-Ons and Features
Are you hoping to buy a simple ball pit or something more elaborate that will keep your kids busy throughout the day? There are all types of toddler ball pits available from basic models to those with multiple pieces that  connect to create a large play area. There are ball pits available with add-ons such as basketball hoops, tunnels, slides and more.
Not Every Ball Pit Will Include Balls
It may seem strange that the main component of a ball pit isn't included with many popular models. But there are several high-quality pits that don't include any of the necessary plastic balls to make you're set complete. Fortunately, you can purchase plastic PVC-free balls separately.
Ease of Use
Are you interested in buying a ball pit that will remain in one place most of the time, or do you need something that folds away for storage after use? Will the ball pit be used exclusively indoors, or do you want the option to use it both inside and outside?
Before buying a ball pit for your toddler, you should ask yourself these questions. Doing so will help you find the right toddler ball pit that's easy to set up, easy to store, and capable of both indoor and outdoor use.
Material
You should also be concerned about the materials the ball pit is made of. Choose a product that consists of high-quality, non-toxic materials and one that's resistant to usual wear and tear. If you have more than one child, you will want to get as much use out of the ball pit as you can.
Therefore, choosing one that can withstand throughout is a great option. Other factors to look for concerning the material include choosing a ball pit that is BPA-free and certified safe for small children.
Choosing the Right Toddler Ball Pit for Your Child
Toddler ball pits offer small children a fun and exciting way to take part in exercise each day. These colorful play areas can help with fine motor skills, pattern and color recognition, and even social skills. 
While the ball pits mentioned in this article are considered safe for the recommended age group, it is important to always supervise your child while they are playing in a ball pit to prevent accidents or injuries.
Safety Tips For A Toddler Ball Pit
Ball pits are tons of fun, and you probably remember when you used to play in them as well. But as exciting as they might be, there are some safety precautions you should implement.
Before allowing your children to go into the pit, do an inspection first. If the balls look dirty or have a smell to them, it might not be a good idea to let your kids play in it.

After your child finishes playing in the ball pit, make sure you wash their hands. Depending on how often you clean it, there might be food particles and other germ-filled substances.

Make sure you remove your child's shoes and other accessories before entering a toddler ball pit. Loose items could potentially hurt your kid or other children.

The primary thing to watch out for when your children are in a ball pit is collisions between kids. Watch the children to make sure they don't hide under the balls or stand near slides and other equipment.
Final Thoughts On Using A Toddler Ball Pit
Keeping young kids occupied isn't the easiest thing in the world, but buying a toddler pit is the perfect resolve. As with anything, there are some precautions to take. However, there's no reason to be afraid of letting your kids enjoy it. Ball pits provide joyous memories for kids and adults, and it never gets old. Your kids will remember the fun they had in their ball pit for years to come!