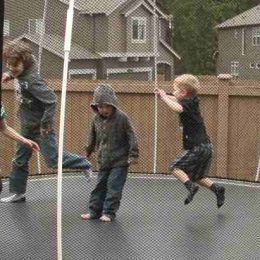 Trampolines are often the centerpiece of a backyard. They provide endless hours of healthy, active fun for children and parents alike. And, best of all, when guests are visiting they always want to spend time testing out the trampoline. In short, everybody likes a good bounce on the trampoline from time to time.
That is why it is such a shame when trampolines endure wear and tear due to bad weather. It is not uncommon for us to see trampolines left out in the rain without a protective skirt or tarp. It is also fairly common to see smaller trampolines unattached to the ground on which it sits. Clearly, there is a problem here.
If you want to enjoy your trampoline for years to come, it is important to take every precautionary measure to maintain it. Above all, this means guarding it against inclement weather. In most cases, your trampoline requires special treatment during winter months.
Do you want to find out how to protect your outdoor trampoline from high winds, snow storms, and other harsh weather conditions? Read on to discover everything there is to know about guarding your prized backyard possession against the elements.
Your Trampoline During the Winter
For those of us who have the pleasure of experiencing sub-zero temperatures during the winter season, specific steps must be taken to winterize your trampoline. Winterization ensures that your trampoline will be resistant to freezing temperatures and the accumulation of snow.
Most modern trampolines are built to withstand freezing temperatures. However, responsible trampoline owners must remove snow from the bounce mat at the first sign of its accumulation. As a rule, keep a shovel next to your trampoline during the winter months. After each snowfall, hop on the trampoline and clear away all of the white stuff before it has a chance to turn to ice.
Although routine snow removal might sound like a tedious chore for some, it is a small price to pay compared to the time it takes to disassemble and reassemble the trampoline as a whole. It is typically unnecessary to stow away a trampoline during the winter. However, summer-only trampolines tend to last a couple years longer than all-seasons trampolines.
Do I Need a Trampoline Cover?
Many trampoline owners cover their bounce mat with a tarp to protect it from snow accumulation. However, when it comes to preventing your trampoline from snow damage, there is no need to purchase a trampoline cover. In fact, covering your trampoline bounce mat with a tarp can even cause additional damages.
Since the bounce mat (bouncing surface) of a trampoline is porous, snow will naturally seep through it as it begins to melt. This causes excess weight to run off of the bounce mat. This provides relief to the springs, which would otherwise strain under the weight of the snow as it accumulates.
Protecting Against the Wind
You should secure your trampoline to the ground if you live where wind conditions can become particularly harsh. Far too often we hear stories about trampolines of all sizes that fly on to a neighbor's property during wind storms. An errant trampoline is something neither you nor your neighbor will appreciate.
Tie Down Kits
The only way to reliably protect your trampoline against high winds is to purchase and install a tie-down kit. Tie down kits act as an anchor for your trampoline by rooting them into the earth. In most cases, anchoring your trampoline will minimize movement and structural damage caused by heavy winds.
Wind Blocks
If the wind is not a major concern where you live, you may want to simply place your trampoline in a low-risk location. Generally, placing your trampoline next to a large tree or behind a wall is a good idea. This is because large objects can serve as an effective wind block. It can also help to place your trampoline at the bottom of a hill if you have that option.
Protecting Against the Rain
During heavy rain conditions, we advise picking up a heavy-duty rain cover. The best rain covers are those that are made of polyethylene since this material is strong enough to resist significant pooling. Always make sure that your rain cover features a drainage hole in the center. This allows water to seep through onto the bounce mat without damaging the springs.
Also, ensure that your trampoline rain cover is the correct size. Don't overshoot it and assume that an oversized cover will get the job done. All this will do is make your rain cover droop and water to pool on top of it. An ideal rain cover should be stretched taut at all sides. The main purpose of a rain cover is to prevent your springs and frame from taking on rust damage.
Rustproofing Your Frame
Metallic frames and springs need to be protected from rust. Over time, rust damage can erode the durability of your springs and can cause structural failure if left untreated. Damage to trampoline springs can cause serious injury.
The best method of rustproofing a trampoline frame is to simply shield it with a tarp or rain cover. Ideally, all of the exposed metal components will be covered. Most higher-end trampolines have a steel frame that is naturally rust-repellent. However, trampoline springs are almost universally prone to rusting.
To rustproof your springs, you should always make sure the section where your bounce mat meets your frame (i.e. where the springs are housed) is protected by a trampoline skirt. Most family-sized trampolines are bundled with a circular blue skirt that wraps around the perimeter of the bounce mat and ties onto the metallic frame.
If you want to take even greater measures against rust buildup, you may want to consider purchasing rust-proof spray. A premium quality rust-proof spray can be purchased at your local hardware store. It contains active chemical ingredients, contained within an aerosol can, that can counteract the effects of water on steel.
How to Protect Your Trampoline During a Hurricane
If you live near coastal areas, there's a chance you will be exposed to a hurricane or tropical storm conditions. While nobody wants to imagine having to prepare to brace for a hurricane, it is important to know what to do in case disaster strikes.
First, check your local weather forecast. If meteorologists issue a weather warning for a potential hurricane or tropical storm, take action immediately. Hurricane-force winds can easily uproot large trampolines, even if they are anchored to the ground. If you suspect that a hurricane may be impounded, you must dismantle your trampoline and store it indoors.
Disassembling a Trampoline 101
Tearing down a trampoline is a trampoline owner's worst nightmare. The majority of commercial trampolines on the market today are a major hassle to set up and tear down. However, it is a plain fact that occasionally teardowns are made necessary due to extreme weather.
In the event of hurricane-force winds or severe flooding, an assembled trampoline can cause untold damage to yours or your neighbor's property. Ask yourself, what's worse: taking an hour out of your day to stow your trampoline, or paying thousands of dollars in insurance premiums after it crashes through your neighbor's sliding glass doors?
Put simply, always veer on the side of caution. If you receive an emergency weather alert, do not hesitate to take down your trampoline. During difficult times, it will give you additional peace of mind and may potentially save you a lot of money in the long-run.
Tearing it Down
Consult your trampoline's user manual to find out how to properly disassemble your trampoline. However, most trampolines can be taken down in the following steps:
Wearing a pair of gloves, pull each spring off of its hook
After removing a spring from one side, remove a spring from the opposite side and continue alternating accordingly
Store springs in a box, and then pull apart the frame at each joint
Once the frame is taken apart, store them together somewhere indoors
Lastly, roll the bounce mat into a cylinder and keep with the other materials
The Rundown
Now that we're experts in trampoline maintenance, let's run through some of the key takeaways. Rain or shine, following these simple rules, will allow you and your family to enjoy your trampoline for years to come.
Choose a strategic location for the trampoline; ideally, somewhere that is sheltered from wind exposure
To protect the springs, always fasten a skirt around the perimeter of the trampoline
If under a severe wind weather alert (i.e. tropical storm conditions), disassemble your trampoline are store it indoors
Shovel snow from your trampoline bounce mat before it has a chance to accumulate
Never use a rain cover to protect your trampoline from snow, as this prevents proper drainage
Purchase and install a tie down kit if you live in a windy area