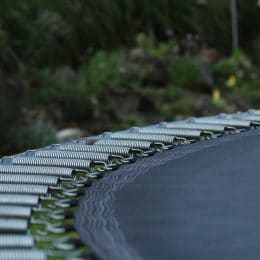 While you may feel excited to purchase your brand new trampoline, the first thing you need to consider is trampoline care and year-round maintenance. You may think that you merely need to assemble your new trampoline, and away you go. But Trampolinify knows better. Instead of jumping straight in, you need to step back and make a few sensible considerations before using your trampoline.
Trampolines provide a great form of entertainment for the kids amongst us. Furthermore, a workout on a trampoline offers an excellent form of cardiovascular exercise. For this reason, it remains vital that you maintain proper trampoline care to extend the life of your equipment.
Trampoline Care to Prolong the Life of Your Equipment
You must consider the area in which you intend to install your trampoline. Furthermore, read the instructions carefully and review the safety advice from the manufacturer. As a result of following the instructions correctly, your trampoline will last longer.
Equally important to consider is the weather. You may wish to store your trampoline in a garage to protect it against the winter. Furthermore, oiling the springs will keep the mechanism in good working order. Such simple acts as covering your trampoline and regular maintenance will enhance your trampoline care and extend its life.
Read the Rules
We are all guilty of eagerly setting up our equipment and using it without reading the instructions. With something like a trampoline, this may prove dangerous to you and your children. It is, therefore, of vital importance that you review the instructions and set ground rules as part of your trampoline care.
Position your trampoline carefully
Position your trampoline carefully and consider the aspect in which you erect the equipment. Make sure the ground is level and that nothing sits below the trampoline. When in use, you do not want the material of the trampoline brushing against stones or sharp objects. Correct placement remains fundamental to trampoline care as the mat will weaken and eventually break if it is continually rubbing against a sharp or abrasive obstruction beneath the base.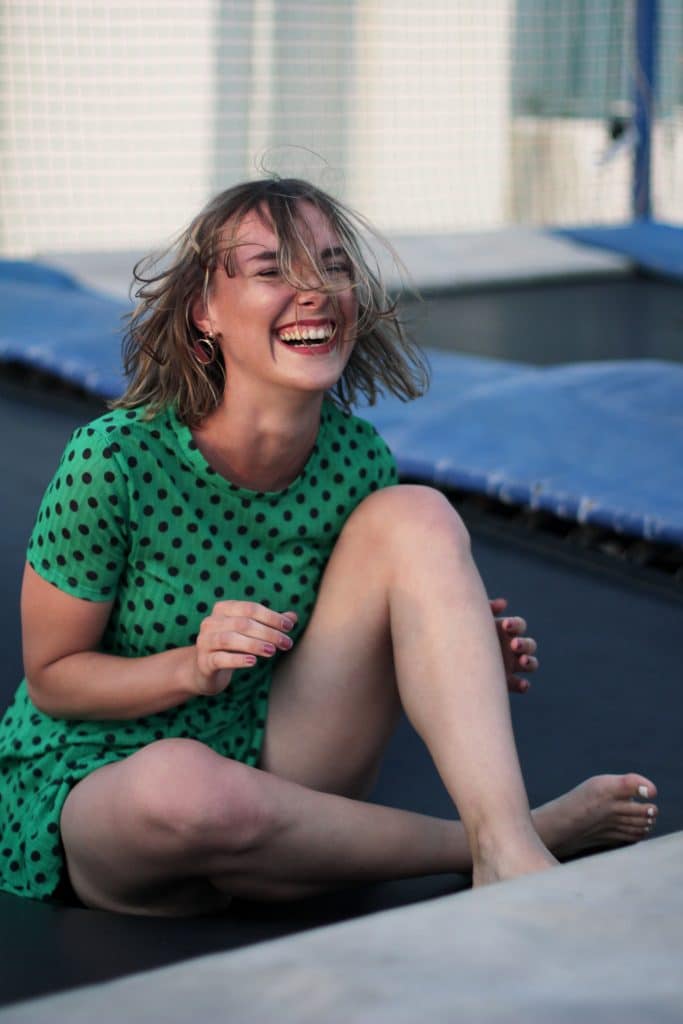 Sunny weather
If you position your trampoline in a part of your garden with a sunny aspect, ultraviolet rays will eventually damage the material of the trampoline and make it brittle. Consequently, when you consider trampoline care, you may wish to use an ultraviolet ray resistant sunshade hung above your equipment to protect it and the user.
RELATED READ: BEST TRAMPOLINE CANOPY, SHADE AND TENT COVER
Set some ground rules
You must ensure that no more than the recommended number of people use the trampoline at any one time. The manufacturer's instructions will specify the safe number of users for your equipment. Also, do not use the trampoline while wearing shoes as shoes may damage the mat. As well as following some of these basic rules, consider using a safety trampoline ladder. A safety ladder will allow the user to mount and dismount the equipment safely. Prevention of an accident is always better than a cure.
How to Care for Your Trampoline in the Winter
Storing your trampoline in a garage or covering it with a weatherproof tarpaulin remain excellent forms of trampoline care. However, you may wish to use your equipment during the winter months. Therefore, packing away the trampoline into a garage may not prove the most convenient solution.
A few simple considerations will improve your trampoline care during the winter and year-round.
Buy a good quality trampoline
It is crucial to purchase a good quality trampoline because manufacturers design them to last and resist the majority of weather conditions they may experience. Make sure that your trampoline has a rust-resistant frame, as this will significantly improve the longevity of your equipment.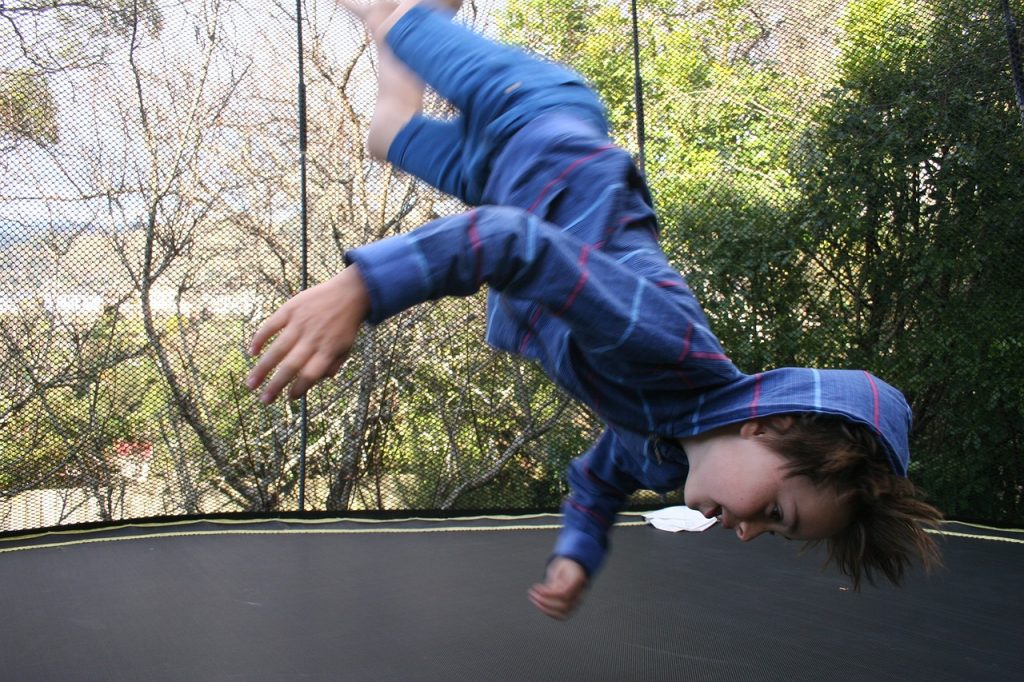 Good housekeeping
During the fall and winter months, you must keep the surface of the trampoline clear of debris to maintain good trampoline care. Even if you use a tarpaulin to cover your equipment, you should always ensure it remains clear of fallen leaves and twigs. Equally important is the removal of any snow that may accumulate on the trampoline.
These instructions may sound basic. However, wet leaves and snow will stretch the mat and eventually weaken it. Brush the debris away using a soft-bristled brush, working your way out from the center of the mat. The less strain you place on the equipment, the better your trampoline care.
It is important to note that a soft-bristled brush is used because you don't want to pierce the mat while brushing it clean.
Stand up
If your trampoline does not have a safety frame around it, you may choose to stand the trampoline on its edge against a tree or wall when not in use. This form of trampoline care will prevent anything from settling on the mat. Also, cover the equipment with a tarpaulin to keep off the worst effects of the weather.
It's a twister
Trampolines come in many sizes, but even the smaller ones present a risk when the winds decide to visit. Not only will wind damage the trampoline, but it may also send it off flying into your home and windows, not to mention the damage it may cause to your neighbor's property. Therefore, you must anchor your trampoline to the ground when in use and when you store it.
A heavyweight tarpaulin will often have anchor points, so when you cover your equipment in the winter, be it on its end or flat in situ, you must anchor the covering to the ground. As such, it is well worth investing in a trampoline anchor kit to ensure your equipment remains grounded. Your trampoline care will thank you.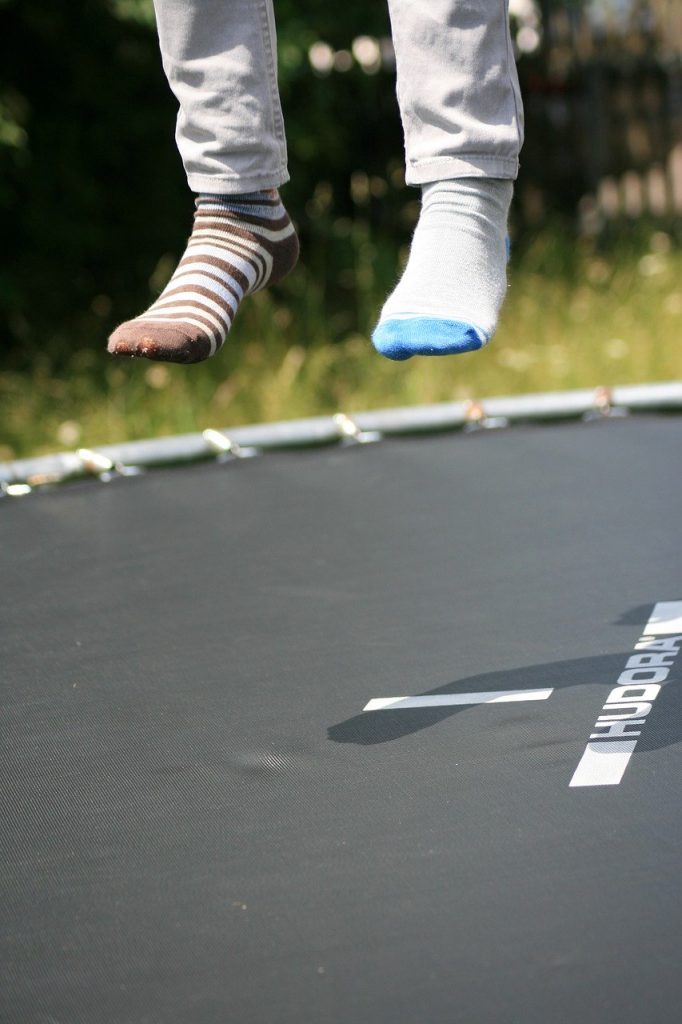 Trampoline Care and Maintenance
Protecting your trampoline against the weather and keeping the surface clear of debris all form an essential part of your trampoline care regime. However, you should also regularly care for the springs of your equipment.
We do the same for our motor vehicles and bikes. You may often apply oil to moving parts to maintain the operation and protect them. In the same way, trampoline care benefits from such a treatment.
Store your springs
You may wish to dismantle your trampoline during the winter months. Therefore, you should protect the springs in dry, airtight containers to prevent moisture penetration and rust.
Oil will improve your trampoline care
Oil is a fantastic addition to your trampoline care. A thin layer of oil applied to the springs before winter will keep them in tip-top condition. If you intend to dismantle the trampoline and store the springs away in containers, then use a little oil to each spring before you pack them away.
The oil will form a barrier across the springs to prevent water penetration and rust. It is also good practice to apply oil before you reassemble your trampoline in the spring. Furthermore, ensure you oil the springs regularly during the summer months to keep them in optimum condition.
Even if you use a cover to protect your trampoline in the winter months, an application of oil to the springs will significantly enhance the protection of your equipment.
Check Your Warranty
Most reputable manufacturers offer a wide variety of warranty options. Your warranty is particularly vital if you should run into problems with your equipment after purchase. Check out the warranty and see the requirements for the coverage. Activating your guarantee may be as simple as logging in your proof of purchase and serial number on the manufacturer's website.
The warranty offers you peace of mind. If there is an inherent fault with your purchase, then the warranty is there to help you. The supplier may provide repairs and replacements in conjunction with the warranty, so it remains vital to check over the paperwork and to follow the instructions provided.
Trampoline Care During the Winter and Year Round Answered
Trampolining is an excellent form of exercise for adults and children alike and remains a popular form of recreation in our gardens. However, to prolong the life of your equipment, it is essential to consider thoughtful trampoline care.
Trampoline care is about maintaining the matt of your equipment and preventing damage and wear. Using a tarpaulin to protect the trampoline during the winter months may significantly improve its longevity. Keeping the matt free of debris will maintain the matt, and by oiling the springs regularly, we may condition our trampolines and protect them.
Safety is always the utmost concern when setting up and using a trampoline. Careful positioning and adherence to the rules and guidelines will ensure your trampoline is safe and lasts longer. Set rules for your children and make sure they stick to them.
Trampolines represent an investment in health and fun for all the family. Therefore, with a little simple maintenance and trampoline care, your equipment may provide years of pleasure and benefit.
---