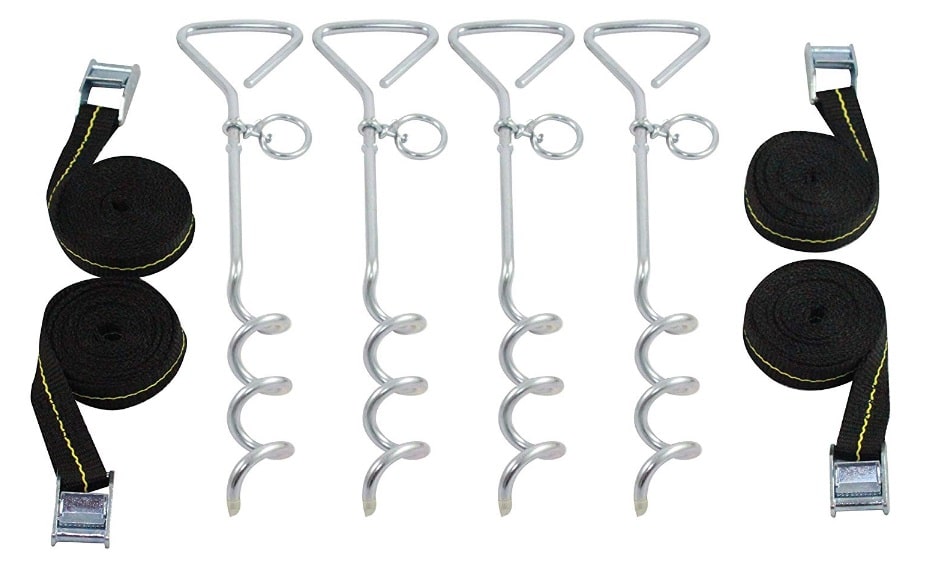 A trampoline is one of the best backyard products you can buy together with the trampoline anchors. They're a fun way to keep you and your whole family in shape while providing hours of entertainment. They aren't exactly cheap. However, they do require maintenance. The elements can really wreak havoc on your trampoline, so you'll want to protect your investment as best you can.
Did you know that your trampoline could tip over or even blow away during a storm? This could easily cause damage to your house or the property of your neighbors'. You don't want that. So how can you ensure that your trampoline is safe and secure? Tie it down with trampoline anchors. These handy products ensure your backyard bouncy castle is safe from the elements, so you can rest easy when the weather rolls around. Confused about trampoline anchors are and how to use them? We'll go over that.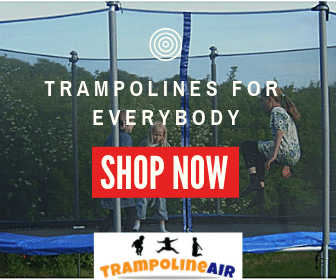 You don't have to worry about choosing the best one, either. We've done the research for you and compiled a list of the top 3 anchor kits on the market.
Comparison Table
What exactly is a trampoline anchor kit?
Usually, a kit consists of four tie-down straps and four stakes, also known as augers. The stakes are inserted into the ground to "anchor" the trampoline to the earth. The best ones are spiraled like screws, as this helps hold the trampoline in place better.
Heavy-duty straps connect your trampoline to the stakes in the ground, effectively tying it down. When the wind picks up, the whole kit and caboodle keep your trampoline safe and sound.
So which anchor kit is the best one?
Top 3 Trampoline Anchors on the Market
Check out our top picks for the best trampoline anchors on the market. These kits will ensure you have solid protection for your investment.
1. SkyBound Heavy Duty Trampoline Anchor Kit
Sale
SkyBound Heavy Duty Trampoline Anchor Kit - Set of 4
Set of 4 heavy duty, Black cork-screw steel stakes
The steel cork-screw anchors twist deep into the ground for the highest level of...
Sky bound's trampoline anchor kits help protect your trampoline during stormy/windy...
The SkyBound anchor kit is one of the most highly-reviewed on the market.
These four corkscrew stakes are about 15 inches long. The length of the screws ensures that stronger winds won't pull the trampoline out of place, while keeping the anchor easy to install and use.
The augers are made of coated black steel, making them extra tough against the elements. The heavy-duty nylon tie-downs are 8 feet long, so you know you'll have the length you need to anchor your trampoline securely.
The straps have metal buckles on them, allowing them to be tightened and loosened easily. Customers loved the simplicity and solidity of this simple kit.
The price is very reasonable. Remember, you're spending this money to protect a much more expensive investment — so don't be afraid to buy.
2. JumpSport Trampoline Anchor Set
JumpSport Trampoline Anchor Kit
4 straps and 4 anchors secure your trampoline safely to the ground
Helps prevent strong winds from moving your trampoline
Lets you securely anchor your trampoline to the ground
The JumpSport trampoline anchor kit was a favorite among customers.
Like the SkyBound, the Jumpsport comes with four straps and four screws to use as anchors in the ground.
This easy-to-use system really packs a surprising punch when it comes to functionality. One customer even reported the kit held strong in 80 to 95 MPH winds. That's edging up into hurricane territory, so you know this kit is ready to keep your investment safe.
This kit is well worth the money. Those living in or near areas that have frequent tornadoes and hurricanes should definitely consider buying this product.
It could save you hundreds of dollars on a replacement trampoline, or thousands of dollars in property damage.
3. Cajun Tie-Downs Trampoline Anchor Kit
Sale
The Cajun Tie-Down anchor kit is another solid kit that customers highly approved of.
The straps are strong and sturdy, made of 100 percent polypropylene webbing with UV protection. These straps aren't going anywhere, nor will they rot during the rainy season.
Buckles allow for easy tightening, and reviews stated that this product is simple to install.
This is a very affordable kit. Customers reported it holds up very well during winds and works well for all types of trampolines.
Tips for Installing Trampoline Anchors
Here's A Relevant Video From YouTube:
Trampoline Anchors Increase Safety and Peace of Mind
There's nothing worse than fretting about potential property loss and damage during a storm. But you won't have to worry if you take the proper precautions.
By using trampoline anchors, you'll be able to rest easy knowing that your trampoline (and your wallet) will live to jump for joy another day.
Comments
comments