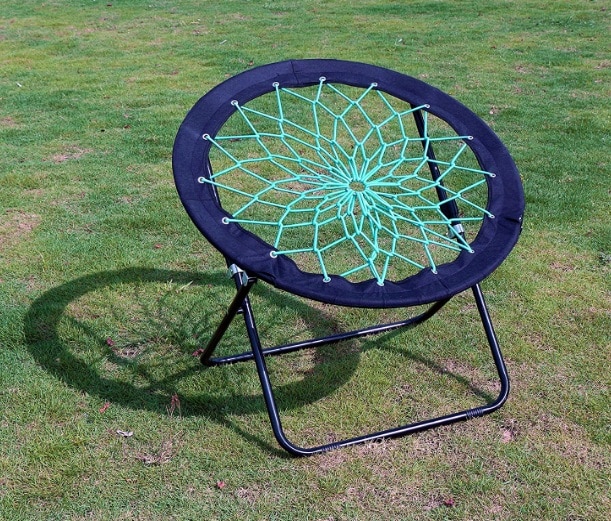 If you haven't experienced relaxing on a trampoline chair, it's time to discover what you've been missing. Also known as Bungee chairs their unique design make them a fun, as well as practical, accessory to any office or home.
Bungee chairs for the office tend to look more formal than the trampoline chairs on our list, but if your office fosters a more casual culture, then any on the list would be good to take to work. Trampoline chairs are known for providing great back support which makes them ideal for sitting at a computer for 8 hours a day.
Despite their appearance, the best trampoline chairs are comfortable for people who suffer arthritis and other conditions. If they're the right size for you, you should be able to sink into them quickly, and a small bounce will help you to get back up.
Comparison Table
How We Decided on Our Top 10 Trampoline Chairs
Safety is always a concern with any product designed for children, and trampoline chairs are no exception. Even though most are suitable for adults, we are aware that these chairs are going to appeal to the youngest members of the household. In fact, we've added some to the list just for the kids.
In compiling our list of the top 10 trampoline chairs we also looked at the price and value for money. It wasn't much difference in price between the chairs so although the cost was considered; it didn't have a huge impact on how many stars we gave each model. We've also considered the length of the warranty.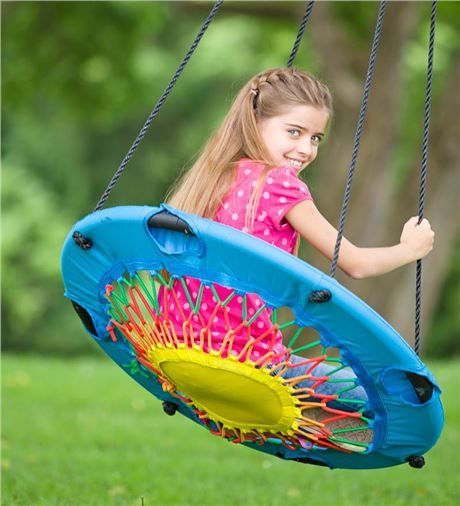 Here's Our Full Reviews Of The Top 10 Trampoline Chairs
26in X 32in X 33in Assembled Dimensions
10 pounds Weight
225 pounds Weight Capacity
Campland Manufacturer
Not only does it look good, but this bungee dish chair is a great price as well. It consists of a powder-coated steel frame with bungee cords of high intensity and quality. The chair is waterproof, so you can leave it outside without worrying about the weather ruining it.
The dish chair weighs only 10 pounds and folds up easily so you can move it around without any trouble. Suitable for children and adults, it comes in a bright teal color. It's the perfect trampoline chair for BBQ's, camping, and parties.
PROS
Great Price
Powder-coated steel frame
Waterproof
26in X 32in X 33in Assembled Dimensions
10.6 pounds Weight
250 pounds Weight Capacity
Pearington Sports Manufacturer
Available to buy in pink or black this model from Pearington Sports is a hexagonal shape and the seat has a flexible web design. It folds up into a portable shape and is stylish enough to fit in any room or with any décor. It's also sturdy enough to take camping.
PROS
Flexible web design
Pearington Sports
Good for camping
Impact Bungee Chair, Round Portable Folding Chair, Black
Multiple uses: Round bungie chairs can be used for dorm rooms, kids and teen rooms,...
Portable and lightweight: bungee Chair folds flat for easy storage and is lightweight for...
Ergonomic benefits: flexible bungie cords provide support, air flow and long-term comfort
26in X 32.3in X 32.7in Assembled Dimensions
8.25 pounds Weight
225 pounds Weight Capacity
JFSG Enterprises LLC Manufacturer
Even though it's a heavy-duty model, this model is still light enough to be carried around easily. It's black in color so will go well with most color schemes and holds a weight of 225 pounds.
The frame is made from powder-coated steel and the nylon bungee cords give it the elasticity it needs to provide the maximum comfort and bounce. It's the perfect choice for both adults and children.
PROS
Heavy-duty model
Powder-coated steel frame
Nylon Bungee cords
26in X 32in X 33in Assembled Dimensions
Bunjo 360 Manufacturer
The Bunjo 360-degree bungee chair has a nylon mesh center attached to a rust-resistant steel frame. It comes in turquoise and purple and is suitable for adults and children.
It folds down for easy storage and movement and when it's assembled it uses a safety lock which means that it stays open. It's comfortable enough for the dorm room and stylish enough for home living, and it's reasonably priced.
PROS
Nylon Mesh Center
Suitable for adults and children
Comfortable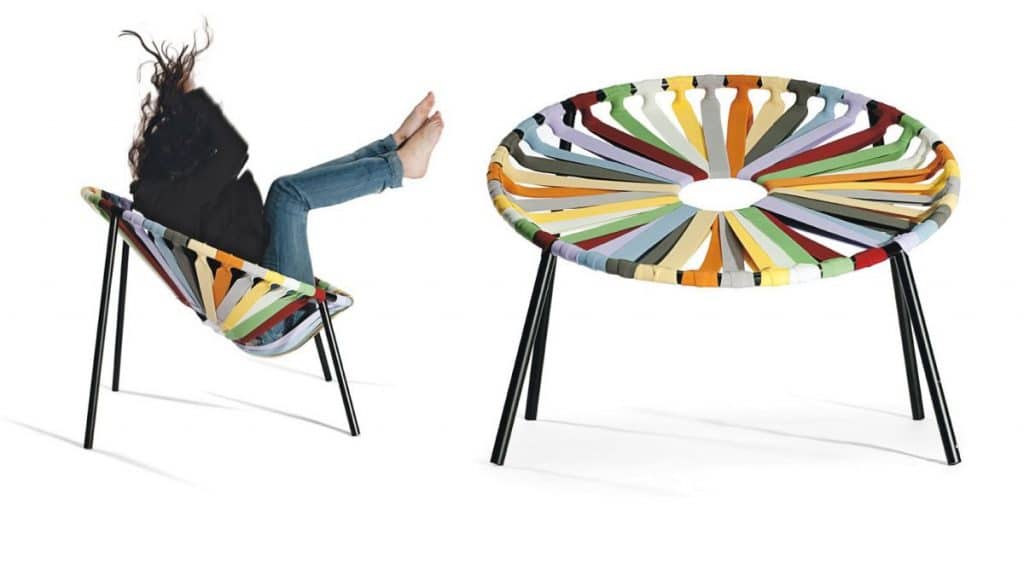 Sale
33in X 33in X 2in Assembled Dimensions
7.7 pounds Weight
225 pounds Weight Capacity
Zenithen Limited Manufacturer
The Zenithen Bungee dish chair (model number IC544S-TV04) is another one that comes in the very popular teal color. It sports a black polyester rim and folds up into a handy size for storage. At a weight of 7.7 pounds you can easily chase the sun around the porch or backyard.
PROS
Black polyester rim
Comes in a very popular teal color
33in X 33in X 3.5in Assembled dimensions
13 pounds Weight
250 pounds Weight Capacity
Redcamp Manufacturer
The web chair is perfect for children and teenagers, but adults love it as well. It comes in turquoise and pink and grey versions. The seat is made from durable Polyester and is supported by a 16/19mm steel frame with tube brackets and powder-coated legs.
It folds down easily and is light enough that you can wader from room to room with it in one hand. Its strength of fabric makes it great for camping, relaxing, beach parties or BBQ's.
PROS
Durable polyester seat
Tube brackets steel frame
Legs powder coated
31.3in X 22.8in X 31.7in Assembled dimensions
264 pounds Weight Capacity
Giantex Manufacturer
The Giantex trampoline chair comes in black, gray and a fantastic camouflage pattern that the kids will love. It folds up easily and is a lightweight style, so you can move it inside and outside as much as you like.
The Giantex chair (model number HW53054BK) comes already assembled and its steel frame provides maximum strength helps the chair to easily carry a weight of up to 264 pounds.
PROS
Lightweight style
Steel frame
Provides maximum strength
23in X 23in X 17in Assembled Dimensions
5 pounds Weight
Sanrio Manufacturer
This is a gorgeous trampoline chair for the youngest family members in the house. It has the bright pink Hello Kitty design on its canvas seat and it's supported by a sturdy steel frame. It folds up for easy storage, so your Hello Kitty fan can take it wherever she chooses.
PROS
Applicable for youngest member
Sturdy steel frame
Impact Bungee Chair, Portable Folding Chair, Sunrise, Black
MULTIPLE USES: Round bungie chairs can be used for dorm rooms, kids and teen rooms,...
PORTABLE AND LIGHTWEIGHT: Bungee chair folds flat for easy storage and is lightweight for...
ERGONOMIC BENEFITS: Flexible bungie cords provide support, air flow and long-term comfort
25.98in X 32.38in X 32.68 in Assembled dimensions
7.7 pounds Weight
264 pounds Weight Capacity
Impact Canopy Manufacturer
The Impact Canopy Bungee Chair comes in black, navy blue, grey, yellow and camouflage green. The seat is made from 600 weight denier fabric and it's supported by a steel tube frame of a high strength and quality.
The kids will love this model for its bounce and the adults of the house will love it for its comfort and style.
PROS
Made from fabric seat
High strength and quality steel tube frame
23in X 23in X 17in Assembled dimensions
7.7 pounds Weight
2pounds Weight Capacity
Marvel Manufacturer
If the Hello Kitty model doesn't appeal to the kids in the house perhaps the Spiderman one will. A great idea for the budding super-hero it sports a canvas seat supported by a strong steel frame.
PROS
Canvas Seat
Steel frame strong
Your Buyer's Guide to Trampoline Chairs
A good trampoline chair is one that will support your weight comfortably, is safe to use and is easily transported. If you plan to take your chair camping, there are other factors you should consider but if it's just for the kids to watch movies in, you probably won't need to worry about it being waterproof.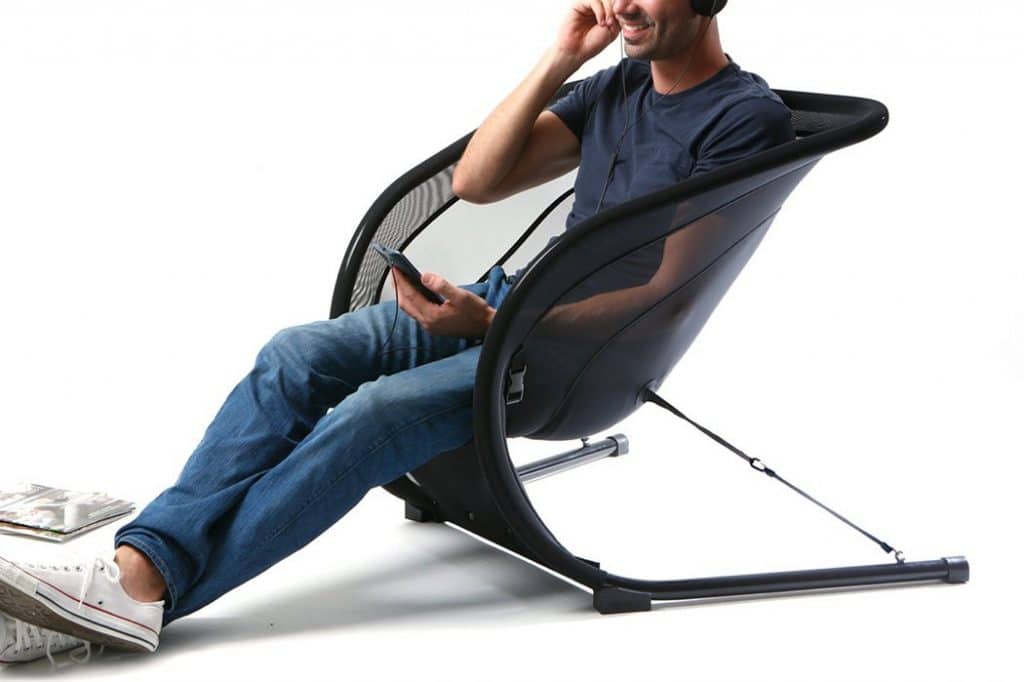 Here are some important factors to check for:
Is the seat made from a durable fabric?
If you intend to leave your trampoline chair outside, you'll need to choose one that's waterproof and that has a rust-resistant frame. However, we do suggest that you store your chair under cover when not in use, as whatever fabric it is made from, it will fade in time.
What color or shape of trampoline chair do you need?
If you camp or hunt, you may want to invest in a camouflage styled chair so that you will blend into your surroundings. Camouflage is also very popular with kids and teenagers. If you're looking for a trampoline chair to use in your office, then the color is probably going to be a big consideration for you.
Weight Capacity and size 
Some trampoline chairs are obviously made for younger children, such as the Hello Kitty and Spiderman models that we included on our list. With other models, you probably need to check the specifications to ensure that your chair can support the weight of your 6-foot tall teenager. A chair may look to be more supportive than it is, so double-checking with the manufacturer is advised.
Only buy from reputable manufacturers or dealers
We're not saying that some of the newer brands of trampoline chairs aren't safe, or good value for money. But purchasing a well-known brand product may entitle you to a longer warranty and may also give you more choice of colors, sizes, and materials.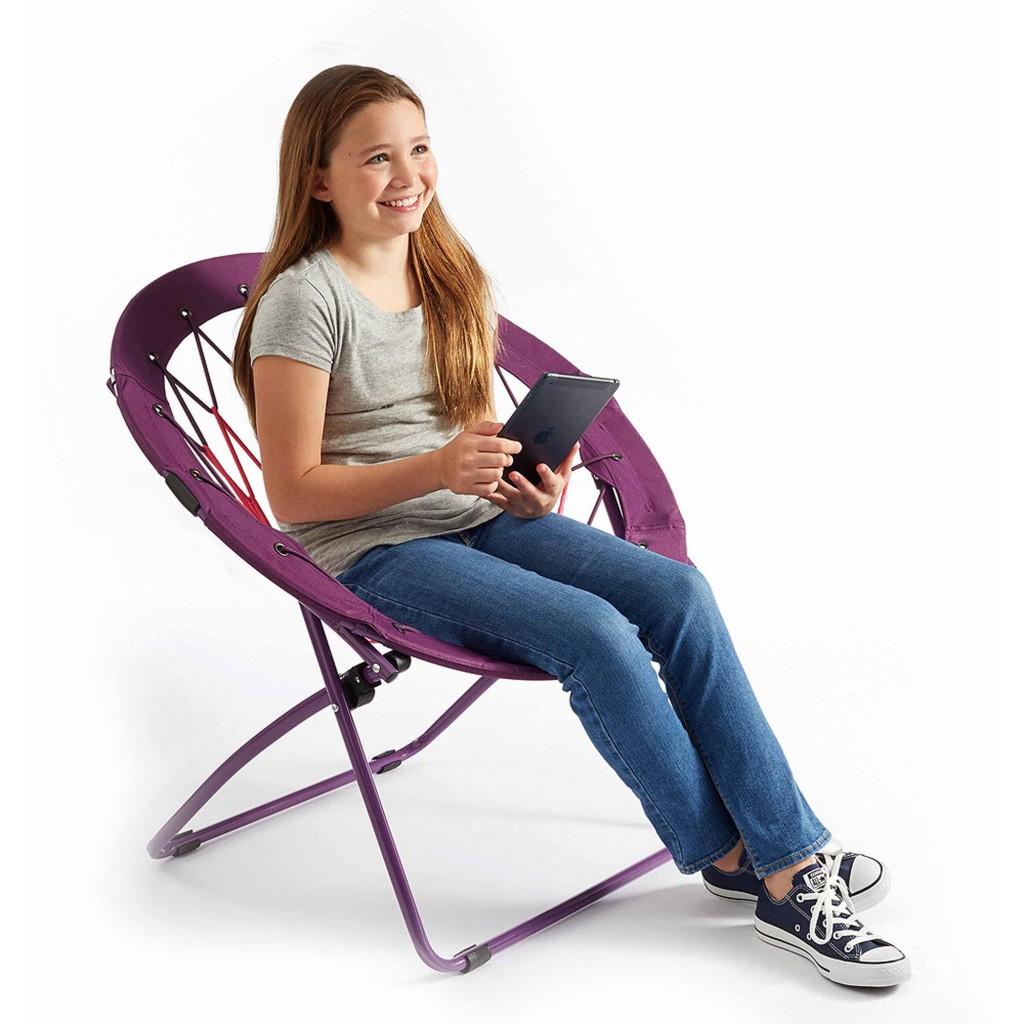 Once you've selected your trampoline chair, assembled it, and all the family has admired it. The last thing you need to think about is how you're going to care for it.
As we've already mentioned, although most trampoline chairs are waterproof, it's still a good idea to keep it out of the weather when not in use.
Most chairs will only need a wipe down occasionally with warm soapy water. With some models, it's a good idea to dry them off after wiping, but waterproof ones are safe to air dry.
Keep An Eye
We suggest you keep an eye on any springs or safety locks on your trampoline chair. Mainly if your chair is used for hunting these can get knocked about while traveling. And we all know that children can often be a bit rough with their belongings.
With some of the bigger brands replacement parts may be available but if you do find any breaks your first step should be to check if it's covered by the warranty. If not, it may be time to have another look at our list of the 10 best trampoline chairs and treat yourself to a new one.
Last update on 2022-10-01 at 00:40 / Affiliate links / Images from Amazon Product Advertising API
Comments
comments