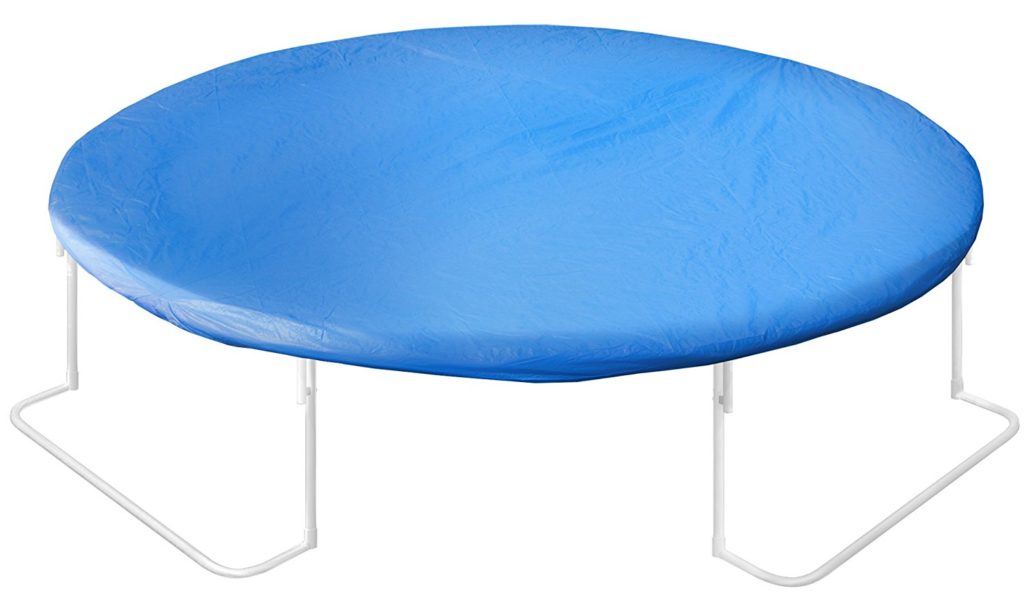 A weather cover is something a lot of people forget to purchase when they buy a trampoline, but it's very important
Trampolines are outdoors all year round, and constantly exposed to the elements. While modern trampolines are designed to be a little more durable, this doesn't mean they're indestructible.
A weather cover can protect your trampoline from all kinds of damage, including the slowly accumulating damage that can creep up undetected. If you want to keep your trampoline safe and fun for your children, a cover is a small price to pay.
A new trampoline is far more expensive than taking care of the one you already have, or are about to purchase.
Consider the Weather
Not every area of the world is subject to the same weather conditions. If you live in the Pacific Northwest, you're probably on the lookout for a trampoline rain cover.
If you live near snowy mountains, you'll want a trampoline cover for winter. While you can purchase trampoline covers for individual concerns, it's typically a better deal to get a cover that can handle any kind of weather.
Get the Right Size
Before you purchase a cover, you need to make sure you've selected the right size. Trampolines come in an assortment of sizes and shapes, with the most popular being round. Diameters can be as small as 7 feet and as large as 16 feet. If you're only guessing, it's easy to wind up with the wrong cover.
Cover size goes by the diameter of the frame. If you're unsure, check your order history, purchase receipt, or manufacturer's manual to determine the size of your trampoline. A cover that's too small can't be stretched without being significantly damaged, and a cover that's too large may not properly hook to the frame and stay secure.
What Kind of Trampoline Do You Have?
Trampolines without springs, square trampolines, and oval trampolines are especially difficult to find covers for. You may have to make a few adjustments in these scenarios. Most trampoline weather covers are designed to hook to the frame outside of the trampoline spring cover, and this can be difficult in some scenario.
If you need an in ground trampoline cover, you can probably use a regular cover used for an above ground trampoline.
You'll just need to widen the opening to allow for access to the cover hooks. If you have a trampoline without springs, you might want to order a few sizes up to be sure the cover will actually reach the metal part of the frame, where it will need to be secured.
Why Buy a Special Cover?
Some people purchase regular tarps to use as trampoline weather covers. This is a bad idea for several reasons, one of which being that they're essentially useless. You'll constantly have to replace a tarp, as most of them are designed to be used for short periods and disposed of. They aren't rated to be weatherproof, so there's no telling whether or not they'll actually protect your trampoline from the elements.
Things like falling sticks and twigs can easily tear holes in a tarp.
It's also worth nothing that a tarp cannot be fitted to a round trampoline. Most tarps are square or rectangular in shape, with grommets at the corners. A trampoline weather cover is round, and has grommets placed at regular intervals. This is so that special metal clips can be used to hold the cover to the frame, which is something you can't do with a square tarp on a round surface.
Attempting to cut and secure a tarp on your own will require you to cut holes, reducing the strength of the material and making it prone to tears in windy conditions. A tarp can't protect your trampoline from snow, rain, or wind if it rips and blows right off. Though tarps are a similar concept, they simply don't work as well.
Durable tarps often cost a similar amount to a trampoline weather cover, so you aren't actually saving any money. In the end, you wind up risking the safety of your expensive trampoline, and having to buy new tarps on a constant basis. It's better to simply purchase and install a proper trampoline weather cover in the long run.
How to Install a Trampoline Weather Cover
There are two kinds of trampoline weather covers. Some of them come with grommets and clips, and others require special anchoring kits to hold them to the frame.
These clips or anchors fold over the trampoline spring pad, usually between the legs of the trampoline. They hook onto themselves, and don't require any drilling or special process to set up. When you're ready to take off the weather cover and use the trampoline, all you need to do is remove the clips or unfasten the anchors. It's a process that's completed in a few short minutes.
Though uncommon, some trampoline weather covers use large drawstrings to attach to the frame. This is a fairly straightforward process, and you'll want to tie the drawstrings to the frame of the trampoline. Always review the manufacturer's installation instructions before you proceed.
You should always inspect the trampoline for signs of damage – even if you use a trampoline weather cover – before you let jumpers onto the surface. While weather covers will protect your trampoline from most kinds of damage, things like tornadoes, hurricanes, and severe snowstorms are unpredictable and unavoidable.
It's better to be safe than sorry when it comes to the safety of your children. Make sure you've registered the warranty on your trampoline, just in case you'll need it.
The Best Trampoline Weather Covers
Off brand trampoline weather covers may be cheap, but they certainly aren't offering the quality you're looking for. They're little more than thin sheets of plastic that are quick to fall apart. Your best bet is to purchase a trampoline weather cover from a reliable brand – especially if it's the same manufacturer as the trampoline itself.
Not all trampoline manufacturers offer up their own weather covers, but there are two major brands that create covers that will work for most standard trampolines.
Skybound Trampoline Weather Cover
No products found.
This trampoline weather cover is intended to be used with a set of anchor kits. It's made of polyethylene, which is water and snow resistant. Even in the spring, you can use this weather cover to reduce the risk of sun damage, and even the risk of your jump pad being snagged by falling debris or small animals. This works best for Skybound trampolines, as well as any standard diameter round trampolines with "W" shaped stability legs.
Pros
One of the most inexpensive types of trampoline weather covers, and it will get the job done.
Easy to set up as long as you have the anchor kits.
Cons
Only comes in two standard sizes – 12 and 13 feet.
Conclusion
If you just want a basic trampoline cover to err on the safe side, you'll find that this is an expensive alternative that will work for you. 12 feet and 13 feet may be the only sizes, but they're the two most popular trampoline sizes that families often choose.
Upper Bounce Trampoline Protection Cover (Wind and Rain)
Upper Bounce Machrus Trampoline Cover 8FT for Weather Protection-...
Lengthen your Trampoline's Lifespan: No need to worry about how you would protect your...
Protective Cover Fits Well: It comes in various sizes and has universal compatibility to...
Long-Lasting: The weather cover incorporates high-quality PE material that remains sturdy...
Upper Bounce offers round trampoline weather protection covers in sizes from 7.5 feet all the way up to 16 feet. This means that you're guaranteed to find the right fit. They come in two colors – blue or black. These hook right to the frame, and they're easy to take off and put on according to the weather.
Pros
Since every size is available, virtually everyone will be able to use this cover with their trampoline.
This cover offers UV light protection, and is designed to hold onto the trampoline frame in windy conditions.
Cons
Hook system makes this cover a little more time consuming to install, although not difficult.
Conclusion
This is a solution that will work for the majority of trampolines. It's hard to go wrong with Upper Bounce's covers. They stay on well, and there's a fit for everyone. You can use it year round without fear that the cover won't hold up.
Ultega Trampoline Jumper Raincover
Ultega Trampoline Raincover, 14 ft
Perfect protection for your Trampoline of rain or other weather conditions (autumn /...
Other sizes available as well (10, 12 ft)
Safe construction – Raincover is securely fastened by Drawstring
This is one of the drawstring trampoline covers. It's easy to install and uninstall, and you won't need any special equipment to put it on.
These are some of the most inexpensive covers you'll find, but they're also one of the most convenient. This comes in 8.25 feet, 10 feet, 12 feet, and 14 feet diameters.
Pros
Doesn't require any special equipment, and is relatively inexpensive.
Easier to set up than clipping or anchoring weather covers.
Cons
If the drawstring rips, you can't use the cover. You need to use extra care when putting this one on and taking it off to avoid damage to the string itself. Without it, the cover is useless.
Conclusion
This is the best trampoline weather cover for people who don't want to fuss around with clips and anchors. The drawstring may make it slightly less durable, but at such an affordable price, it's inexpensive to replace in the event that the string becomes damaged.
Last update on 2022-10-01 at 00:20 / Affiliate links / Images from Amazon Product Advertising API
Comments
comments