How to Choose the Best Trampolines and Reviews
The best trampoline brands have come a long way in creating new product designs and safety features in the past few years.
Designers have gone the extra mile to accommodate today's jumpers with a safe, durable choice that will be a great fit for family fun and available space. In order to spot the best trampoline for your family needs at a great price.
We have put together some important guidelines for you to consider before taking that first jump.
| Picture | Trampolines | Available |
| --- | --- | --- |
| | Skywalker 15 Feet Round Trampoline | |
| | ExacMe 15 Foot Trampoline | |
| | Skywalker 12 Feet Round Trampoline | |
| | Ultega Jumper Trampoline | |
| | Pure Fun 14 Foot Trampoline | |
A Vast Array of Choices
Keeping some important options in mind when researching the trampoline market will definitely guide you in the right direction when making this choice for your family. The outdoor space that you have available will determine which size and shape will work best. Taking into consideration any hazardous obstructions in the space selected will play a large role in overall safety measures.
There should be a minimum of 25 feet overhead clearance and two feet on each side.
A Jump in the Right Direction
With our up to date reviews on the trampolines available and our buyers guide we hope to lead the way for you to get a clear picture of what to consider when picking out the best trampoline. In order to provide some great options, we will look at the features and safety suggestions for 10 different models.
By comparison, let's first take a look at what features you should carefully review. Remember to always keep in mind our important safety tips as we review.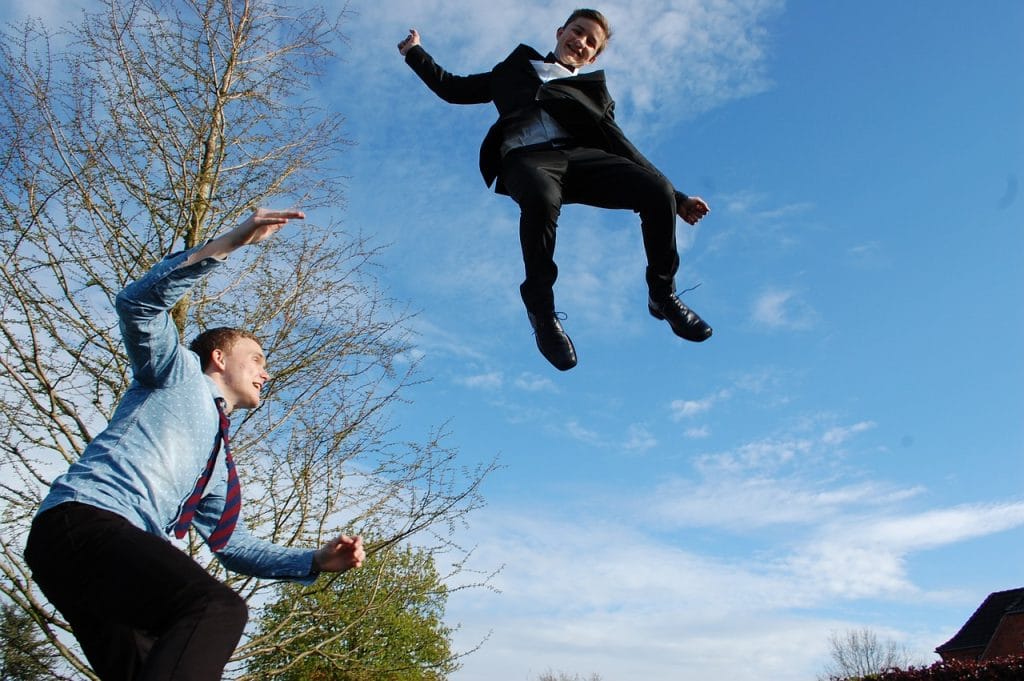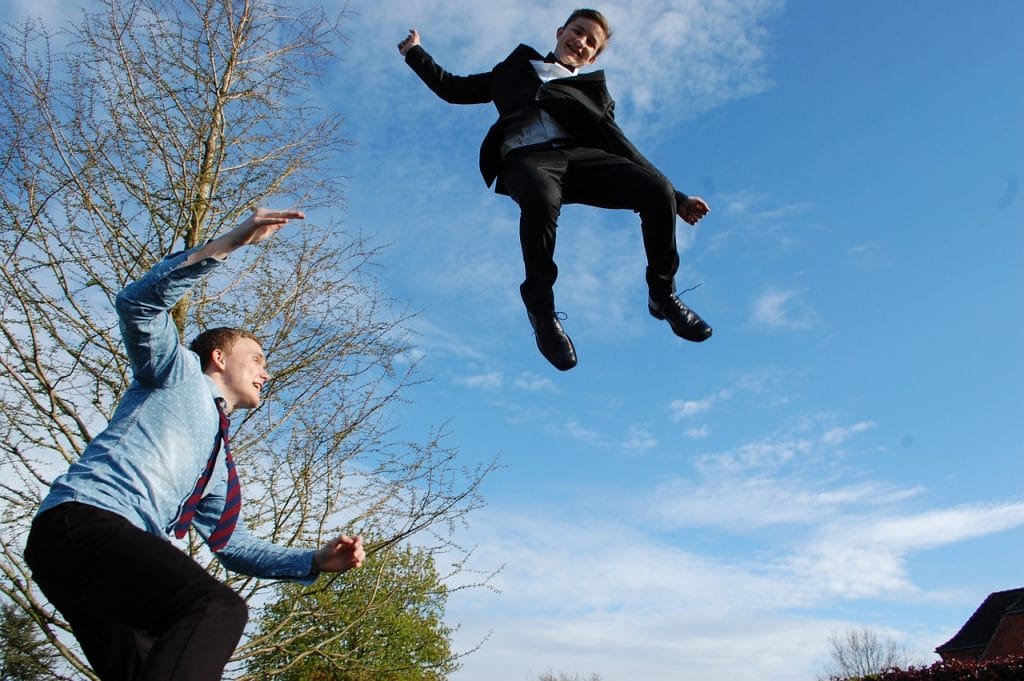 Do you want to read more about trampoline safety?
Selecting the Best "First" Trampoline
Pay particular attention to research when selecting your first trampoline. Numerous sizes and shapes are out there and you will need to know what to look for.
The models designed for family fun for instance, can vary between 6 to 17 feet in diameter so keep in mind that yard space and clearance is of great importance.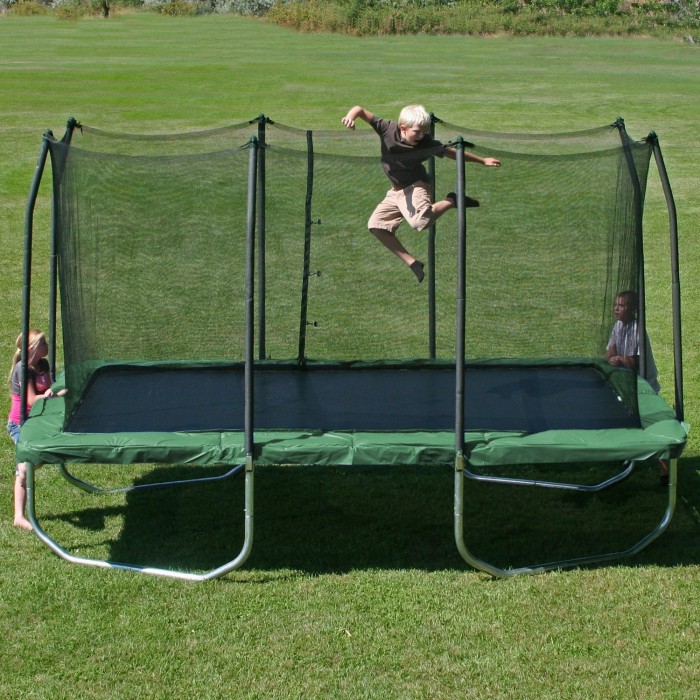 Shape Description
Generally there are four different shapes available.
Rectangular – The absolute best shape for the highest jumps with the largest jump space. These are the only consideration for competition jumps and also great for gymnastics.
Round – This is the shape most often selected for the back yard and family leisure jumping.
Square – These models do not provide the bounce height of the rectangular type but have many of the same other characteristics.
Octagonal – The strait designs of the edges in this shape make it easier to jump in comparison to the round models. They also surpass the round style in bounce height and jumping area. This model is great for backyard fun as well and often the buyers choice.
Understanding Weight Limitations
It will be a huge benefit to follow safety precautions and follow the load limit for the model trampoline that you select. Always check the users Manuel or packaging information for these limits and calculate the weight of each person you intend to have jumping at one time. The trampoline must be able to support the jumpers weight safely.
Frame Assembly
Look closely at the frame assembly on the model you are considering. Keep in mind they will endure exposure to the elements and it will be important to choose a durable, rust resistant material like galvanized steel. The welds should be smooth to ensure they are professional and add strength to the construction.
Length and Quantity of Springs
It only stands to reason that the bigger trampolines will have more springs. When doing your research, you will find that some of the smaller models will also have a great number of springs. The number and length of the springs will determine the quality of bounce for the jumper. The greater quantity of springs and the longer length, for example, will produce a higher jump. It is suggested that for the intermediate jumper, around 80 springs will give a fantastic bounce.
Padding Constitution
The padding selected is a very important consideration. Keep in mind that the jumper will be landing on the mat. The surface should provide a smooth, comfortable landing and not irritate the jumper's skin. Skim the mat description for UV resistant permatron polypropylene. This choice can provide years of durable usage to the trampoline owner. Polyester is the ideal weather resistant choice in spring padding.
A Serious look at Safety Accessories
There are many great models that come packaged with additional accessories. Many extras will need to be reviewed and purchased individually by the jumper. Here is a list of some of the recommended safety items:
A safety enclosure – This feature aids in protecting the jumper against falls and injuries.
A ladder – Ladders help with keeping young children from getting on the trampoline unsupervised. When in use, they also make access to the mat easier for all.
An anchor kit – This kit secures the frame to the ground and improves stability. Anchors should be installed for continuous trampoline use.
Click HERE and read more about safety tips
TOP 10 Best Rated Trampolines and Reviews
Let's take a look at the top 10 trampoline models on the market today.
Skywalker 15 Feet Round Trampoline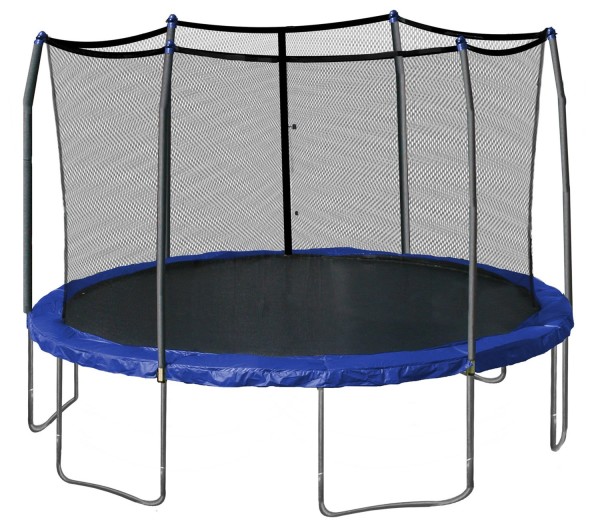 Click Here for Pricing, Pictures and Reviews on Amazon.com
The safety net comes inclusive with this model and the bounce quality is far superior.
Outstanding Features:
The 16-guage galvanized frame aids with durability, rust and weather resistance.
Frame is well constructed with added reinforcement of t sockets welded in place.
Awesome bounce height is due to the 96 total 6.5 inch springs.
1" thick UV resistant jump pad provides not only maximum durability but quality comfort as well.
The safety cage included provides added security by interlinking with the bounce mat.
Color selections available with this model.
This rectangular model suggests all of the above mentioned essential features. It highlights a durable frame, 15 foot surface area and UV resistant materials that can increase the life of your purchase. This model does provide the quality safety enclosure as an included feature. The Skywalker 15 foot rectangular trampoline is considered a choice preference by jumpers of all sizes because of the bounce height provided by the large number of springs. Another great bonus feature is the short amount of time estimated for an easy assembly.
Clearly, for the money, this model is the best.
I want read full Skywalker 15 Feet Round Trampoline Review
ExacMe 15 Foot Trampolines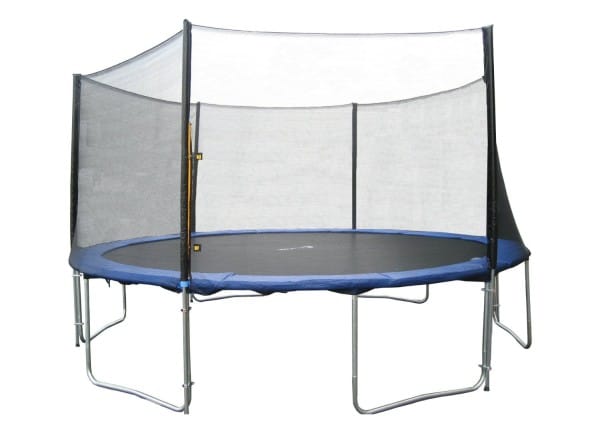 Click Here for Pricing, Pictures and Reviews on Amazon.com
This particular model comes equipped with some very important safety equipment added in and was primarily constructed with security as the fore thought. The U shape design of the legs provides a very sound structural feature.
Outstanding Features:
This frame, constructed of galvanized steel, can support a load limit of 375 pounds.
The frame consists of 6 legs constructed in the shape of a U and supplies 12 connection areas for stabilization that prevents this device from teetering or toppling.
A zippered safety net included with this model forms a secure cage for the jumping area. This feature permits easy access and exit to and from the bounce mat.
Your purchase includes the ladder.
Provides a 15 foot jumping area.
A total count of 108 sturdy galvanized springs thrills jumpers with a high bounce.
This model meets and exceeds all top quality and safety standards rendering it a popular favorite among the best trampoline listings.
The enclosure is secured to the bounce surface with straps and ropes providing an even more worry free safety feature for your children. Materials are all UV resistant and designed with years of outdoor recreation in mind. Assembly does not require any extras and the added safety the added safety items make this model a great choice for savings.
Skywalker 12 Feet Round Trampoline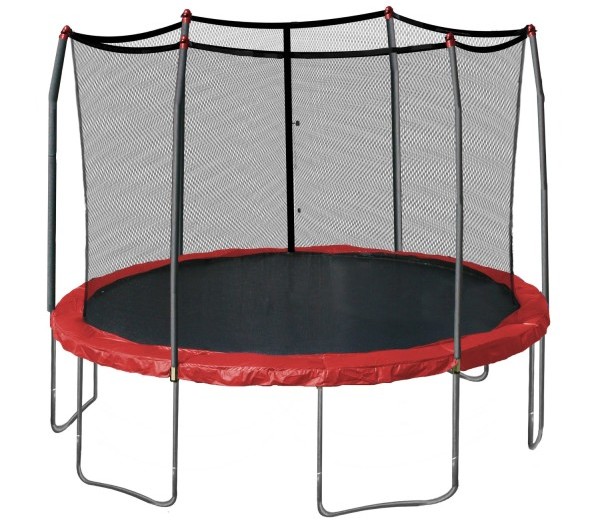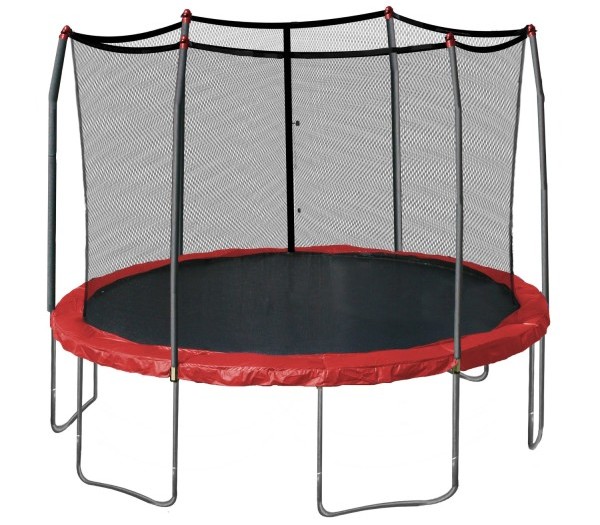 Click Here for Pricing, Pictures and Reviews on Amazon.com
This model is an ideal choice if you are working with a limited yard space and first time use. The 12 foot round Skywalker edition offers the safety features that are seen with the 15 foot tramp. The smaller surface is weight rated for a 200 lb. limit and suggested for children ages 6 and above.
Let's view some of the key features to consider.
Outstanding Features:
Heavy gauge galvanized steel construction.
T-sockets are welded in place to reinforce frame stability and prevent bending.
6 W shape legs insure a stronger foothold and security.
Safety net comes as a bonus feature and interlinks with the bounce mat.
Colors available are blue, green and red.
This model may require some time for assembly, yet, purchasers have found the investment to be worth any time spent. The galvanized frame construction of this apparatus provides the best possible durability available.
If you are considering available space, young children or novice adults then this may be a top choice for you to review.
Ultega Jumper Trampoline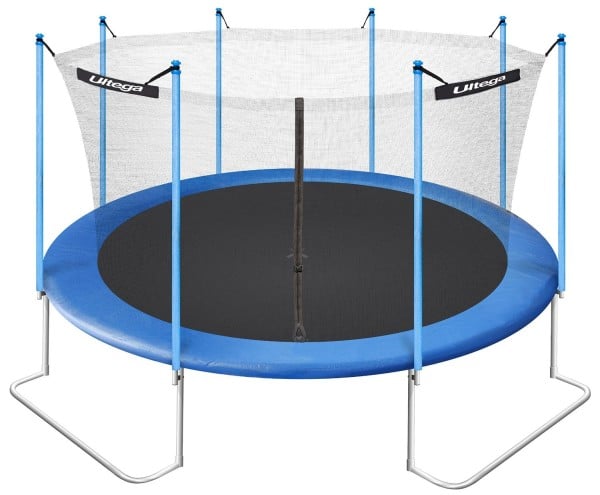 Click Here for Pricing, Pictures and Reviews on Amazon.com
The 12 foot bounce surface of the Ultega can carry a maximum weight limit of 440 pounds. The ability to hold this capacity makes this model a wise and popular choice for all recreational jumpers. Let's take a look at some of the ideal features with this device:
Outstanding Features:
Features 72 springs for high jumps. Protective spring covering ensures that jumpers can bounce safely.
Meets GS and TUV safety standards.
Comes with a tall safety net that stands 5'9". The net is kept in place by 8 padded rods for extra safety.
The bounce mat – UV resistant material to prevent wear.
The tall enclosure may require two people for assembly with this model. It is considered by reviewers, to be a worthwhile project when considering the durability and safety features included here. One really nice feature noticed with the Ultega model is that the family can often jump together.
Pure Fun 14 Foot Trampoline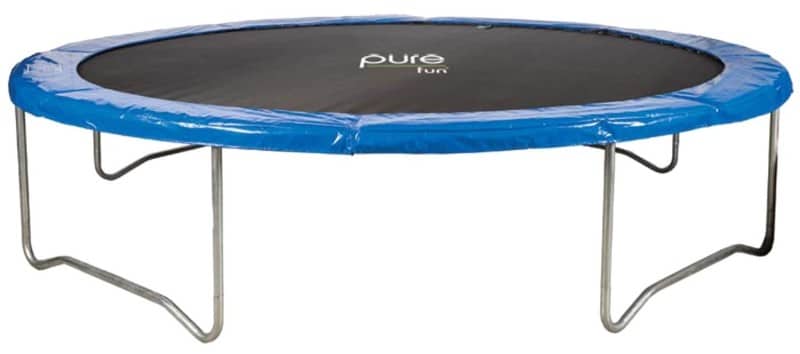 Click Here for Pricing, Pictures and Reviews on Amazon.com
This trampoline is well described by its name. It supplies a spacious 14 feet of bounce area and is offered at a very affordable price. Here are some interesting facts about this model:
Outstanding Features:
Heavy gauge galvanized steel frame.
The patented T-Section design provides added support.
W shape legs support the jumping surface with 8 connection areas for stabilization that prevents the frame from teetering or toppling.
All ATSM safety requirements are met with this model.
Carries a total max weight limit of 250 pounds.
Includes a 2 year warranty.
88 steel springs are standard with this model. This enhances the excitement and fun of the jumper by providing the ultimate bounce. Added longevity of the trampoline is provided by the patented t-section design and aids in preventing breakage.
The frame has a no-weld technology that works to eliminate the erosion noticed in welded joints over a period of time. The mat, made of tear resistant Polypro material is also designed with years of service in mind.
Skywalker Trampolines 15-Feet Jump N' Dunk Trampoline with Basketball Hoop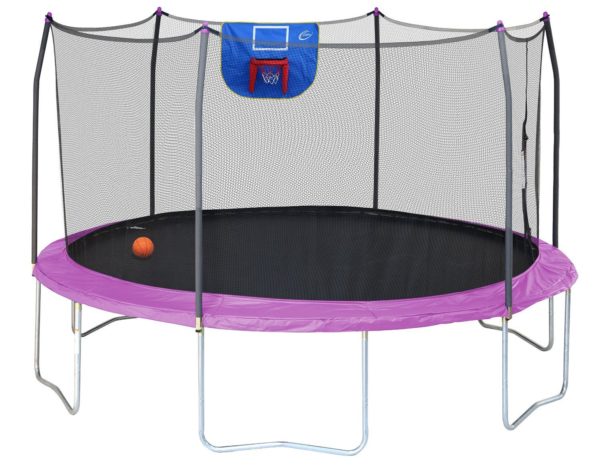 Click Here for Pricing, Pictures and Reviews on Amazon.com
This trampoline features Skywalker's signature "w" shaped foot design, bent enclosure poles for extra safety, and a built in basketball game to make the trampoline even more fun. Skywalker utilizes a no-gap enclosure system that prevents jumpers from coming into contact with the trampoline's springs.
Outstanding Features:
Comes with a basketball net made of soft material. It attaches with Velcro, so you'll never have to worry about your children being hurt by plastic or metal pieces, and there's virtually no risk of the enclosure tearing during a spirited game of basketball.
Comes in different colors, allowing you to personalize this fun gift for your child.
Gapless enclosure system is much safer than external enclosures, as it prevents children from being pinched by the springs or falling down between them.
200 pound weight limit is perfect for two or three small children to jump and dunk together.
Skywalker is a leading manufacturer of trampolines, most known for their innovation and durability. The addition of the basketball hoop is another fun perk. Jumping on a trampoline is fun, but it's even more fun when a game is already incorporated.
Kangaroo Hoppers 15-Feet Round Trampoline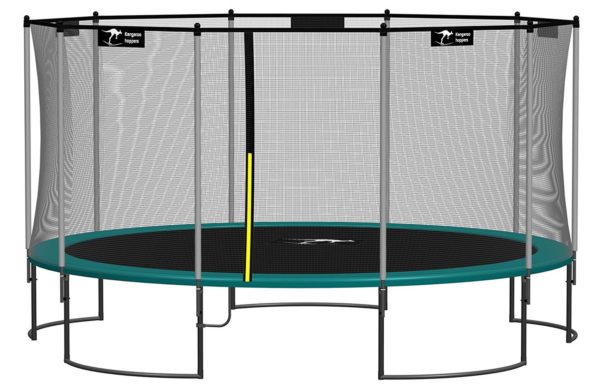 Click Here for Pricing, Pictures and Reviews on Amazon.com
Kangaroo Hoppers only makes a few models of trampoline, but all of them are reliable and solid. These trampolines feature flat legs that curve with the frame, in the shape of a convex rectangle.
These legs distribute the weight evenly and promote a higher bounce. Since round trampolines usually offer less bounce than rectangular trampolines, the effect these unique legs have on the jump pad increases the bouncer's potential jump height by directing all that rebounding power right to the center.
Outstanding Features:
Black powder coated frame is weatherproof. It won't corrode, even in heavy rains or snow. No rust and no holes means the frame will last nearly a lifetime.
Comes in a fun assortment of five colors. While most trampolines only come in blue or green, Kangaroo Hoppers offers a fun array of vivid neon colors.
Trampoline is ergonomically designed and features what Kangaroo Hopper calls "curvy legs". These innovative legs make for higher bounces. Children can do flips and spins from the center of the trampoline thanks to the support of these legs.
Comes with a zippered enclosure net and an L-shaped ladder. You won't need to purchase any additional accessories to install the trampoline and get it ready for your kids.
Easy no-drill installation. Comes with all the tools you need to set up the trampoline.
This is a great option for families who want a basic trampoline that uses innovative technology. Bigger bounces, extra safety, and a fun assortment of colors make Kangaroo Hoppers a better choice than most trampolines at the same price point.
It's a bundle that's ready to use, and its little quirks make it fun.
Skywalker Trampolines Square Trampoline and Enclosure with Spring Pad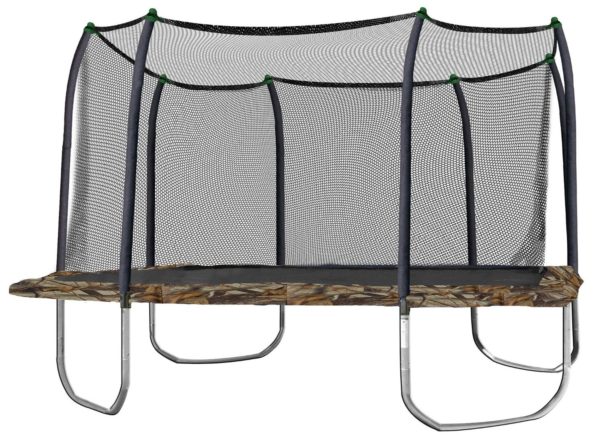 Click Here for Pricing, Pictures and Reviews on Amazon.com
Square trampolines are harder to find, but they're easier to fit into the corner of a yard. They're a sweet spot between round trampolines and rectangular trampoline. With a square trampoline like this one, you're getting the compact space of a round trampoline, but with the bouncing power and exercise capability of a rectangular trampoline.
Skywalker is one of few manufacturers that offer this unique design.
Outstanding Features:
Square shape is great for families with limited yard space. It will fit near the corner of a fence or around the side of the house with only a few feet of clearance on either side. If you want a rectangular trampoline but don't have space to install one, a square is a great compromise.
Four flat bottomed legs hug the corners of the trampoline, making it stable while keeping the jump pad extra bouncy.
Frame is made of galvanized steel and interlocks for superior durability.
Maximum weight capacity is 250 pounds – 50 pounds higher than round trampolines of a similar size.
If you want a square trampoline, this is one of the best ones you'll find. Square trampolines are an underserved niche, and Skywalker offers some of the highest quality trampolines on the market.
If you're having trouble finding the perfect square trampoline, this is the best place to stop the search. These trampolines are made to last, and you won't regret your purchase.
Springfree Trampoline – 10ft Medium Round Smart Trampoline With Basketball Hoop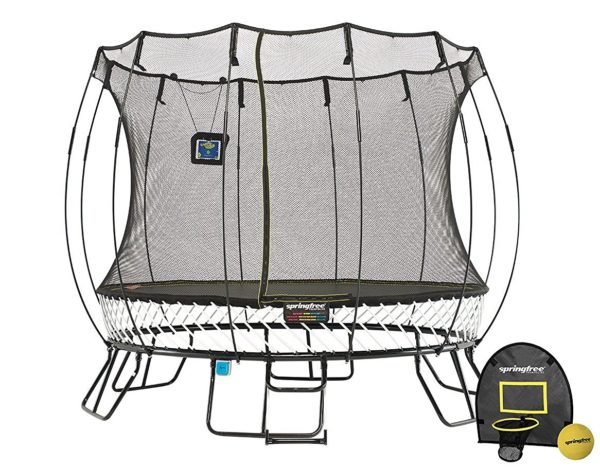 Click Here for Pricing, Pictures and Reviews on Amazon.com
Springfree trampolines are some of the most innovative trampolines in the world. They're the inventor of both the springless trampoline and the smart trampoline. Nothing else exists like this. Springfree trampolines completely eliminate the risk of injury associated with trampoline springs, and the smart features make this trampoline a comprehensive playhouse.
Outstanding Features:
The most outstanding feature of this trampoline is what Springfree calls tgoma. In essence, tgoma is a digital gaming system preloaded with 10 different games to be played on the trampoline. Think of it as incorporating a trampoline and an educational tablet into a single product.
The spring replacements are located underneath the jump pad, between the lower tier of the frame. This allows the trampoline to bounce while removing the risk of being pinched by metal springs or falling through any gaps. Springs can never come loose and fly off.
In addition to the virtual gaming console, this trampoline also comes with a flexible basketball hoop and a ladder for convenience. This trampoline is fully loaded, and you won't need to add anything to it.
This model includes a fully encompassing safety enclosure that's attached directly to the jump pad. There's no way for children to tumble off the jump pad, and they're held securely inside by an "L" shaped zipper.
If your family is into early tech adoption, you'll love this trampoline designed for the future. It utilizes every innovation that's ever been made in the world of trampolines, and puts all of that technology right at your children's finger tips. They aren't just jumping – they're enjoying an immersive experience.
SkyBound Super 7 The Perfect Kid's Indoor/Outdoor Trampoline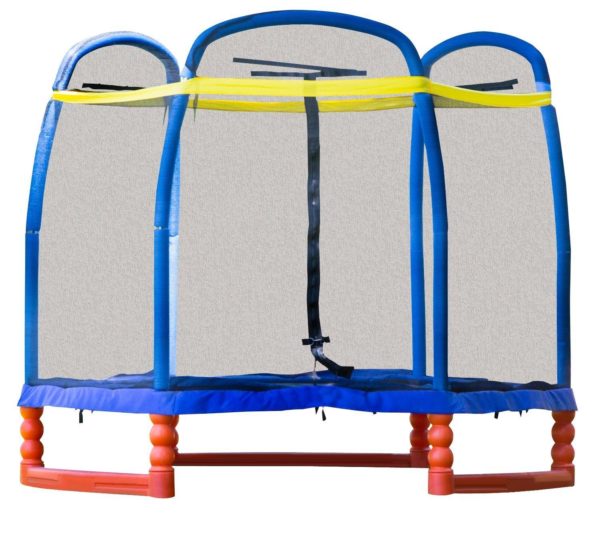 Click Here for Pricing, Pictures and Reviews on Amazon.com
Many of the trampolines featured are great for kids, but what about toddlers? If your children are smaller, you need to take special safety precautions when it comes to something like a trampoline. This trampoline is the best choice for families with toddlers, and it's designed to protect bobbling bouncers who are still learning how to balance.
Outstanding Features:
Legs are plastic coated, meaning this is just as safe to use inside as it is outside. The legs won't scratch or damage indoor floors. Kids can jump inside when the weather is bad, and this trampoline will fit under most ceilings.
Full enclosure net comes with padded poles to soften bumps, and a zipper to keep tots safely contained on the jumping surface.
Trampoline is low to the ground, allowing little kids to get in and out safely. Lower trampolines also provide less bounce, so the little ones can't jump too high and surpass the enclosure.
Recommended weight limit is 110 pounds, so two or three toddlers can safely play together on the trampoline.
If you have toddlers, you aren't going to find a safer trampoline that will allow them to bounce simultaneously. Big trampolines are expensive and open up a lot of injury risks for children who are just learning their sense of balance.
The safety features combined with this trampoline's indoor/outdoor design make this the perfect choice for parents whose little ones need to burn off all that excess energy.
Important Safety Tips
Jumping is one of the best ways to keep in shape and have some great family fun. Trampolines today are designed with safety steps in mind. There are, even still, some measures that users should practice for every jump session.
Children must be supervised at all times
It is very easy for children to get hurt if they are not supervised. It is always easy for accidents to occur. Broken arms or legs can result from a fall or by getting caught between the jump surface and spring pad.
Be Certain that Spring Padding is in Place
Time and usage can erode or crack spring padding. This occurs even more so if poor quality materials are used by the manufacturer. Some of the least expensive models are designed with cheap material as well and can be hazardous straight out of the packing crate. Make certain this padding is in place at all times. A child can be seriously injured by landing on an exposed spring.
Always have a Safety Enclosure
Many models today come equipped with a safety caged net although there are still several that don't. Should you decide on a model that does not have an enclosure, be sure to go and get one. This is a must have safety feature for preventing falls, bruises and more serious injuries.
Look for the padded pole type enclosures. They provide additional support and secure the net well. If you are making an additional purchase for the new, be sure that it will be the right fit. The net will have a bottom ring that needs to fit inside the spring covering. In addition, be certain that the net is properly attached to the frame and preventing it from collapse.
Keep an Eye on the Weight Limit
In larger families or big events it may be a great idea to put the "one on the matt at a time" rule into play. All jumpers are subject to serious risk or
injury
if weight limits are not respected.
No Somersaults
It is always great to see the
kids having a fun time
. Keep in mind however, that bouncing is not the best place for somersaults. Landing on the head or neck area can cause serious injuries. Broken limbs can also happen if a jumper lands badly so a "no somersault" rule is strongly advised.
In Conclusion
Trampolines can be a great way for families to spend their time together having fun and a sound investment consideration. By following our buying guidelines and reading our trampoline reviews, you have a great opportunity to make a wise buying decision by keeping safety, fun and cost in mind.
The 10 models that we have detailed for you here have been test driven by customers and received the highest ratings as wisest buys on the market today.
While putting safety and durability factors before price, these models are considered by customers to be the best trampoline choice designed with you in mind.
Search-ma-bob

TOP 35 Unique Outdoor Toys for Kids

Read More...